So, your kitchen is planned, cabinets ordered, flooring chosen and lighting decided on – but something seems to be missing. What about a splashback?
A splashback or backsplash (as sometimes known!) is placed either behind the sink or hob/cooker and protects your walls from splashes. But apart from catching stray drops of food, water, or grease, they can also add a design statement to your kitchen and truly add a boost of personality.
Because who said your splashback has to be white? As long as you choose a material that's suited for the job, there are no rules to limit your creativity. Want a bright pink glass splashback or your favourite artwork recreated in a bespoke design? Sure, go for it!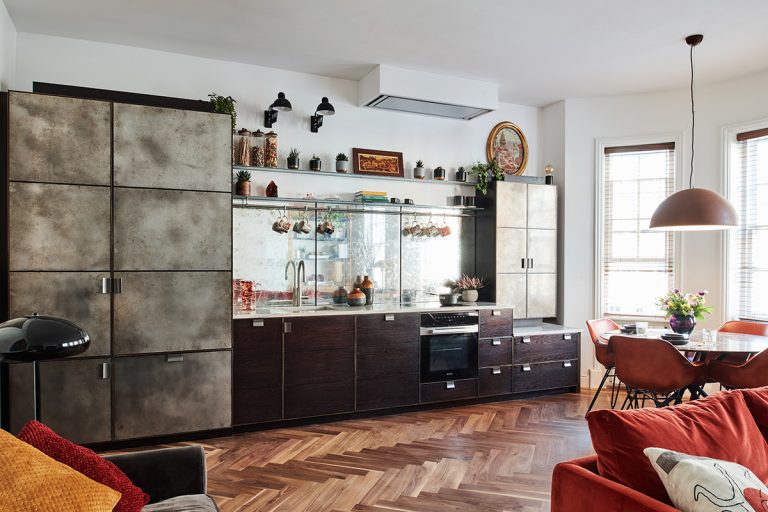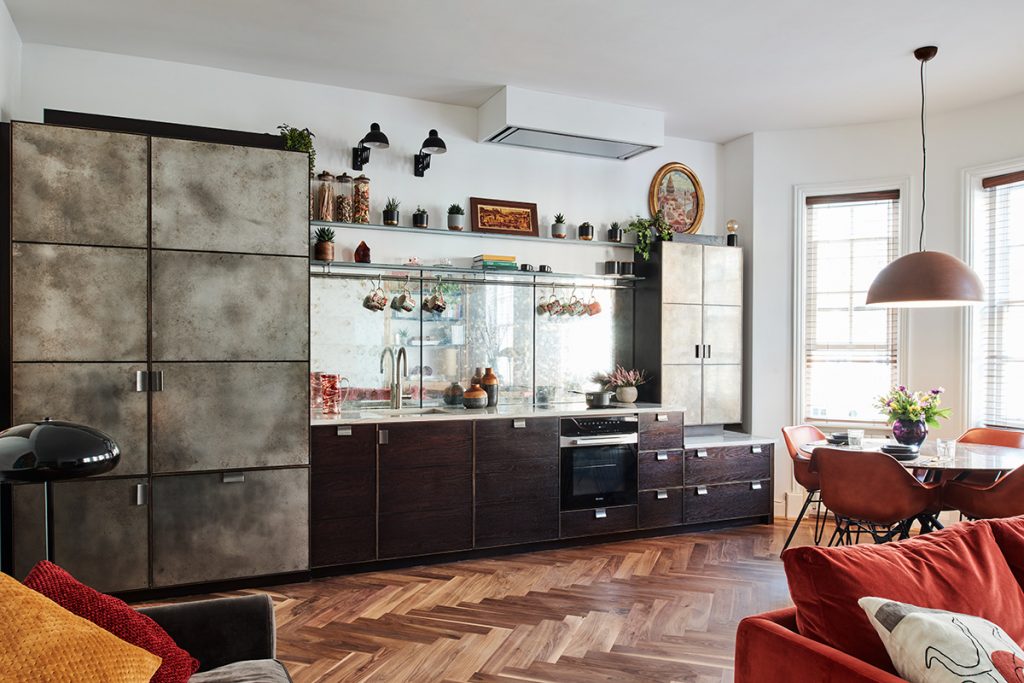 There truly are no limits when it comes to splashback styles. You do you is the motto – so here's our lowdown on the things you do need to know to make sure yours is up for the job.
Can I use any material for my splashback?
Well, almost. Wood might not be the best choice, as it warps with moisture, but cork is definitely possible.
Most commonly, however, you'll find glass, solid surface, or tiled splashbacks.
Mirrored designs are also very popular, both gleaming and new or made to look more vintage.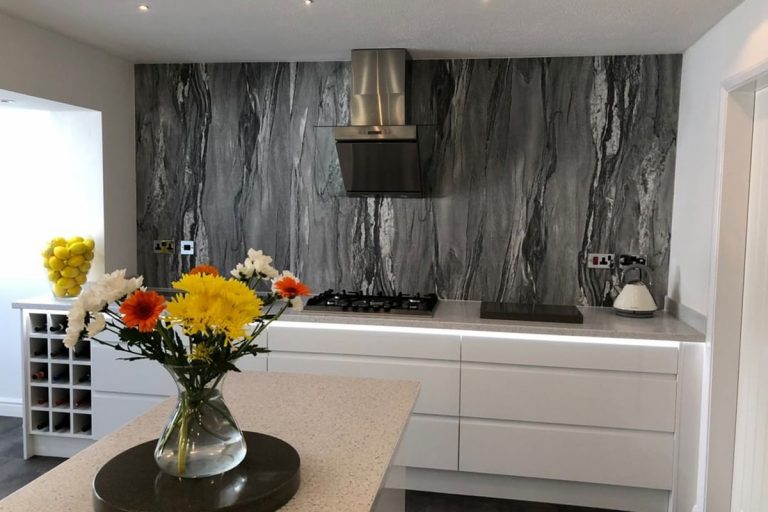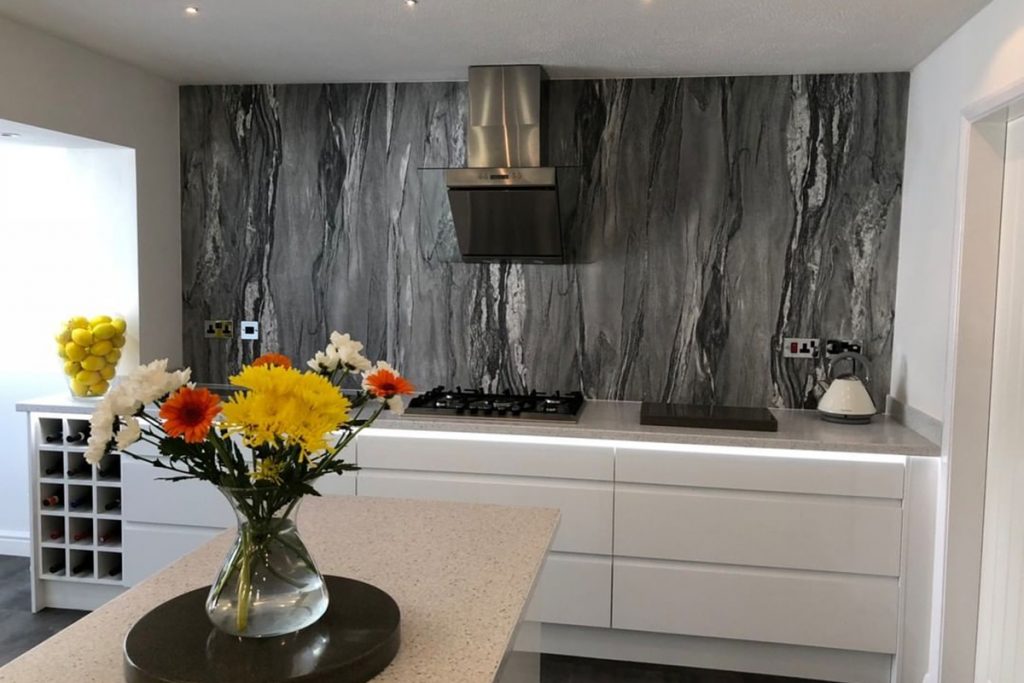 Glass splashbacks
A glass splashback is usually applied as one large sheet. The material is incredibly heat resistant, which makes it a great choice if you apply it directly behind the hob, and can simply be wiped clean with a damp cloth.
Plus, its smooth surface doesn't have any nooks or crannies for bacteria to settle – not to mention the lack of grout lines also makes cleaning even more of a breeze.
In terms of design, glass also opens up plenty of opportunities. Who said a splashback had to be rectangular?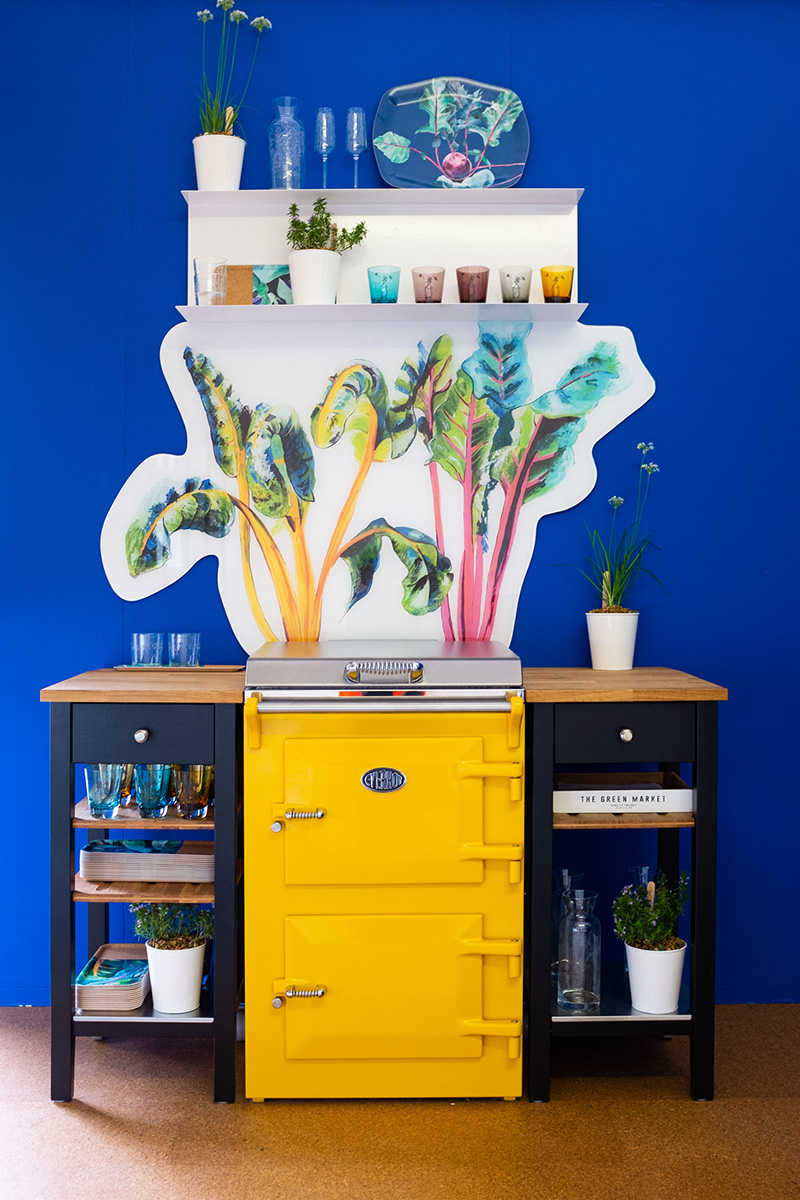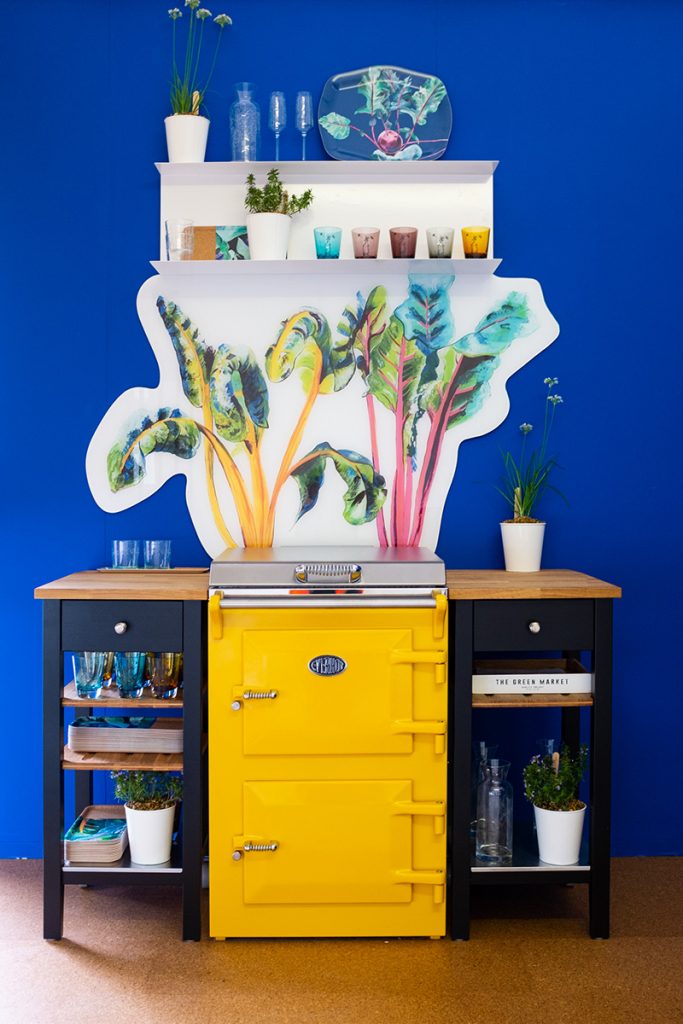 Nobody's stopping you from buying a design in a different shape – which can make a statement all in itself, but even more so if it's printed with a bright motif.
Due to the manufacturing process and advances, glass splashbacks come in all sorts of colours, plus they can be printed with patterns or motifs… so go on, let your creativity run free.
Tiles as a splashback
Probably the most common splashback option, tiles are affordable and hard-wearing – but they can be stylish, too. Tiles don't have to be white square or metro designs. You can use any sort of wall tile to create your own splashback, but your options don't stop there.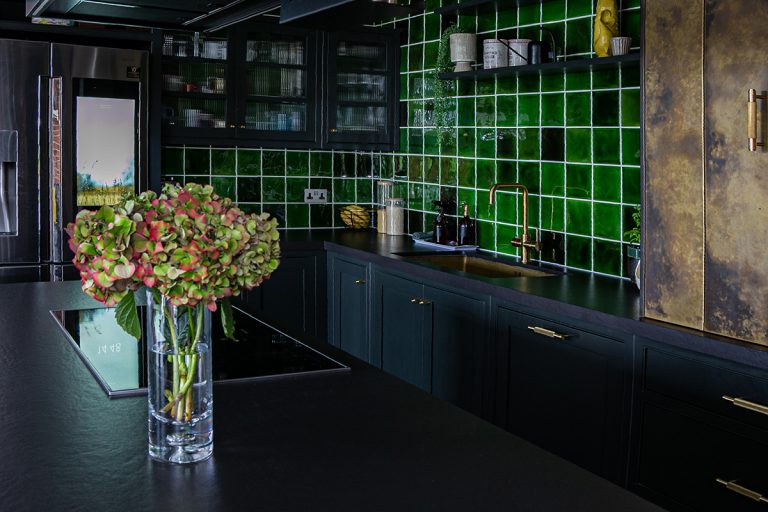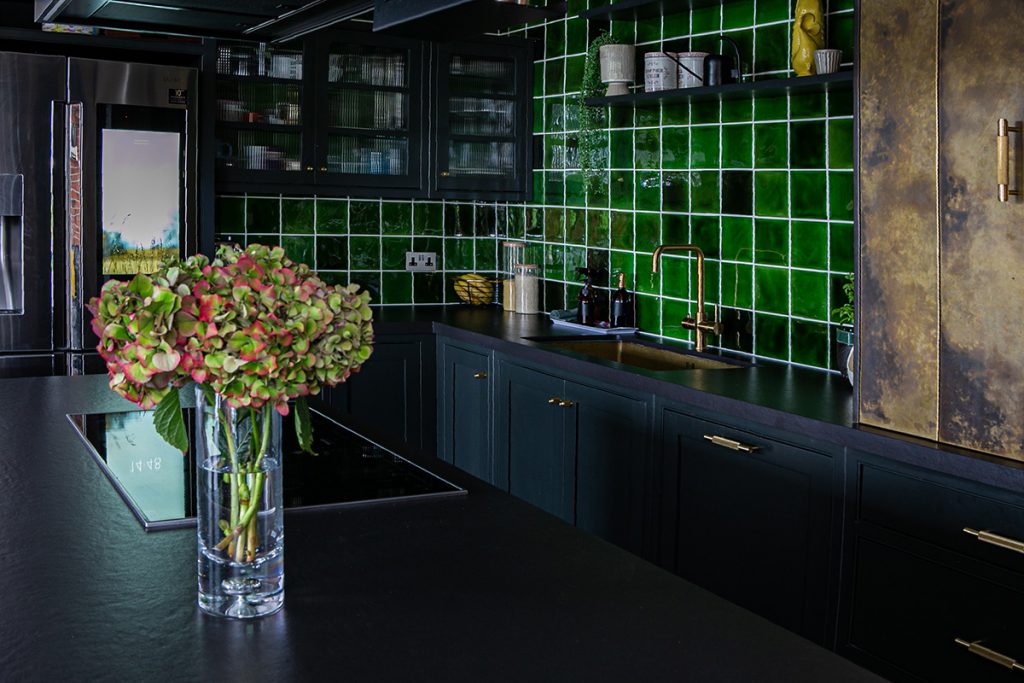 Why not go for coloured grout, for example? You'll have to add grout lines anyways, so you might as well make them a feature. Or opt for a different laying pattern, such as a herringbone design. The size of your tiles also allows you creative freedom – the same design in two different sizes can look very different.
They only thing you should watch out for is to make sure it has a suitable surface. Cement tiles, for example, should be cleaned immediately or you run the risk of oil or other splatters staining them. This is especially important if the splatters are acidic – think lemon juice, red wine, or tomato sauce.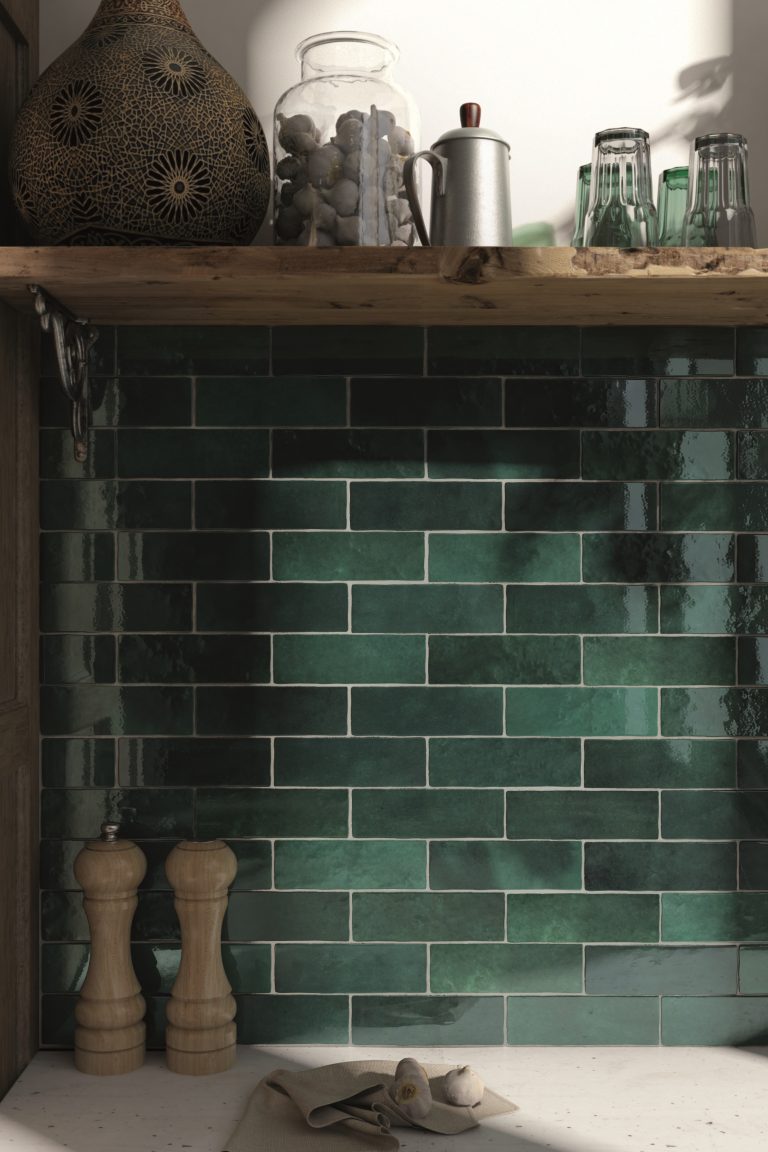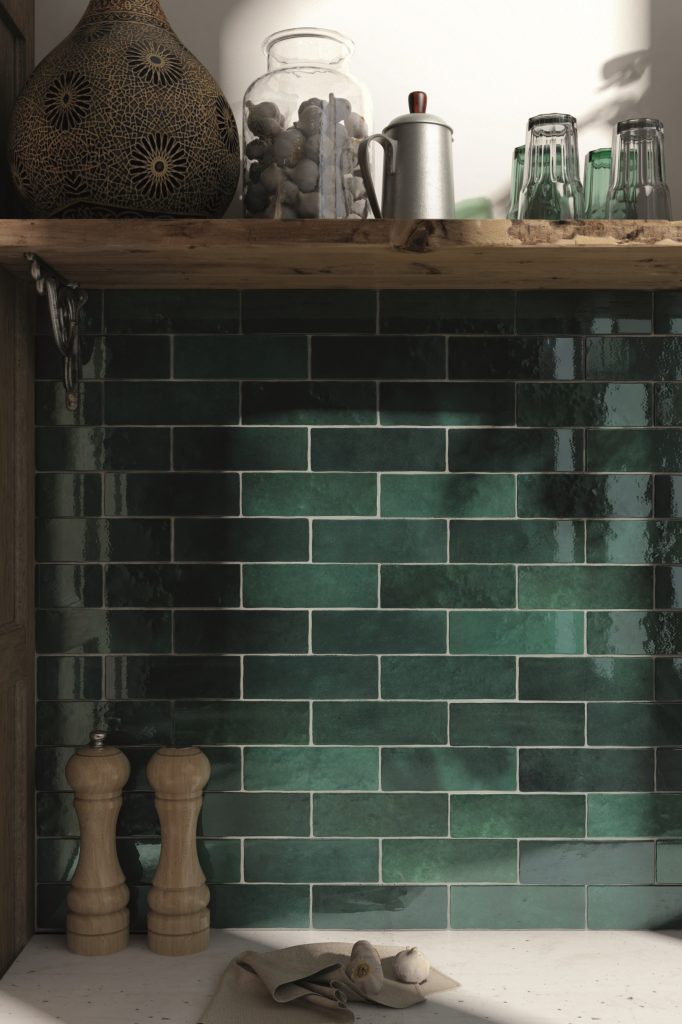 Oh, and. the biggest bonus? If a tile cracks or chips, you can usually swap it out instead of having to replace the whole splashback.
Solid surface splashbacks
Quartz, as well as materials such as Corian, Dekton, or other manmade surfaces, is a popular choice for a splashback. These surfaces are hard-wearing, heat resistant, and hygienic, yes – but many also wow with their looks.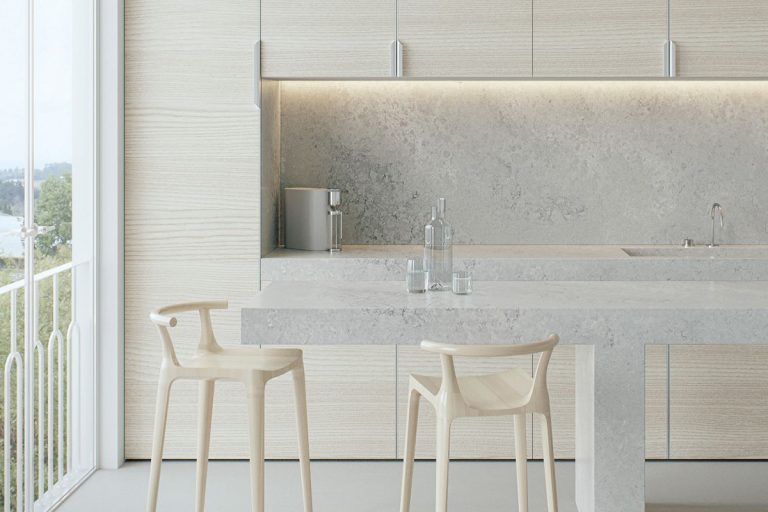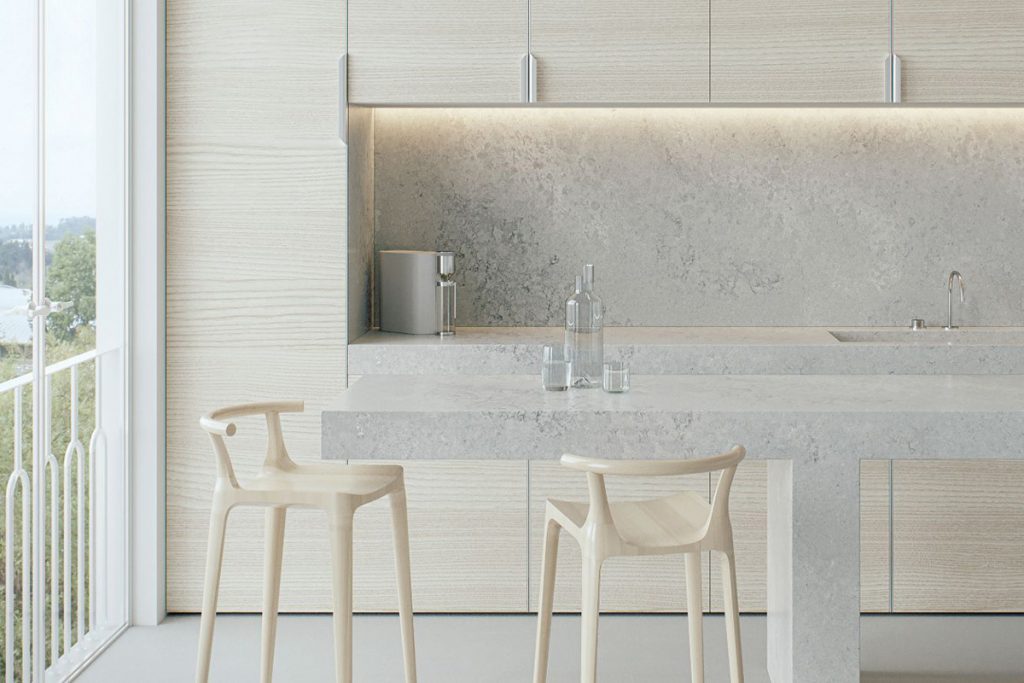 A lot of surfaces these days look like marble, for example. The stone itself may not be the best choice for a splashback, as it's soft and easily stains, but a convincing lookalike brings the same elegance, without the heavy maintenance.
These materials are usually made to order, so have zero grout lines. For an extra cohesive design, opt for the same surface for your worktops and splashback, to create an exact match.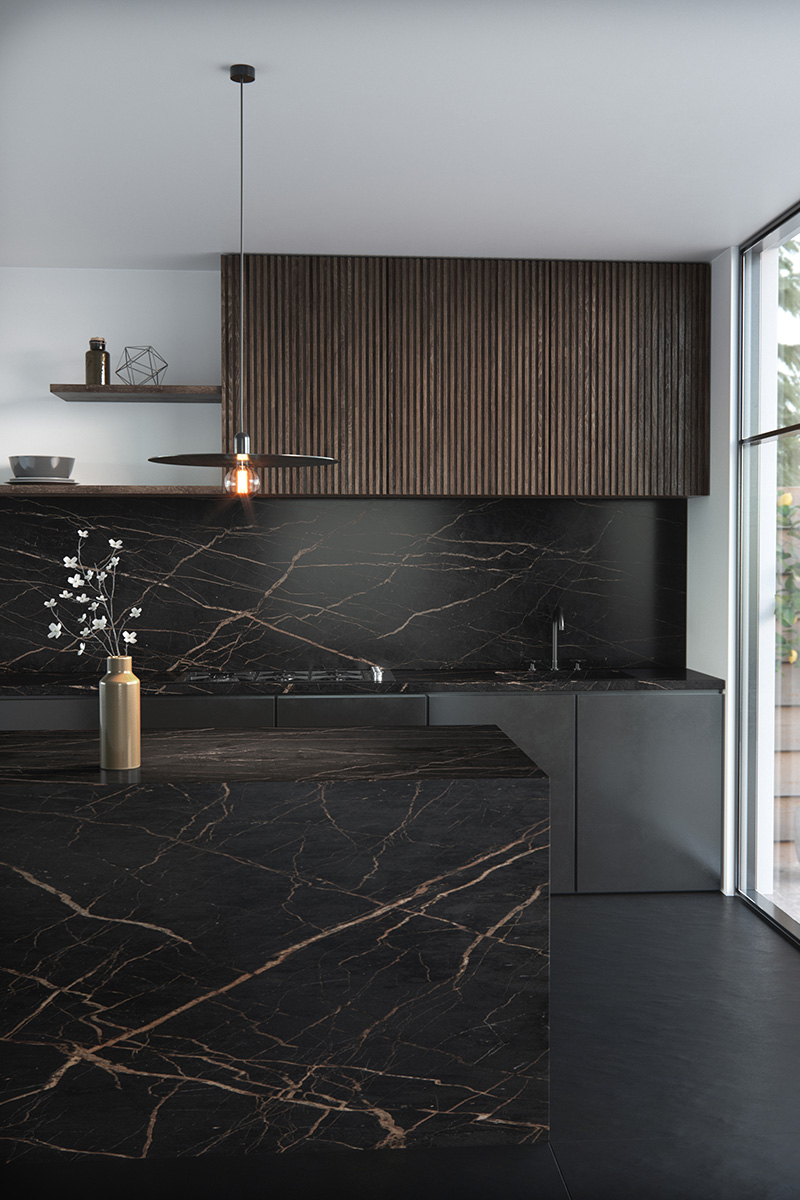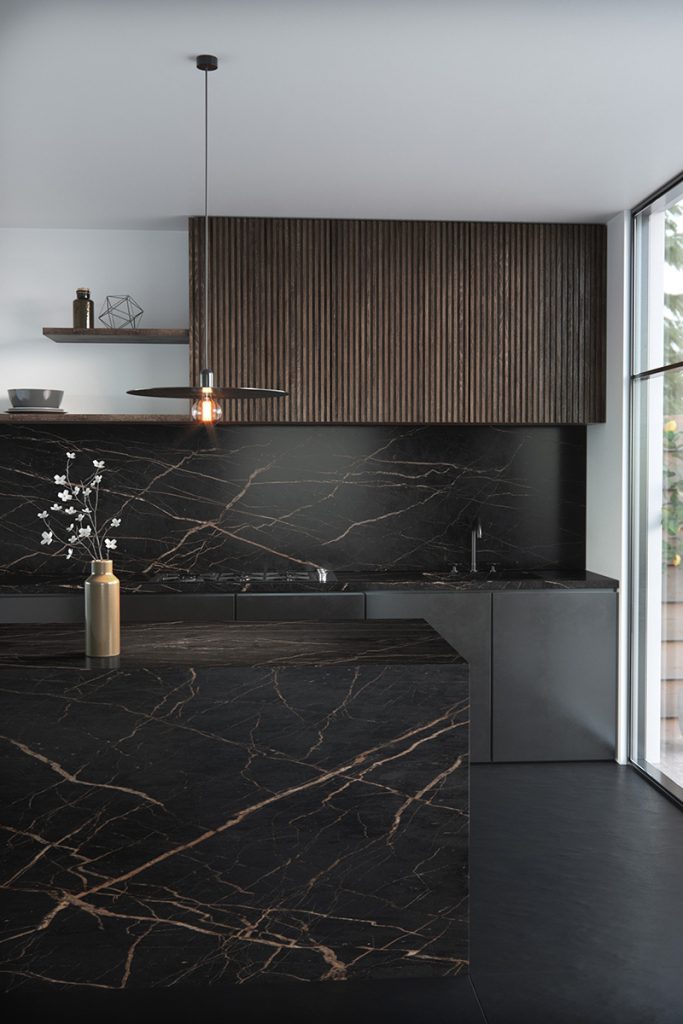 Acrylic splashbacks
This type of splashback is also very popular, but unlike many other materials, many designs are not the most heat resistant.
As a result, it is often (but not always) not suited to be placed behind gas or electric hob, as the heat from the flame or the cooktop can damage your splashback.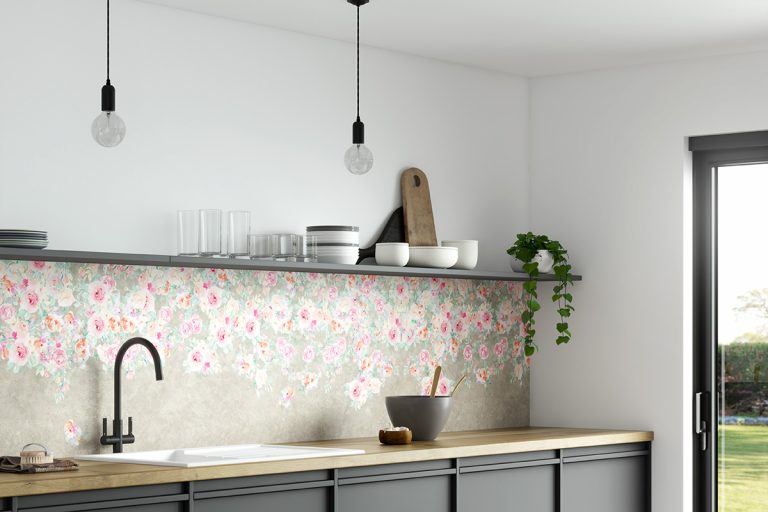 However, you're good to go if you have an induction hob; but do take care to ensure hot pots and pans don't touch it. Plus, with technology advancing, some designs *can* take the heat, so it's always worth to double check.
Fancy something different?
If you want something entirely unique, you could also opt for wallpaper, paint, or a different kind of artwork.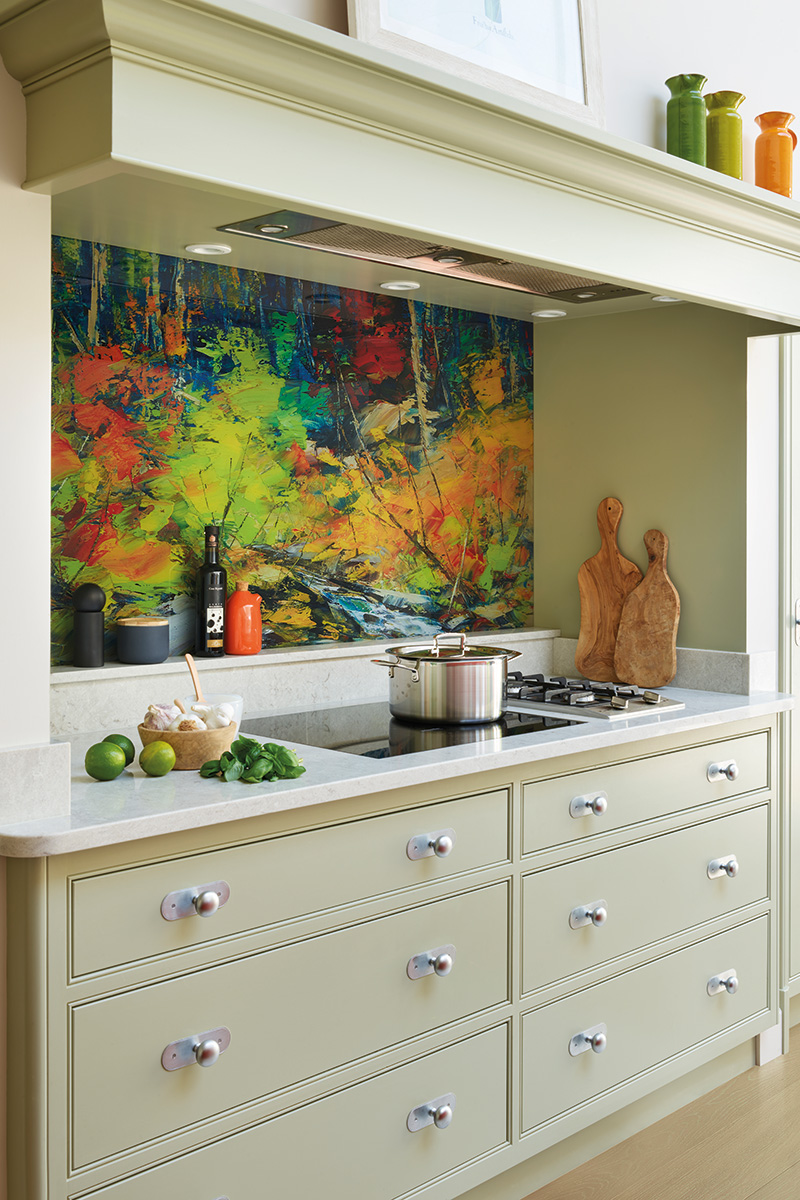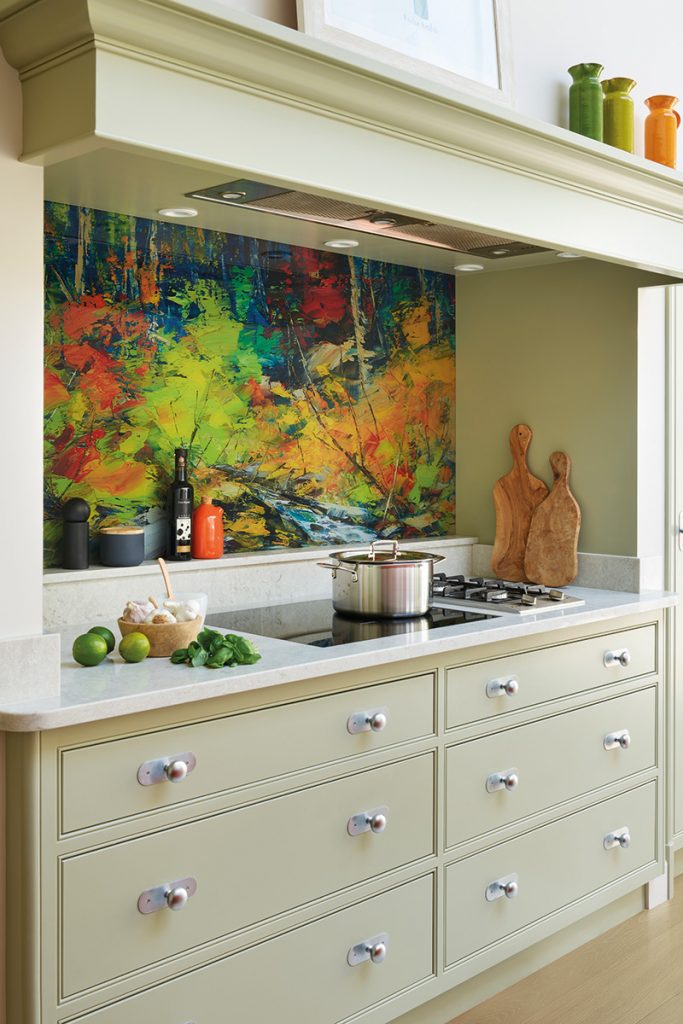 You can use almost anything as a splashback; however, make sure you protect it by displaying it behind a sheet of clear glass or acrylic, so it doesn't get damaged by splatter or heat.
Featured image: Antique or clear, a mirrored splashback not only makes a statement and allows you to keep an eye on everything, it also helps bounce light around the room. Prices for kitchens from Olive & Barr start from £10,000.
About Post Author