Typically, when we think of bathroom suites, it's a bath, basin, and WC designed to complement each other in style and generally match in material and colour. 
Like with a three-piece sofa, I think traditional sets are fast becoming a thing of the past. Yes, I went there.
And for good reason: we're being more free in 
our choices and going for a fun mix-and-match approach that ultimately leads to a more personal, contemporary, and interesting bathroom scheme (and living room, if you're still thinking sofas).
There is no doubt that these types of bathroom suites still exist and I'm sure there is a market for them – they're certainly helpful if you're balancing a budget, as some now come complete with taps as well. 
But with such an increase in the number of cool bathroom choices, why not do something away from what's been the norm for so long?
So why the shift away from bathroom suites?
The main factor is available floor area. Next to the kitchen, the bathroom is probably the most important space in the house. 
On average, it's as big as a king-
sized bed – plus some serve dual purpose, for example as a dressing area. While you may be able to 
steal floor area from a bedroom 
or landing to increase the footprint, the fixtures and fittings you put 
into the bathroom still have to suit the often limited size – in which case standard bathroom suites may not always be a most efficient option.
Merging spaces dictates changes 
in product scale, size, and material, 
as a combined scheme has to flow and be softer in terms of colours and 
textures. Squeezing additional bathrooms into our homes has also forced a change in basin and general product sizes – the need for compact solutions and changing proportions has resulted in some exciting design ideas that throw the traditional bathroom layout out of the window.
Innovation in materials is probably one of the biggest factors that has changed how we buy bathrooms
Composites mean 
that baths can be smaller 
in size, but hold more water. Showers are much more open and seamless, while trays are now wetroom ready so the surface 
is tiled or colour matched.
Basins are actually much shallower or smaller, as we no longer need 
to fill a bowl with a mixture of hot and cold water to achieve the right temperature – thanks to mixer taps (as well as thermostatic showers), which provide the perfect temperature in one go.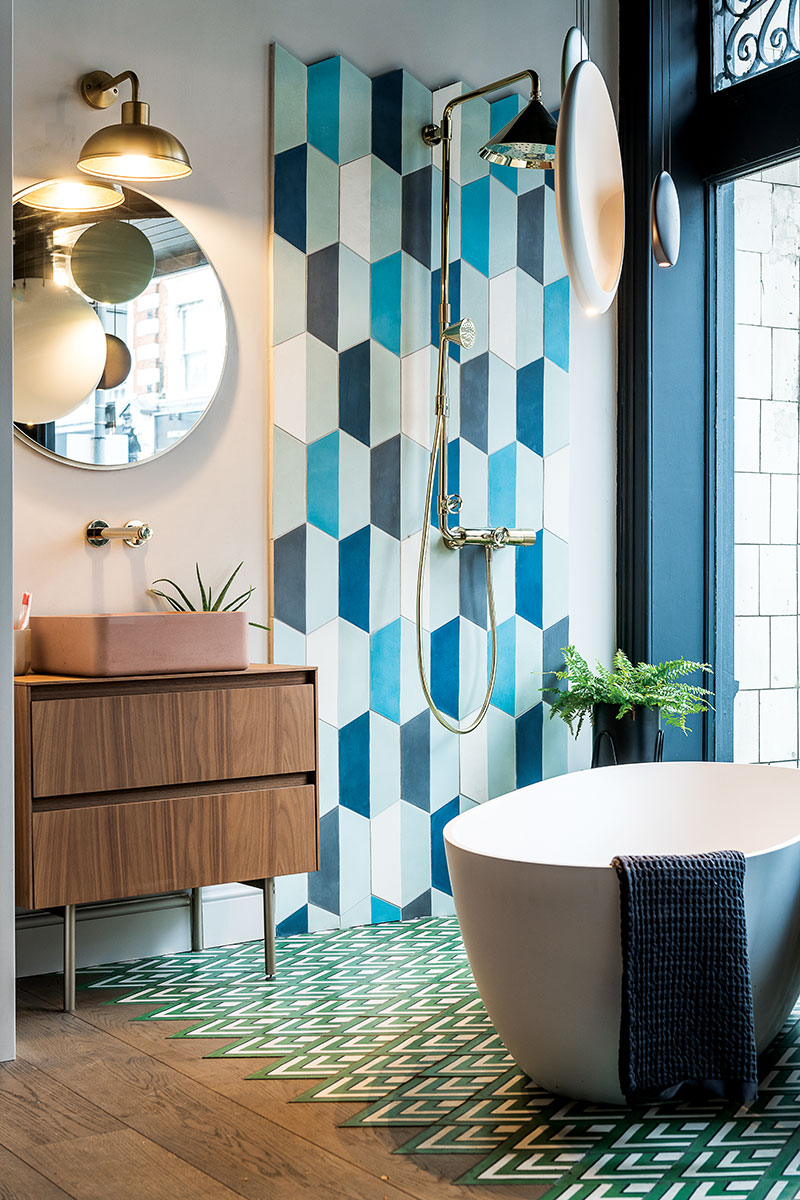 I asked my team of designers at Day True and they can't remember the last time they created a basin on a ceramic pedestal – and neither can I. The same goes for requests for bathroom suites. A pedestal basin seems like such a waste of space, not to mention basins are more often a focal point and usually incorporate storage as well as allowing you to introduce exciting materials such as concrete, wood, or glass to the fixture.
The WC is really the only element that remains in ceramic
They are often wall hung and, in some cases, provide much more technology and innovation than before. White is still common, but there is a growing trend for matt finishes and subtle colour tones (but no avocado for me please).
Bathrooms for modern living
Aside from practicalities such as space, layout, and materials, I firmly believe the bathroom can have a big impact on improving how we live, relax, and revive – so your space should be a joy to use and the scheme you go for should reflect you and make you feel at ease. Does an 
all-white suite achieve that for you?
The idea of buying a complete bathroom is a bit like buying a set of clothes that all match – the result is looking the same as everyone else. I think we like the idea of choice; and while we still might buy a collection or a range, we mix it up with other elements to make it more interesting and personal. The layers of different materials and finishes, a range of styles, and old and new are what makes our bathrooms interesting 
and unique. Yes, the space's necessary functionality and compatibility introduce a level of complexity, but with good advice and guidance these are easy elements to overcome.
Our homes are such important spaces – they should provide comfort 
and reflect who we are. No one wants a cookie-cutter style of living; the things that surround us should provide reference to places we have been, things we have collected or inherited, which is why no two bathrooms should look the same.
Featured image: You can still create a cohesive look through colour, even if you choose pieces from different ranges – like I did in this Day True Project.
Hayley Robson is the creative director at Day True.
About Post Author