The utility has to be one of my favourite rooms in the house. I mean, it is beautiful, but it is also probably the most used space. With two young (and rather messy) children our washing sometimes seems never-ending and I am so grateful to have a room entirely devoted to this. It also helps that I can shut the door and walk away when it all gets too much. Finishing the utility room has taken us a while, though.
Finishing the utility room is much the same as revamping the kitchen, I found. There are units to choose, worktop materials to look at and tiles to shop for. I took measurements and headed out to a local kitchen retailer. Although I was sure that we didn't need to splash out on the cabinetry, I wanted to get a couple of quotes for comparison.
The first company pushed the budget too far so in the end we opted for a simple B&Q range. Shaker-style navy blue units with a thin worktop in a fairly new material made up of paper and resin. I liked it because it looked like stone but without the cost. This decision would later come back to haunt me when we found that no one had the equipment to cut this kind of material to size.
We opted for a tall cupboard to store the vacuum cleaner, brushes and mops; no wall units so we could put up some open shelving at a later date and a simple but classic sink. It took a while to get the plan right, but eventually we placed the order and waited for delivery. I realised that finishing the utility room and making it really practical was all about the smaller details – like making sure you measure the height of the vacuum and ironing board to make sure they'll fit in the cupboard at the end.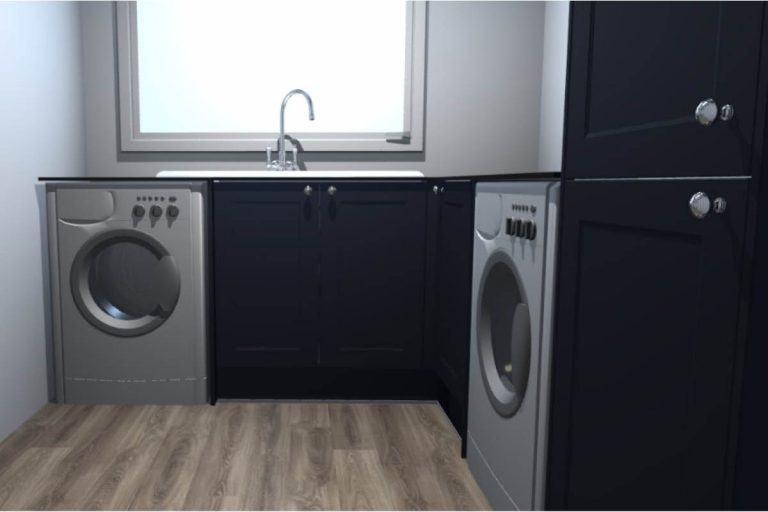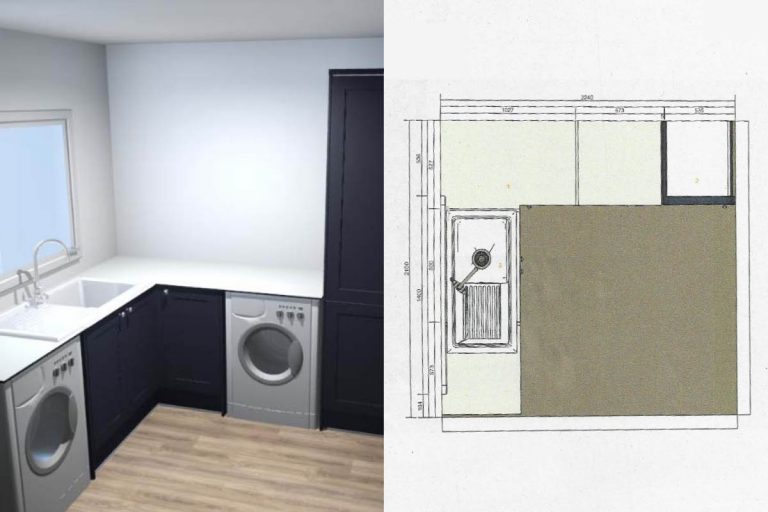 We decided to shop around for tiles, I knew what I wanted for the splashback and we were willing to pay a bit more to get these right. We visited a local tile supplier, Tims Tiles and Interiors and spent an afternoon in the showroom looking at various samples. I fell for some small marble rectangular tiles for the splash back and plain white slabs for the flooring. For me, this was definitely the fun part of finishing the utility room.
The next hurdle was to find someone to fit the cabinetry and we decided to go down the route of employing a handyman who had helped us with some flat pack furniture in the past. He was great and worked tirelessly but we were faced with problems with the fitting. Soon we realised that the plans had not been put together as accurately as we needed – the designers at B&Q had mixed up some of our measurements.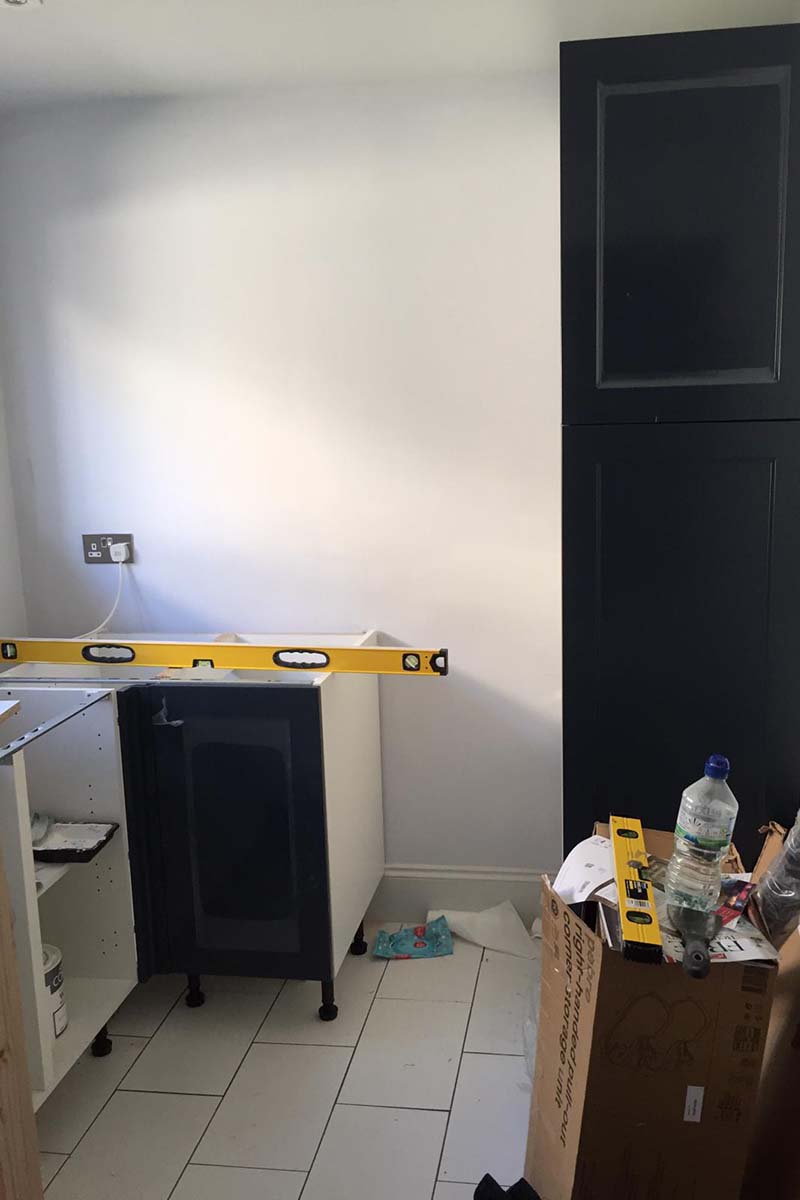 Our handyman did everything he could to make it fit, but we would need to dig a bit deeper into the budget to get a proper kitchen fitter in to rectify the issues and also cut the troublesome worktop to size. We found a new local company, Peter Hamilton Kitchens, through a recommendation from a friend.
Pete was professional and unflappable. He created new CAD drawings and it felt good to be able to leave him to it and not be journeying to and from B&Q for new door sizes and better plans. For the first time in months it really felt like the utility room was taking shape.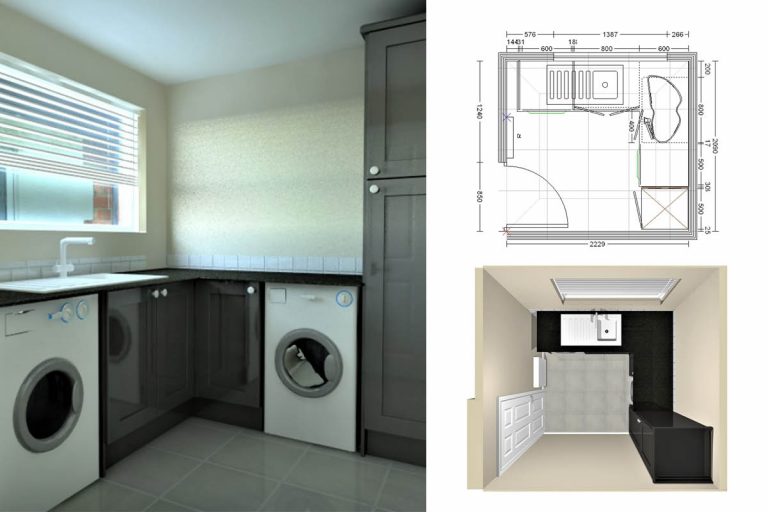 Our trusty plumber connected the sink and hung the radiator. The flooring we had chosen was simple white slabs and, since we had overspent on the new kitchen company, we felt we could save a bit of money by tiling ourselves. I must admit I didn't get too involved with this part, but Tony did a fantastic job.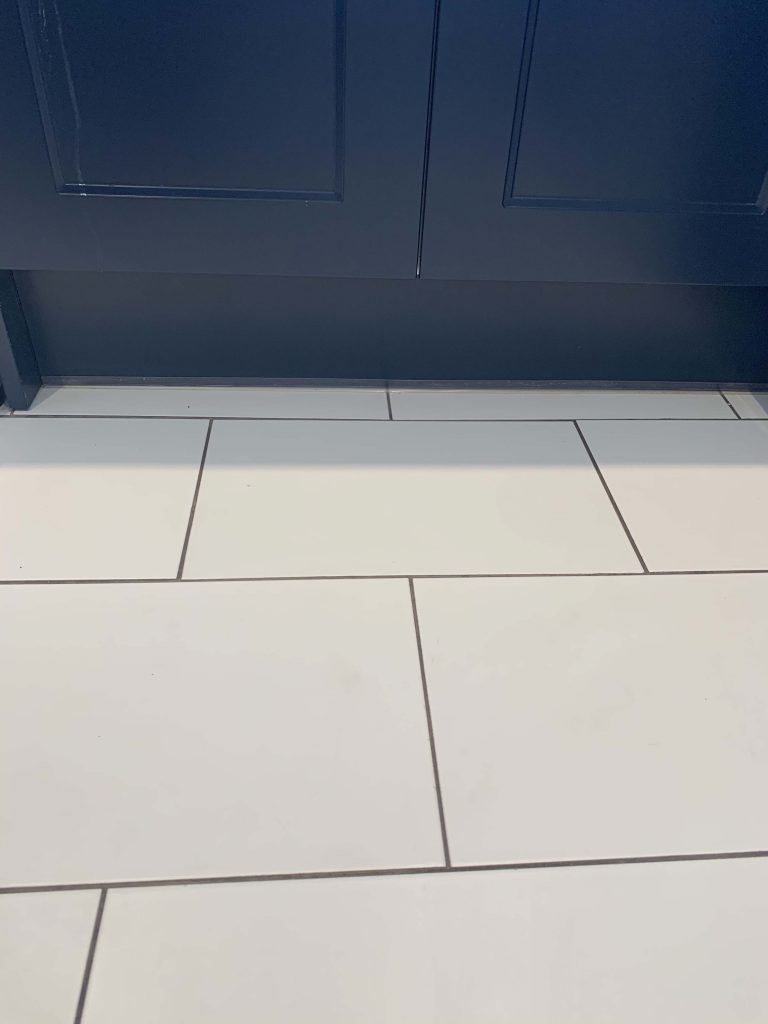 The splashback was different because we had chosen marble it would need to be sealed and perfectly lined up, so we got a tiler in for this. I loved this part of finishing the utility room and I plan to use these same tiles in the kitchen when we get to that.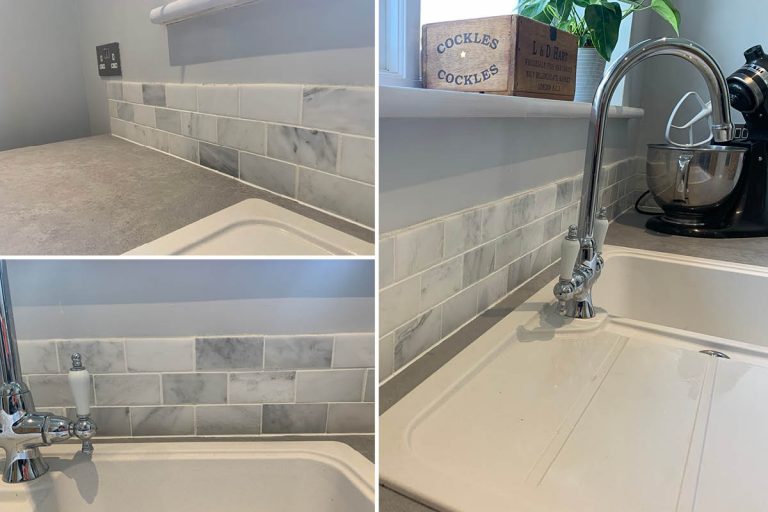 It has been a long and bumpy road to get to where we are with the utility room – we have lost builders, found new tradesmen and learnt many lessons along the way. It has been worth it though and although I still have some finishing touches to do (blinds, open shelving and a few pictures on the walls) we finally have the space we desperately needed. I can't imagine life (or doing laundry) without it now.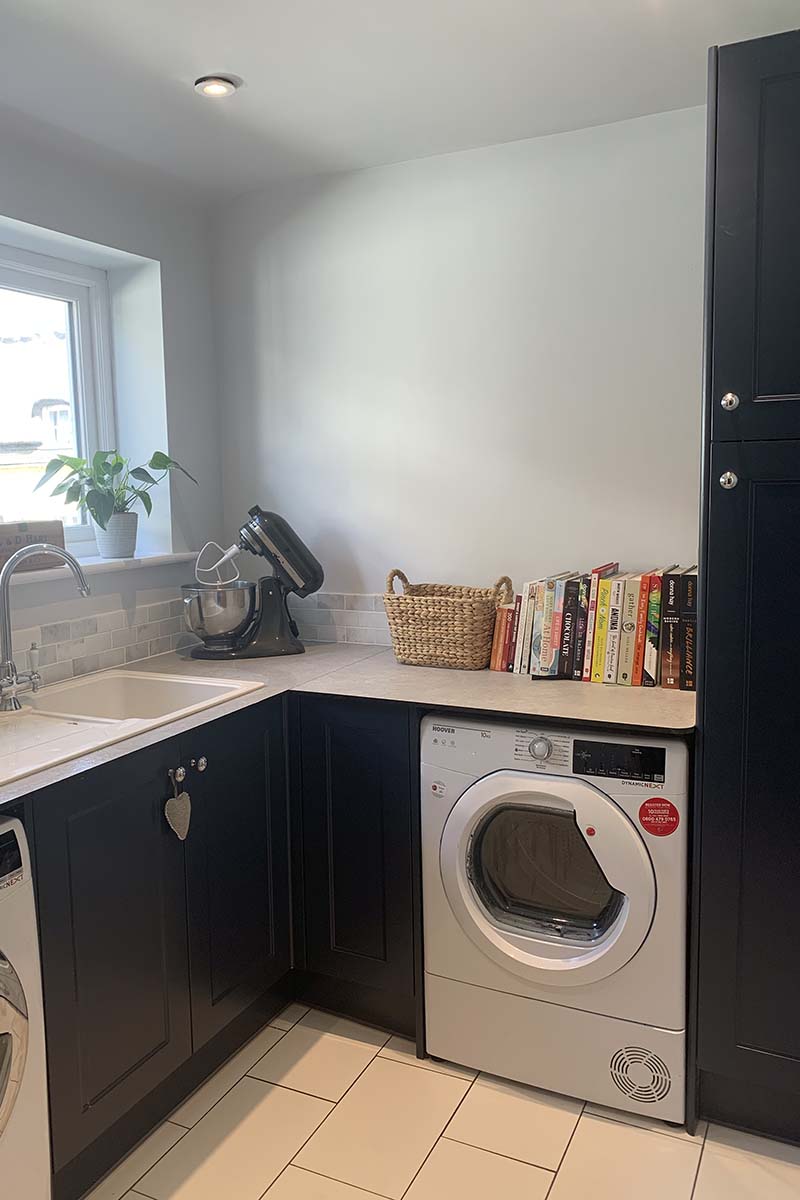 Read more First Time Renovator blogs in the series.
Featured image: I love the new utility room. It's everything we wanted and the extra space has really helped.
About Post Author