On the hunt for a new worktop for your kitchen? The surface you decide on can either make or break your design, so I know it can seem like a tricky step in the renovation process, but don't worry – you've come to the right place.
When choosing your worktops, you need to ensure you won't regret the choice years later and most importantly, try to find the one that complements your cabinetry best. From cost and hygiene to practicality and style, for busy households or the trendiest space, with help from @kbbmagazine journo @yvettefiler, here is how to choose the right kitchen worktops…
Think about what you like
Your kitchen worktops need to reflect your personality, fit your style and suit how you use the kitchen – that last bit is really important. Some materials, like marble and natural stone, are more porous than others so are more prone to staining and scratching. So if you're not a huge fan of clearing up right away or are a bit of a messy cook (go on, be honest), then you're better off choosing a material that's more hardwearing – such as composite stone, quartz or even wood (although this may need occasional sealing).
Take a look on social media at real projects to get inspired for your own design. Make a note of what you like and what you doesn't catch your eye to narrow down the options.
Also, most showrooms will have a selection of materials for you to see, so pop by your local design expert to look at samples in person and get a feel of the surface, too. The good news is that if you do love marble, but don't want the upkeep, you can replicate the look with the newest innovations in composites and quartz.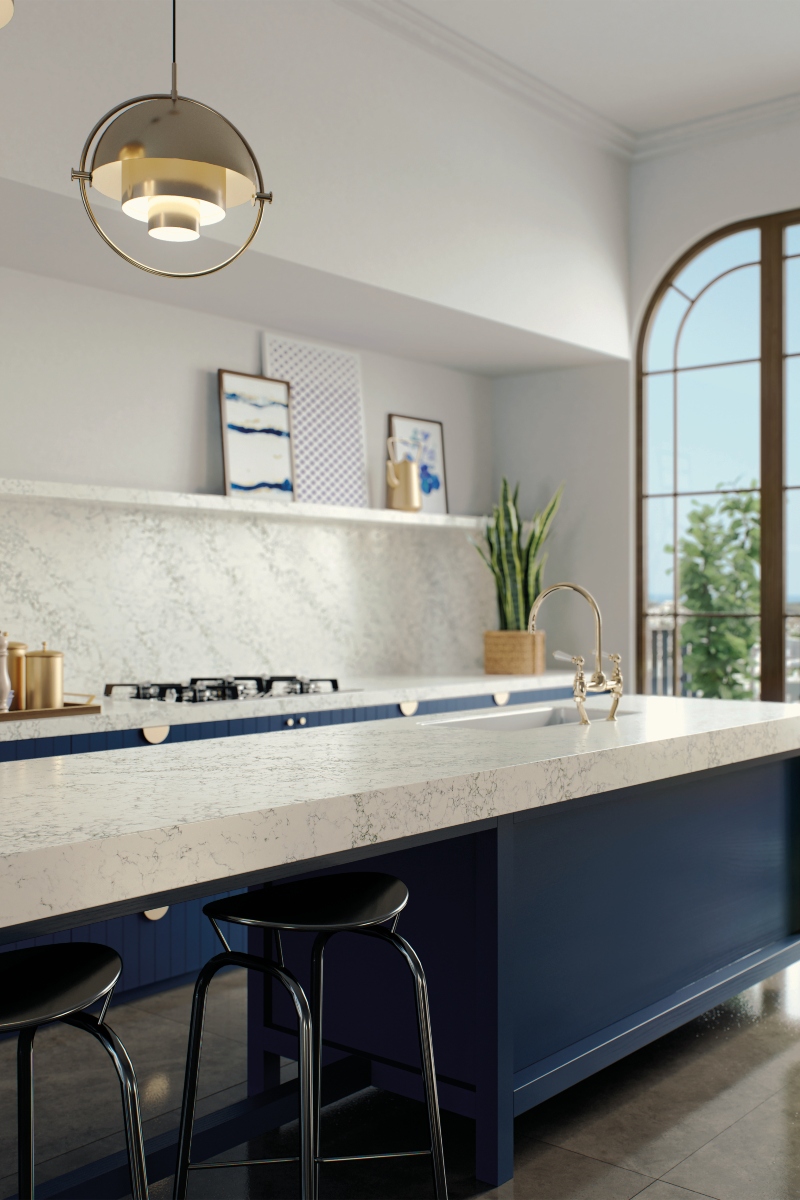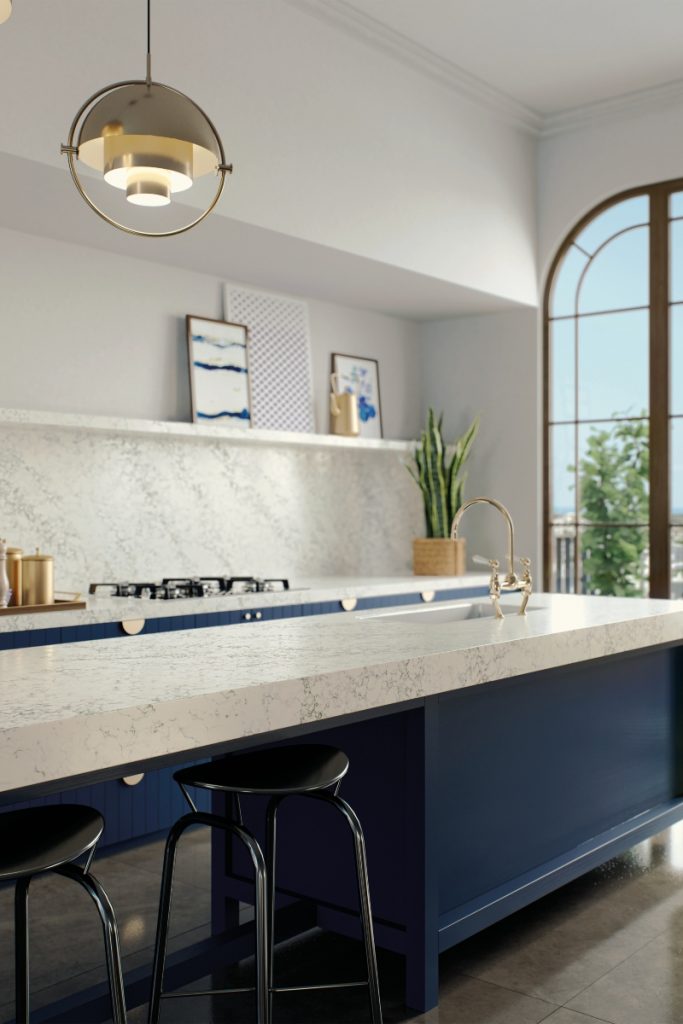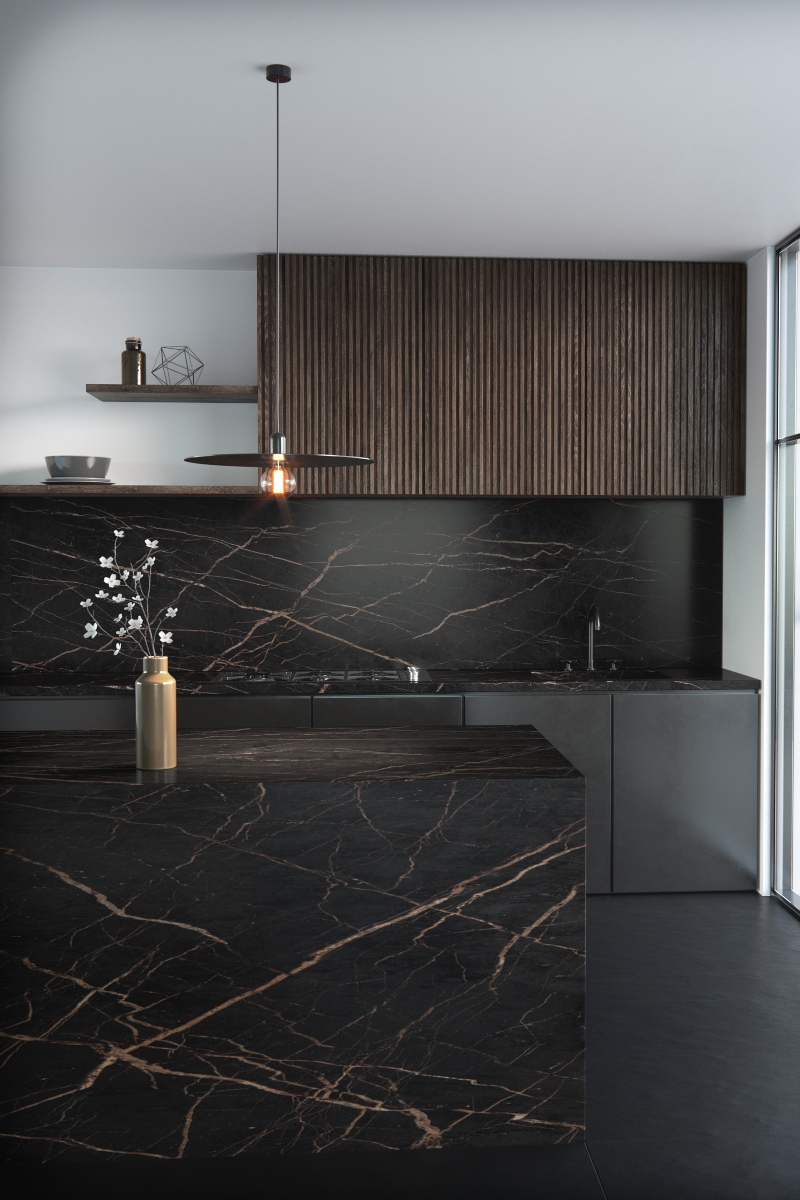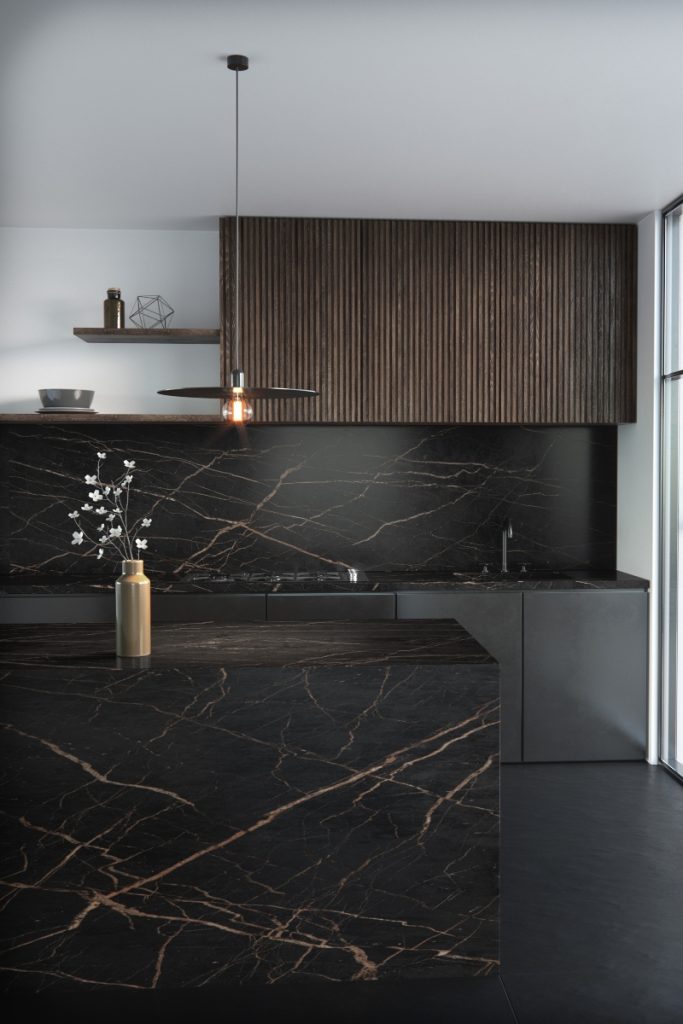 Be aware of the cost
A worktop is an investment no matter what option you end up going for, and cost is the driving force for many of us. So, it is important to understand the difference between each type. If you think about it, the worktop is a part of your kitchen that gets the most wear and tear, so allocating a fair portion of your budget to it will pay off in the long run.
Natural materials, such as stone and marble, are luxurious and each slab has unique flecks or veining. These surfaces need care to keep them looking good and specialist installation – plus, they are really heavy and as a finite resource, these stones come with a high price tag, too.
For example, engineered stone worktops, which are made by binding strong crushed stone with adhesives, often emulate the look of stone or marble but come at a lower price, while laminate surfaces are an even more affordable option. You could find plenty of laminate kitchen worktops on Wickes, for example.
So, grab a pen and some paper and list down the pros and cons of each surface to help you decide on the best option.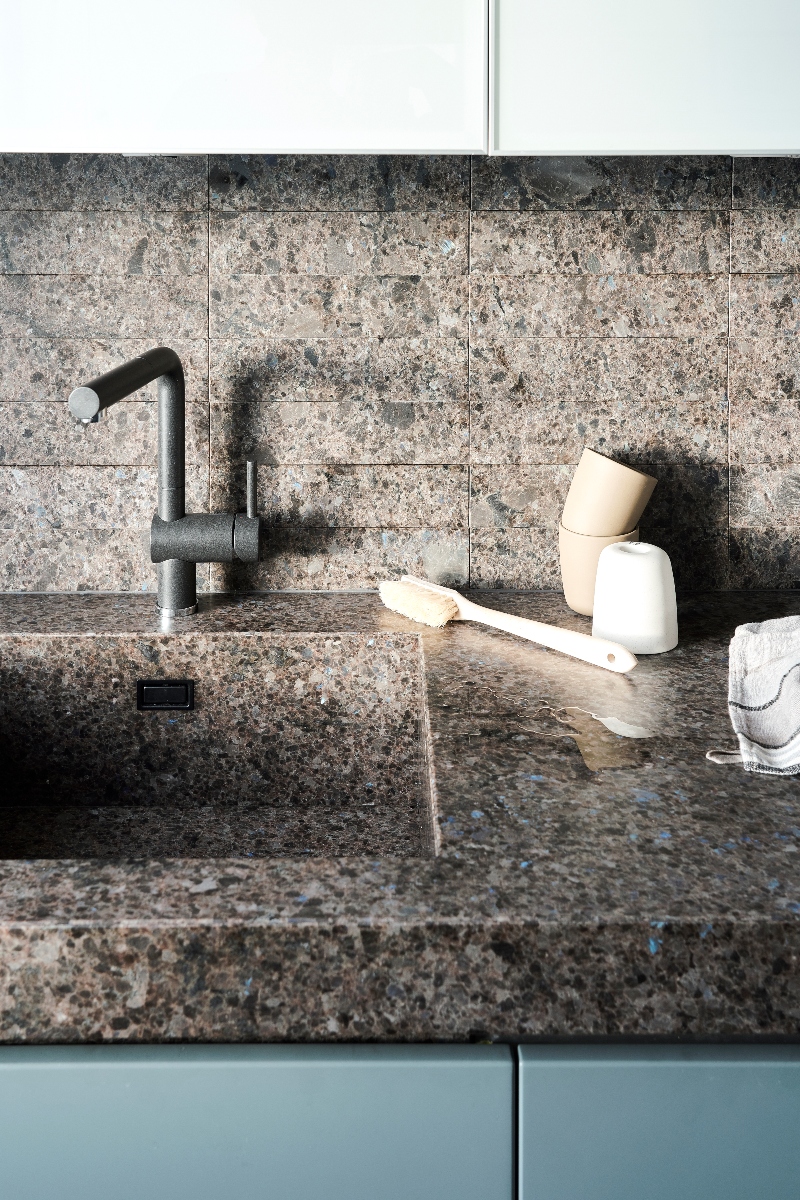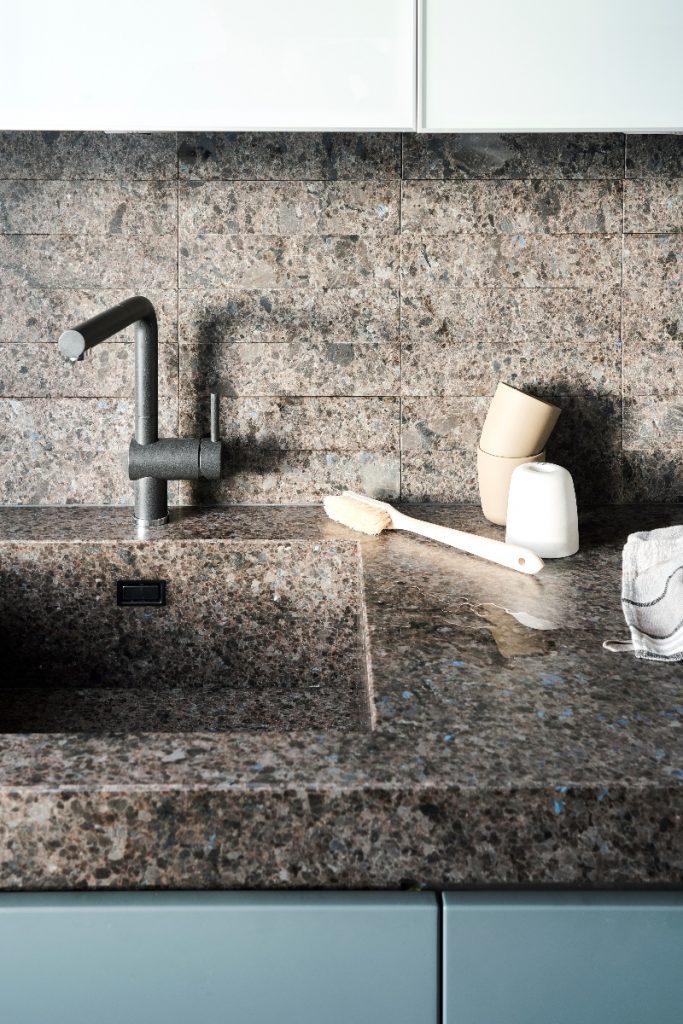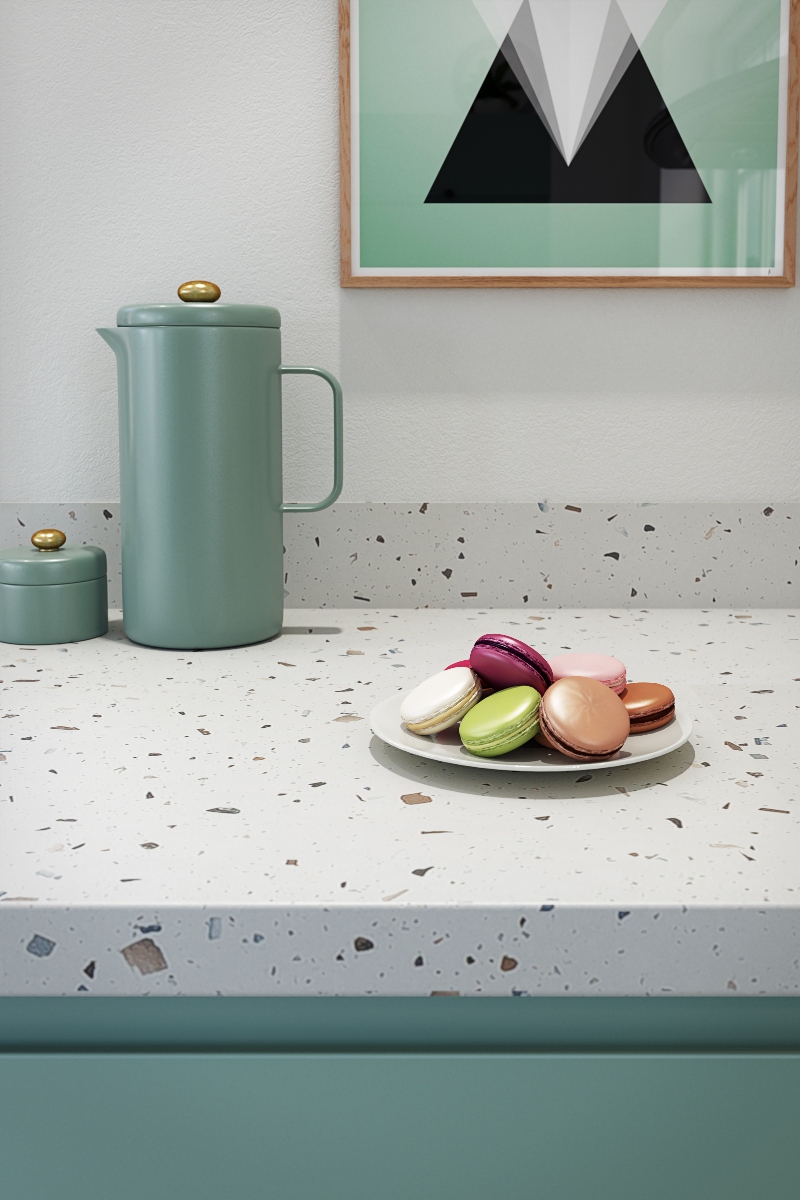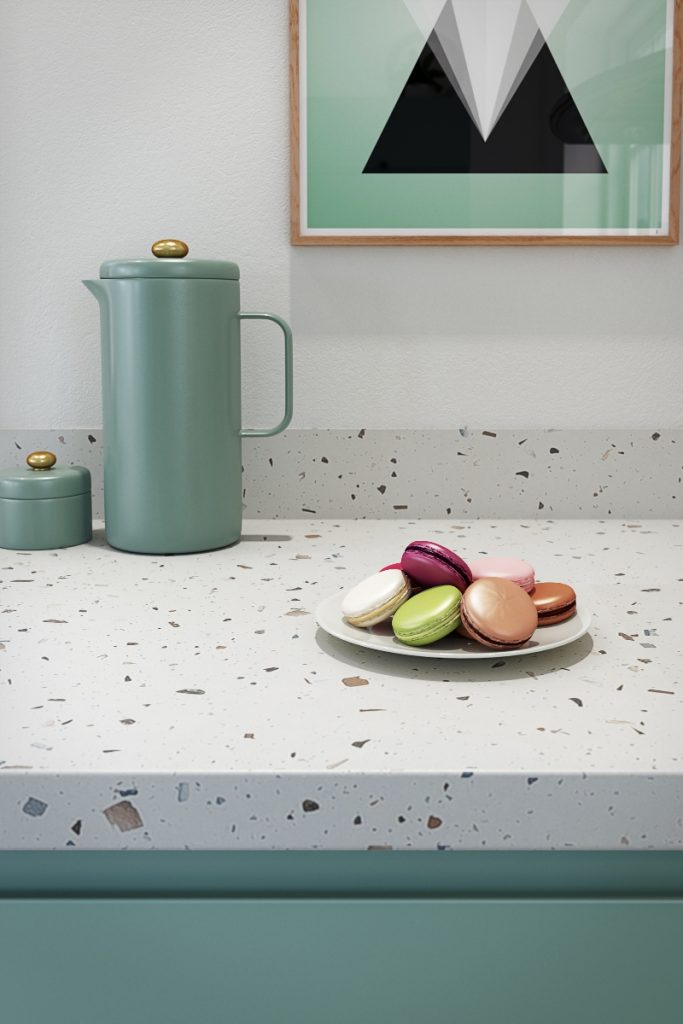 Mix and match kitchen worktops
To counteract higher costs, many people opt to have a stone or marble on their island with a more affordable – and lower maintenance – surface elsewhere.
This clever design trick also works well for defining zones throughout your kitchen as it adds visual interest and depth. For example, if the worktops are in granite, you can opt for wood for a breakfast bar or stainless steel near the range cooker, suggests Alex Main director at The Main Company.
When mixing and matching surfaces, you can also look for ways to be more eco conscious by considering environmentally friendly worktop options. The latest designs are attractive yet durable and practical, too. Reclaimed wood is a great way to add character to your space and with proper maintenance (including regular oiling) it can last a long time. Plus, it works perfectly when paired with stainless-steel or copper to recreate that modern rustic or industrial feel.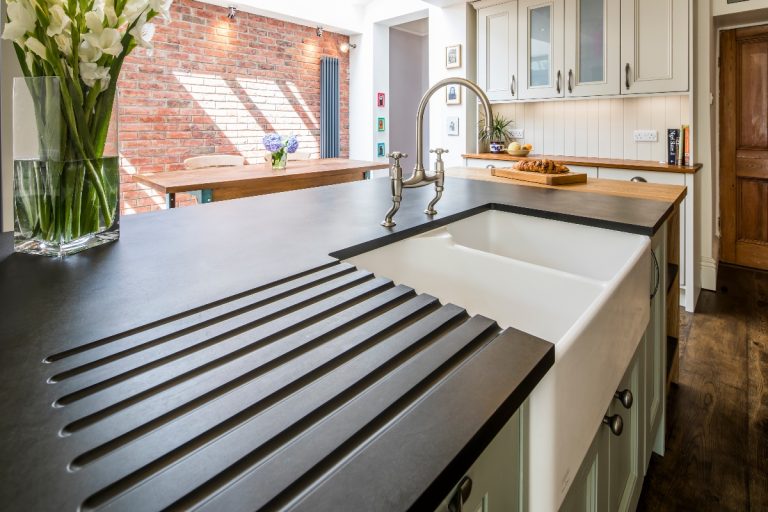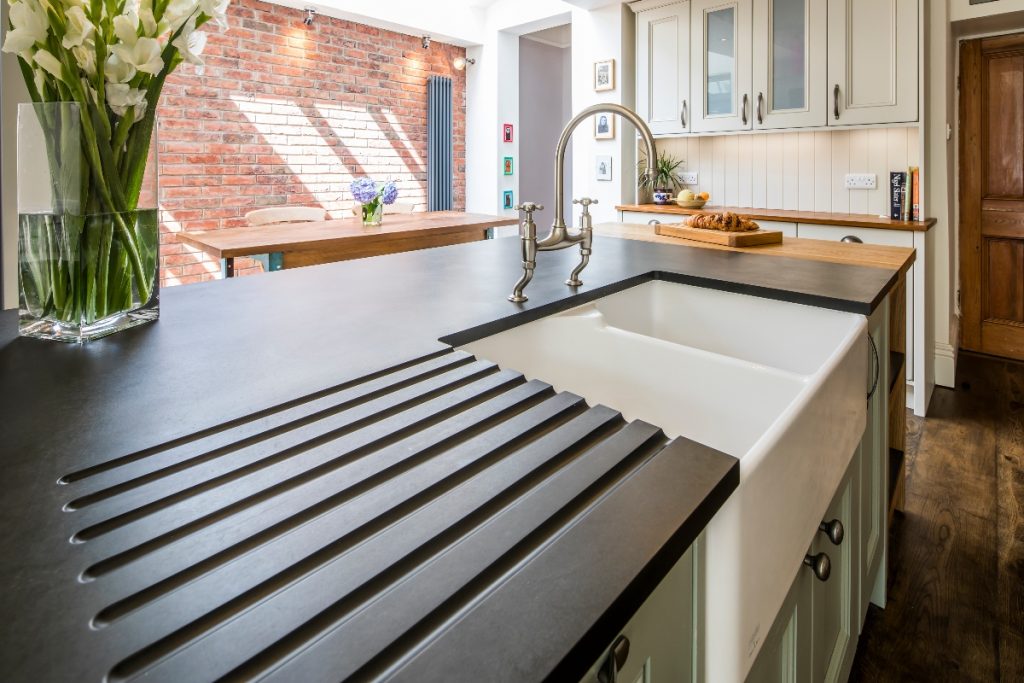 Prioritise hygiene
An important factor to consider, especially if you have a busy household or little ones, is hygiene. Often easier to maintain thanks to being non-porous, materials such as quartz are very hygienic.
These surfaces do not soak up foods, liquids, or any other substances that might encourage the growth of harmful bacteria or mildew. Plus, this means they can simply be wiped clean with a cloth and kitchen spray – easy peasy.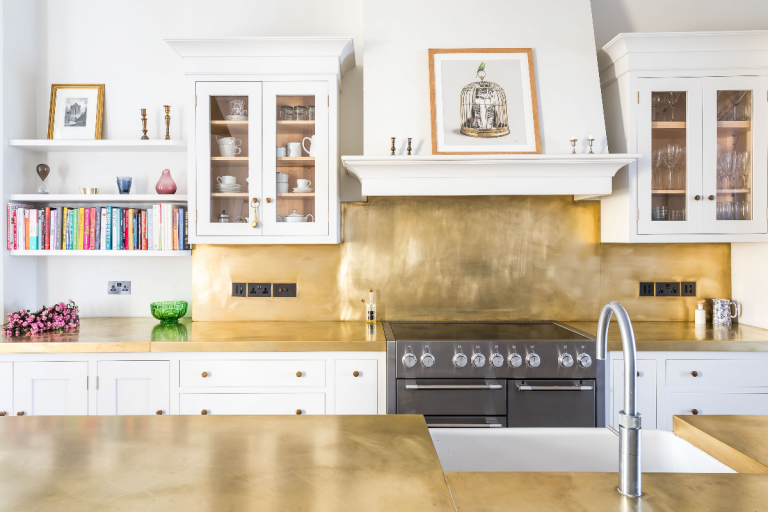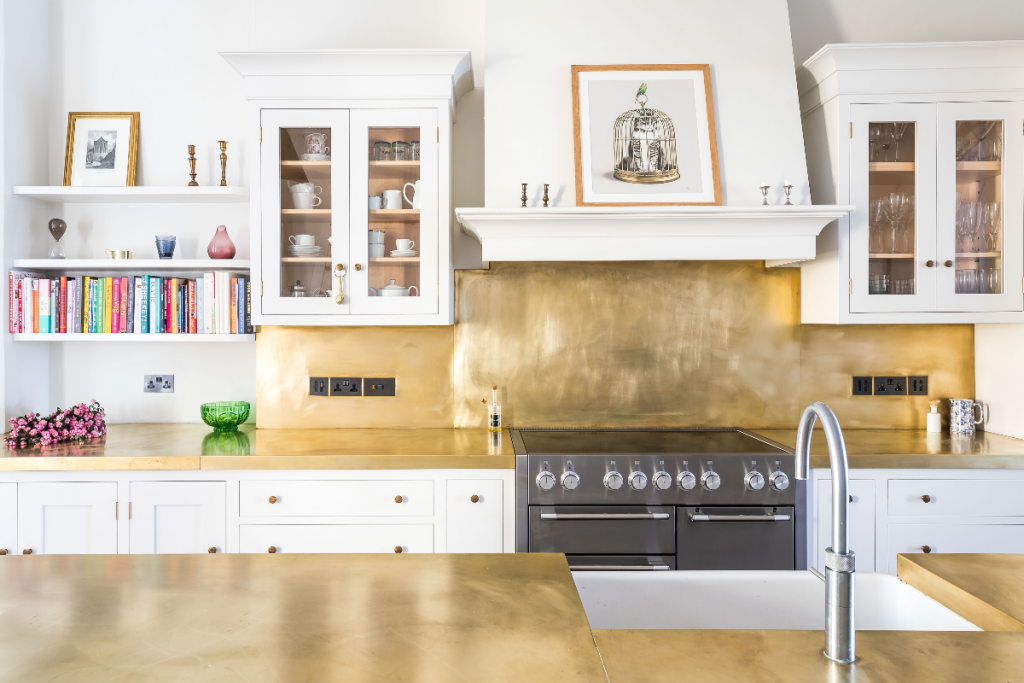 Be practical
Solid surfaces go one step further, with brands such as Dekton and Corian having created unique composite blends that can be made bespoke to perfectly fit your kitchen, without any joints or seams. But don't think of any kitchen worktops DIY projects just yet, better go the professional-route for a successful design.
These options are really popular as they can be made to have a very slim profile, unlike natural stone and wood materials. Solid surface worktops will come with additional steps to accommodate for design and installation though. So, it is always worth finding out early on if this is a good option for you both in terms of cost and time.
Another aspect to keep in mind is that marble is a very heavy material, so make sure your kitchen cabinets are reinforced to withstand the weight – I think we can images what could go wrong here. It's also best for these worktops to be installed during the final stage of your kitchen installation. That's when the pipework and electricity have already been put in place underneath.
Make sure you understand how to take care of your worktop to ensure you enjoy it for as long as possible. Wood, for example, only needs regular wipe downs with warm soapy water, whereas engineered materials can usually withstand stronger cleaning products.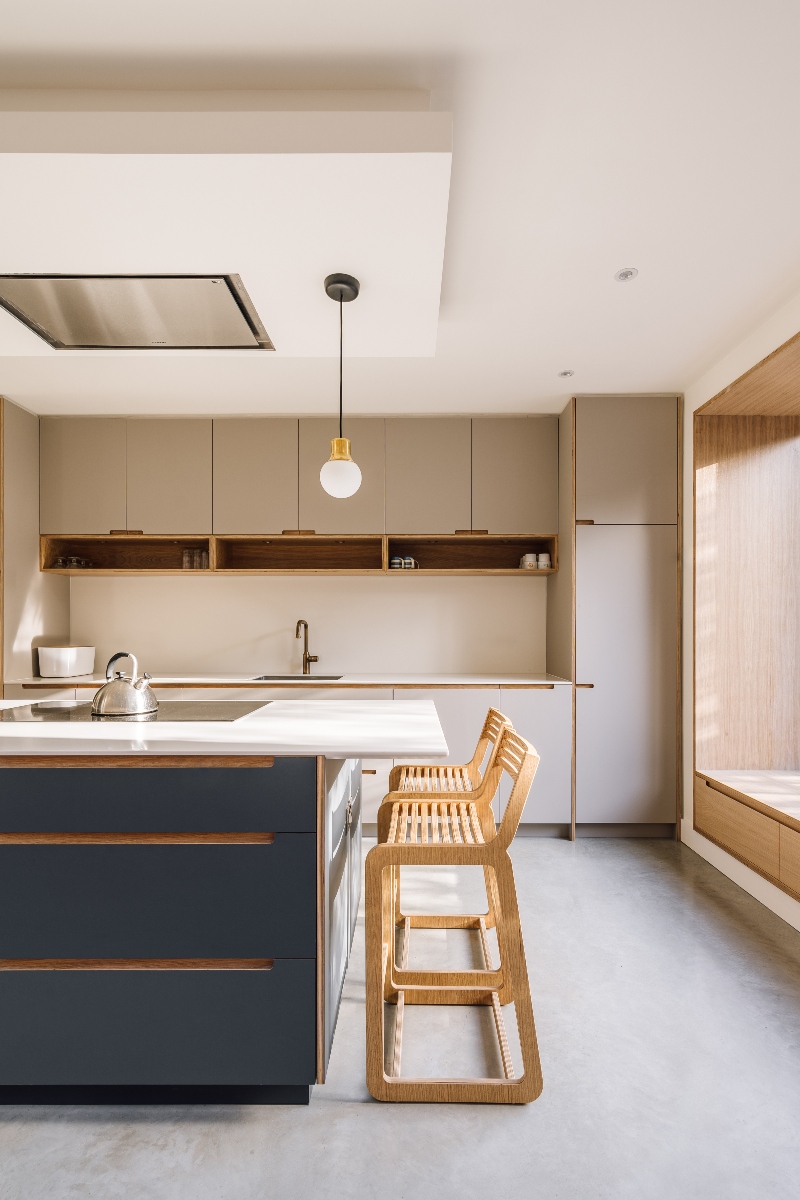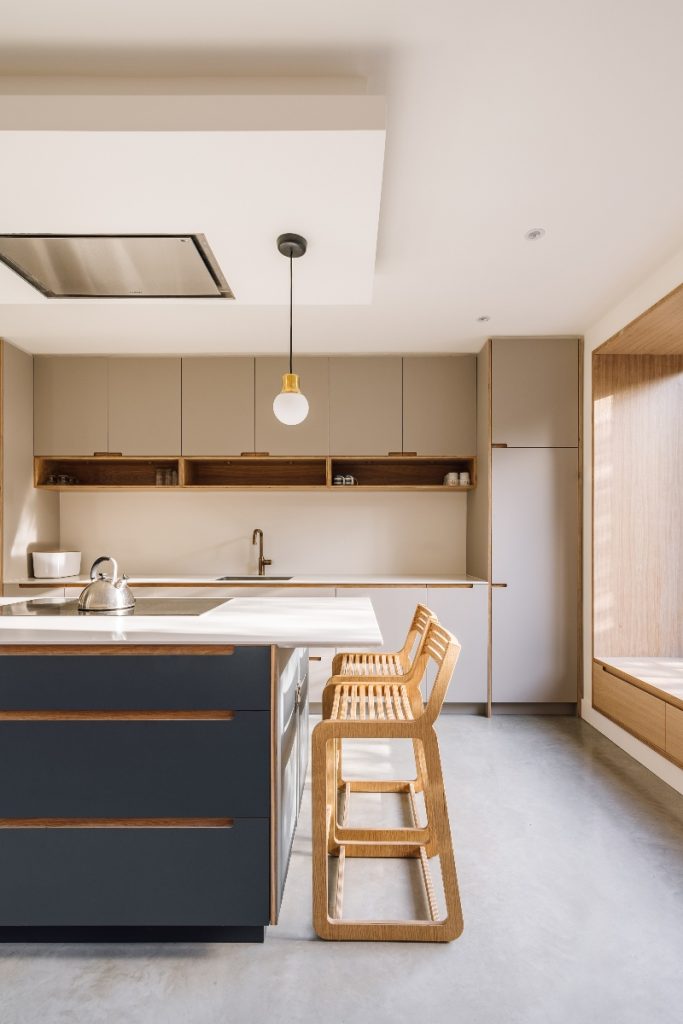 Seek professional advice
When thinking about your worktop, take your time, chat to your designer, and ask what material they'd recommend for your lifestyle. The right choice will ultimately depend on how much cooking you do, your cleaning habits and time to care for a material.
Not to mention how many people use your space, so visit those local showrooms close to you or book a virtual appointment to discuss your way of living and design ideas. It's ideal to get the best advice for your project before committing to your kitchen worktops.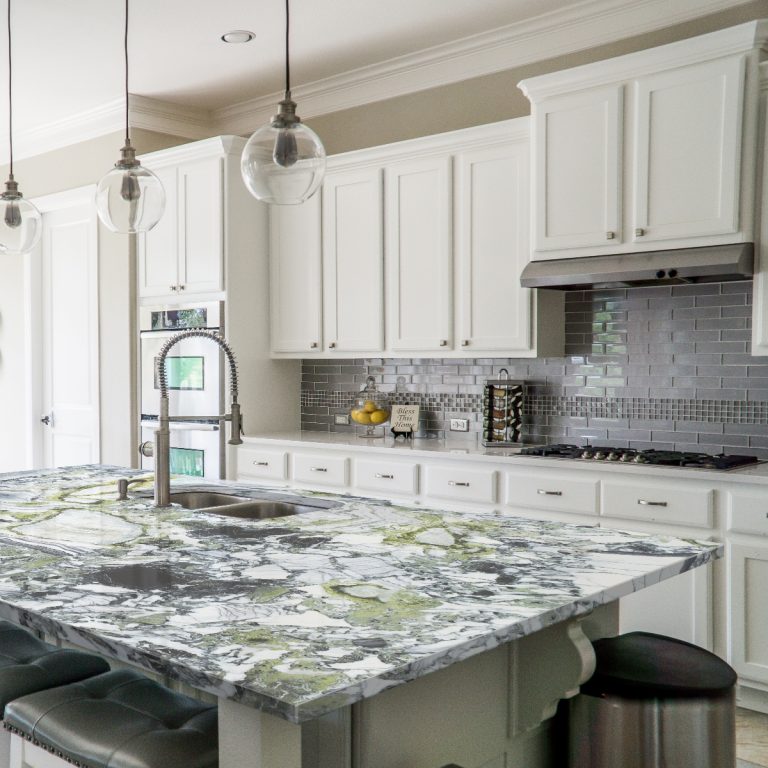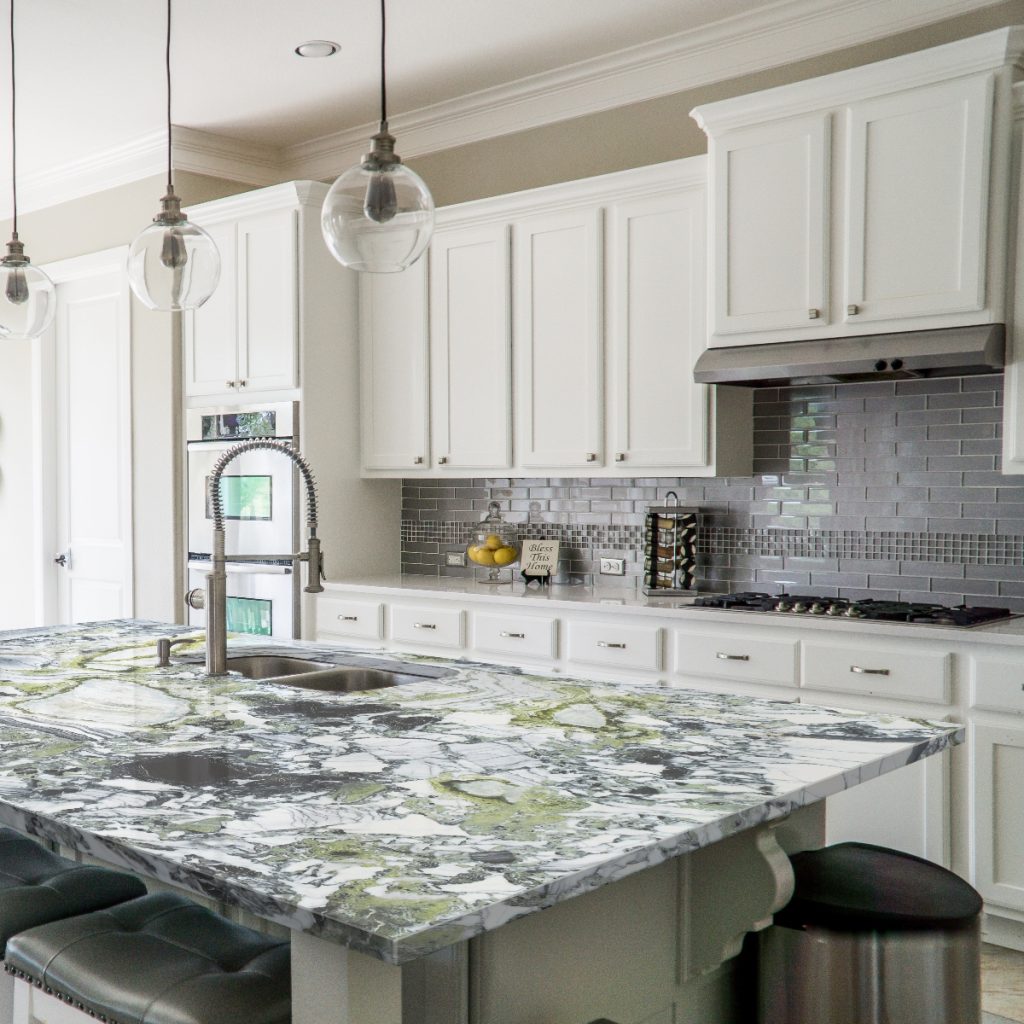 About Post Author