Easy and affordable ways to give your kitchen a makeover, you say? Well I have some ideas for you. Also great if you've got some time on your hands and fancy a little change as many of these jobs can be done within a weekend with great, long-lasting results that'll have you feeling proud as punch, saying "I did that".
I've tried to stick with ideas that you can do yourself, without having to call in any trades – the simpler the better. But that doesn't mean they're any less effective, oh no – read on to see for yourself…
1. New door fronts
If your carcasses are in good nick, this is one of the most effective and affordable ways to give your kitchen a makeover. Companies such as Naked Doors, Husk and Plykea offer bespoke options to standard carcass sizes, while a builders' merchant or joiner will also be able to provide doors to the size and style required. You might like to update a Shaker with a slab-style door, for example, or vice versa.
Self-adhesive vinyl coverings are a good way to revive doors that are simply in need of a colour refresh and these come in a wide array of shades and patterns – some with realistic textures of wood, for example. Try Vinyl Warehouse, B&Q and Amazon.
There are some funky designs out there, so if you're up for it, you could really have some fun with a statement finish.
2. Tile a new splashback
A small area of tiling won't cost much (depending on your choice of tiles, of course!) and is a good way to add a new pattern or colour to your kitchen. Trendy hexagonal and metro shapes look great when laid in a 'non-standard' pattern, so up your design with an interesting layout.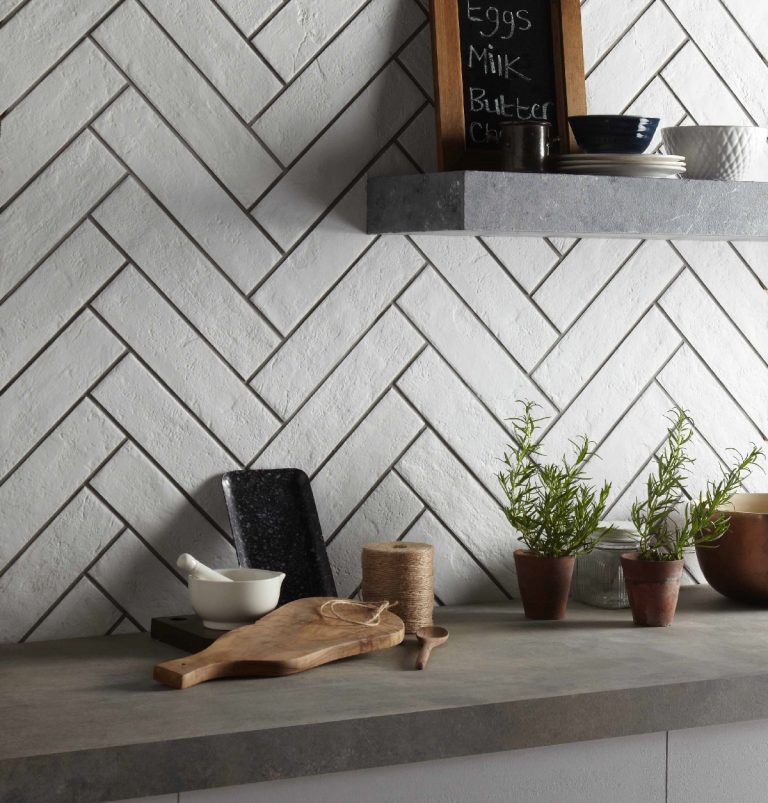 You could also opt for a glass slab design – great if you don't want to come up against the task of grouting. This option is a one-piece affair and can usually be cut to your required size.
Add a new design behind your sink or range cooker (or both) and if you're good at DIY, it's a weekend job you could tackle yourself.
Look out for wallpaper designs with waterproof and easy-wipe properties, too. I like this one from Lime Lace.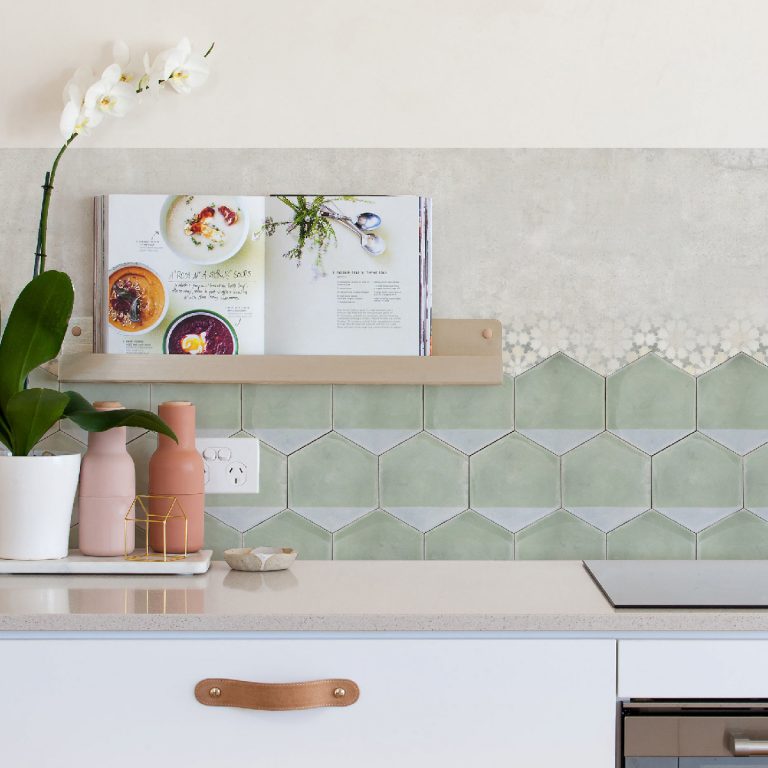 3. Paint a new colour
Another affordable way to give your kitchen a makeover by changing up the doors is to give them a lick of paint. Wooden doors work best for this type of makeover and you'll need to make sure you properly clean, sand, prime and give them a good couple of coats of suitable, hardwearing paint.
Simply remove the doors, hinges and handles or, if you're tight on space, mask off the hinges and remove the handles before painting. And always lay a dust sheet.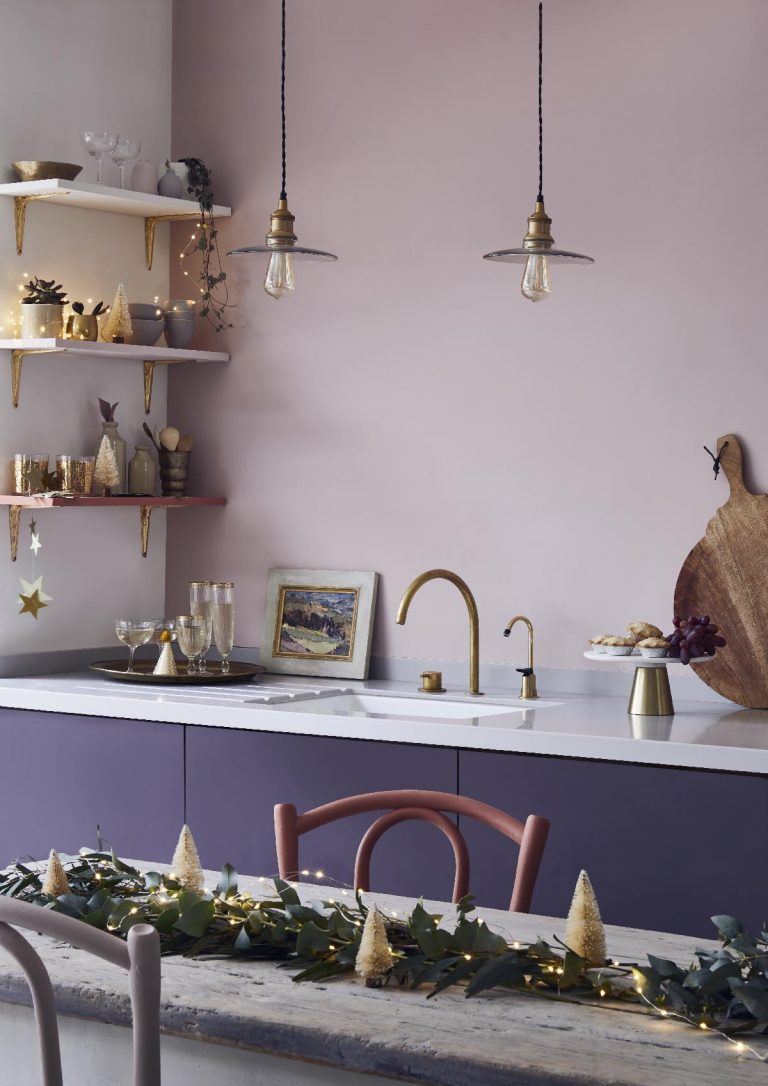 Try Ronseal, Dulux, Crown or Farrow & Ball for a large palette to choose from or take a colour swatch to your local DIY store to be mixed to a highly-resistant, washable kitchen paint that's designed for wood applications.
Of course, painting the walls (if your units are good as they are) is another quick DIY kitchen update. Again, ensure you choose a paint that will withstand harsher wear and tear and one that's washable.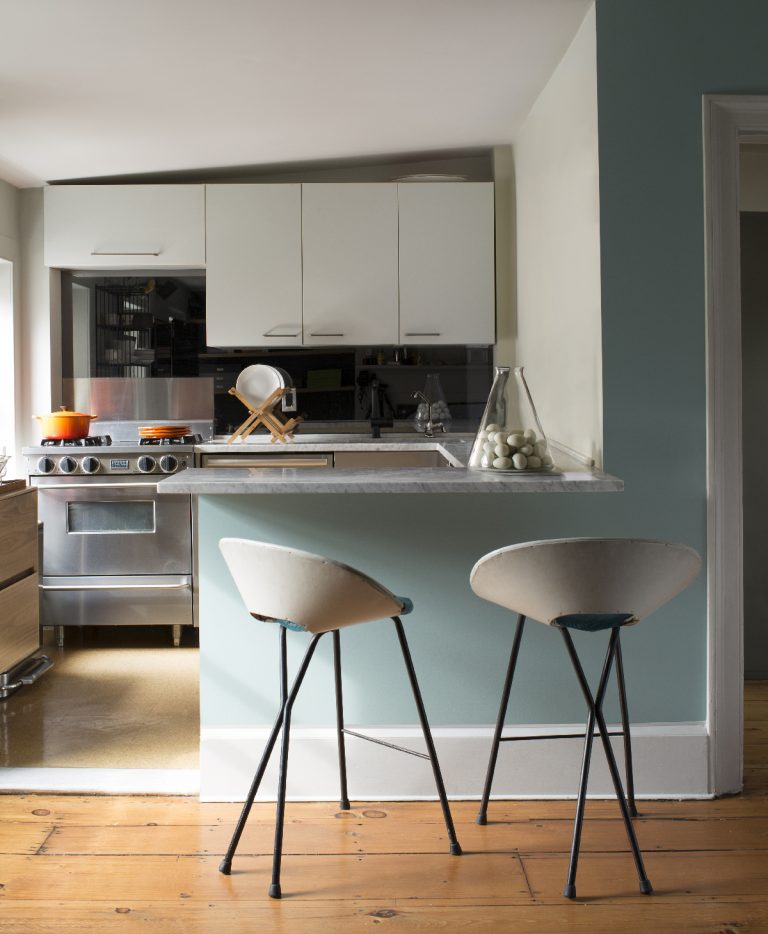 4. Replace wall cupboards with shelves
Approach this with some caution – do you have enough storage left if you get rid of some wall cabinets? If you can manage without one or two units, replacing wall cupboards with open shelving is another affordable way to give your kitchen a makeover. Plus, it's a great way to bring your kitchen up to date with one of the hottest trends.
Ensure you're careful when removing the existing units so not to damage the wall. You'll need to make good any scuffs or marks and ensure that the wall matches that elsewhere in the kitchen design.
Then, affix your choice of shelf to the wall, ensuring it's done well, especially if you plan to place breakables or heavy jars of dried foods up there – no-one wants those artistically placed and painstakingly labelled Kilner jars smashing everywhere, right?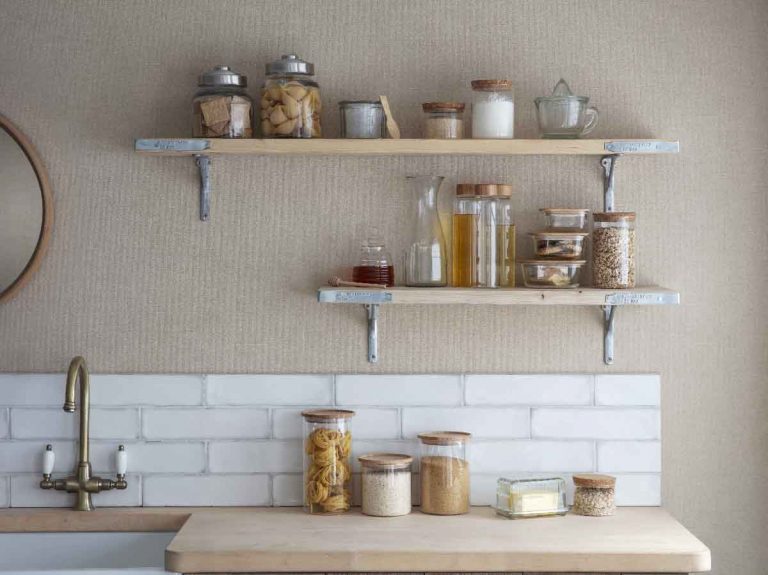 5. Update your tap
Most of the time, it is possibly to retrofit a tap into the existing hole of your old one.
Simply measure the fitting and shop for one the same size. Carefully disconnect the plumbing below the sink, noting what goes where and then copy this when installing your new one.
Any new tap should come with installation instructions, but you can also seek advice from the manufacturer – check their website for guides.
Why not swap out your chrome or stainless-steel fittings for a *very now* matt black or brass version, or even go with a natural patina copper in an industrial style design. It's a relatively simple switch up, but will be noticeable every single day.
If you're not keen on changing the colour or material because it fits with your scheme, how about updating the shape instead?
However, and this is important, if you're after a boiling-water tap, you must seek the help of a professional to install this, as it's a more complex job that needs experience and expertise.
6. Change up the lighting
With darker nights and mornings, you really realise how valuable good lighting is. A layered approach is always best so you have options for both task and mood lighting.
How about adding some simple spotlights to the inside of glazed cupboards that you can leave on once the dishes are done and enjoy a subtle glow? Look for good-looking sticky-backed, battery powered ones that are easy to put in.
Or for more impact, update pendants over an island or your dining area – a simple and relatively affordable way to give your space a trend-led makeover.
7. Replace handles
An obvious change, maybe, but no less a game changer. And it's probably one of the most affordable ways to give your kitchen a makeover, too.
There are so many lovely handles, latches and knobs now available from simple designs to those with a bit more character – literally, I'm talking leopard-shaped ones for a start. Search Etsy and Not On The High Street for unique finds.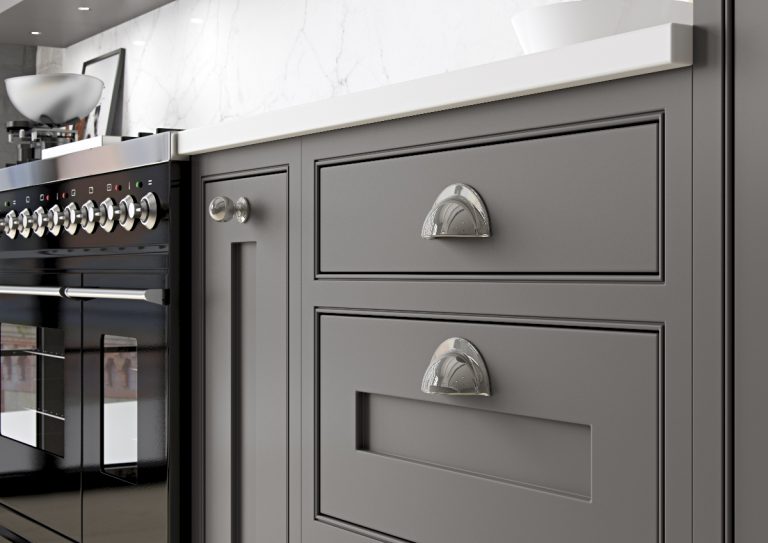 Don't think you must match your handles throughout either, and certainly don't have to match your tap and appliances.
A mix of metallics and materials adds a personal touch. You could have one shade for base units and one for wall cabinets, or change up the style on your island versus the rest of the space. Keep to two or three styles (maximum) to stop it looking OTT.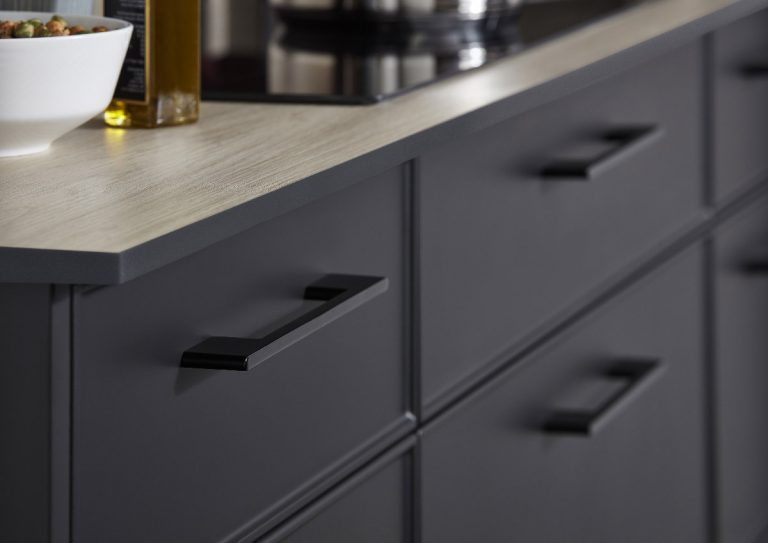 8. DIY your own larder
Love the look of a breakfast cupboard or one of those wow-factor larders? Me too. If you're short on space or want a simpler solution, why not convert a tall cupboard into a makeshift larder with nice rows of dried goods and well-organised ingredients. Keep gadgets such as a mixer, blender or toaster in there too to clear clutter from the worktop. And if you have some budget for an electrician, ask them to fit a plug socket within so you can power your small appliances without having to move them – neat.
Got an understairs cupboard or ex-boiler cupboard that's being wasted? Turn it into your pantry.
9. Update your breakfast set
A new kettle and toaster is an easy win for a quick kitchen update. Introduce a new colour into your scheme with a matching set that looks so good you'll want it on display.
10. Add a breakfast bar
Want an extra spot to perch for your morning coffee or need a place to work from home? Think whether you can achieve the feel of a breakfast bar by fitting a wide shelf at seat or bar stool height within your space. Even a small area for one or two seats will prove practical.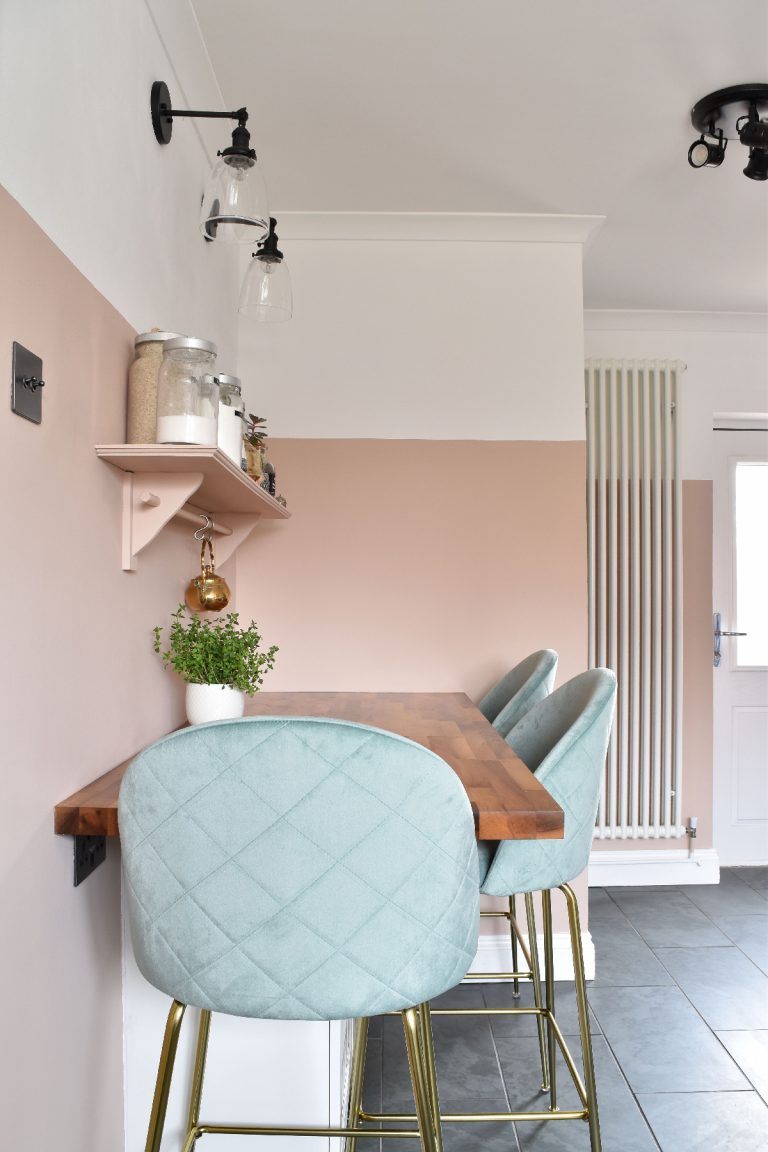 Alternatively, there are some very cool ideas coming to light for fold out, wall-hung desks that are secured to the wall and can be folded away when not in use. As well as a good place for a laptop, this could be the answer to needing a place to sit and do homework or eat breakfast before the rush of the day.
So there you have it, 10 easy and affordable ways to give your kitchen a quick makeover. Question is: which will you do first?
Featured image: Annie Sloan

About Post Author