It's well known at KBB HQ that I'm a sucker for a green kitchen, and what a green kitchen this one is – I love it! 
From personalised drawers to a unique mix of colours, textures and favourite items on display, this green kitchen is all about showing off the characters and design tastes of its creative owners,

Manisha and Sumit. I don't think you could pack much more personality into a space so come on a tour of this fantastic renovation with me.

London-based personal stylist Manisha lives here with her husband Sumit, a company director, and their daughters Lara and Amelie. "I didn't want something I had seen everywhere so I created a kitchen personal to my family by combining lots of colours, textures, and materials without it being too shouty," she says.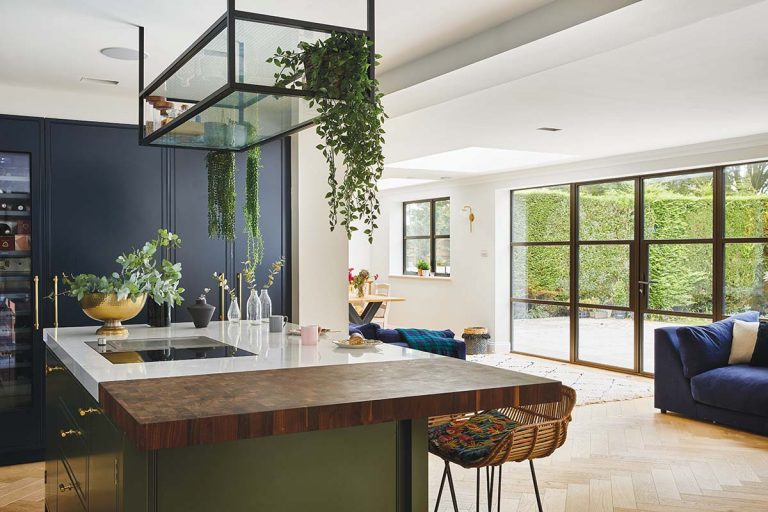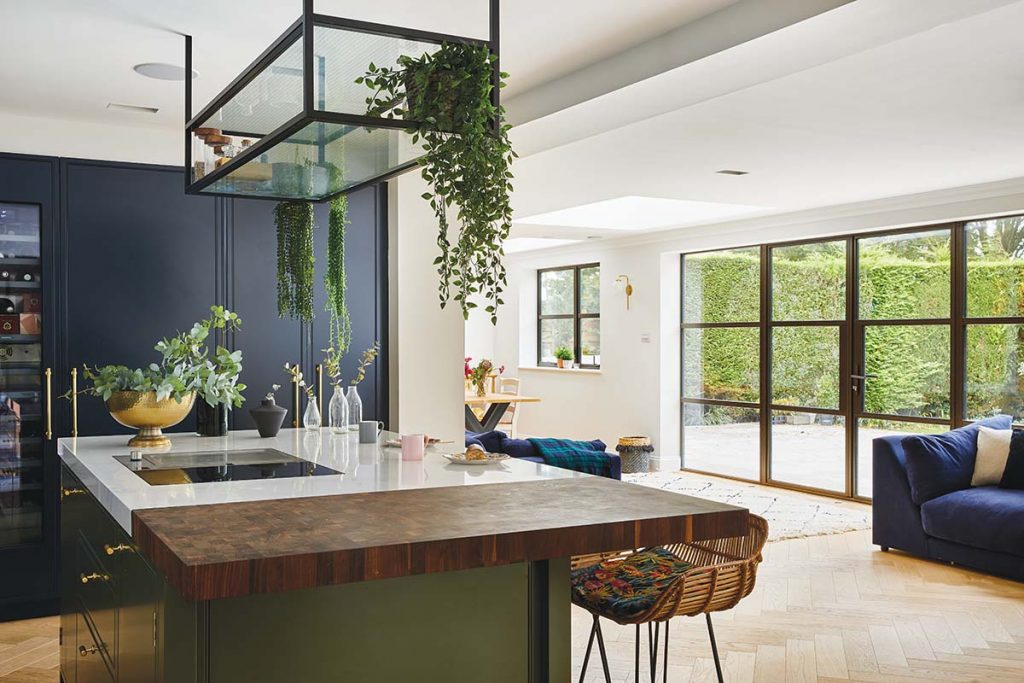 The remodel was part of a much larger renovation of a 1960s detached house. Manisha and Sumit bought it when they decided to move back to London after temporarily relocating to Derby. After an initial surface-level redecoration they waited four years until starting their big project, getting to know the space and saving money for the substantial works. Replacing an existing conservatory with a double-storey rear extension created a more open and functional environment while removing internal walls made space for an open-plan kitchen-living-diner. Upstairs, the layout was totally reconfigured to include a master suite with an ensuite and walk-in wardrobe.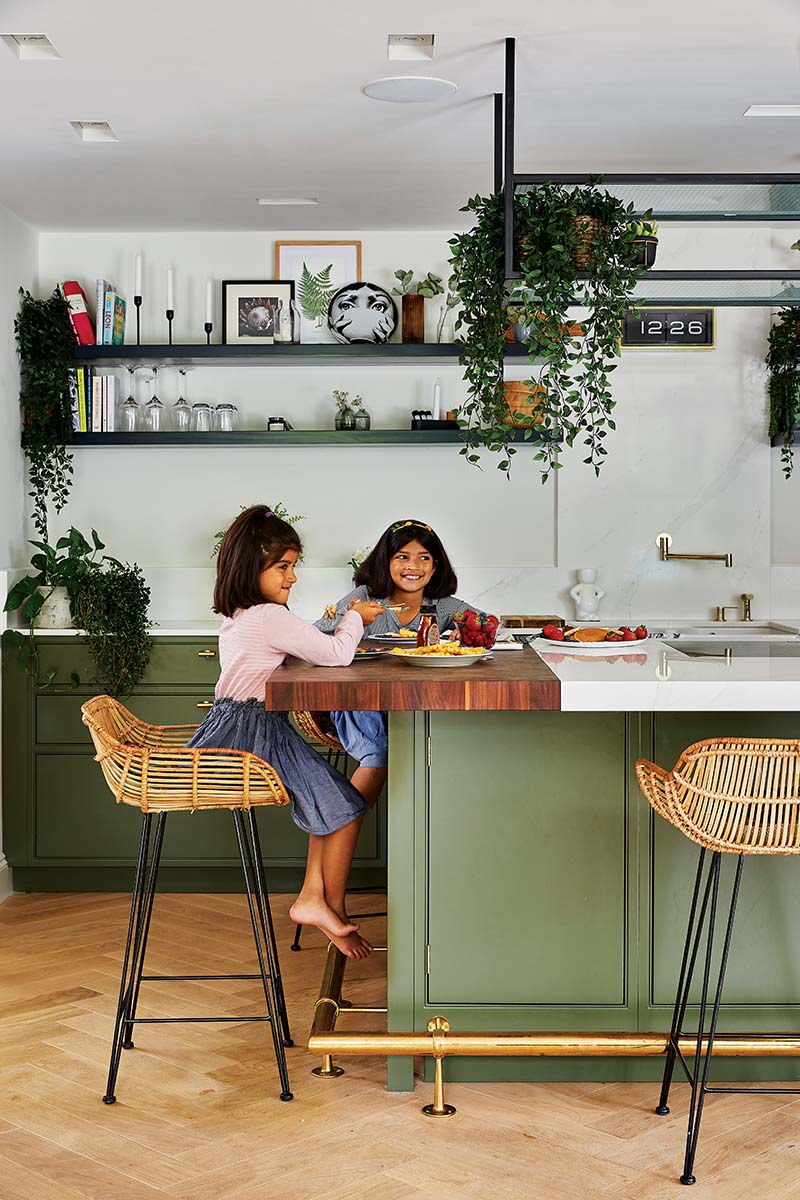 Manisha discovered Day True following a recommendation from Aflux Design, which did the couple's interior design and project management. "I struggled as the kitchen companies I researched all seemed to either be uber modern or super traditional," remembers Manisha. "I imagined something in between, and Day True had sturdy, great pieces with character – a nice middle ground, exactly what I was looking for."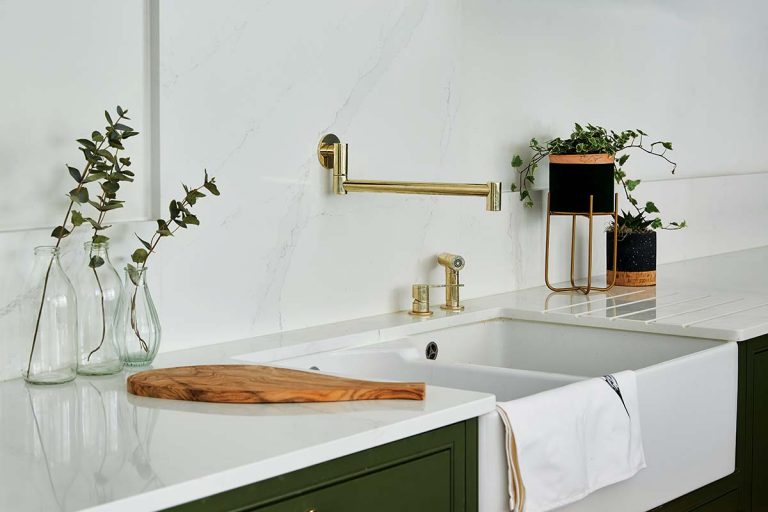 The brief to Amy Stoddart, interior designer at Day True, was simple: the kitchen had to be perfect for entertaining, not too fussy, and show off Manisha's creative personality. "We did this by combining different colours and textures, from blues, greens, and dark woods to marbles," she explains. "But I love how it's still really subtle and not in your face."
Scroll down to get this kitchen style…
Non-negotiables included a substantial central island for people to gather as well as a double butlers sink. "I saw this in the showroom and loved the idea of mixing a traditional piece with the more modern aspects of the kitchen," Manisha says.
One such product is the Bora downdraft hob on the island. "We were originally going to have the cooking area on the back run, but after speaking to a couple of people about feng shui, apparently it's not great to place water and fire in one line," Manisha laughs. "I'm a little superstitious about things like that, so we moved the hob onto the island, which works really well. It means I'm facing the family rather than having my back to them when I'm cooking. Thanks to the downdraft extractor I can have a nice hanging structural piece above to keep plants and ingredients. It's a stunning focal point."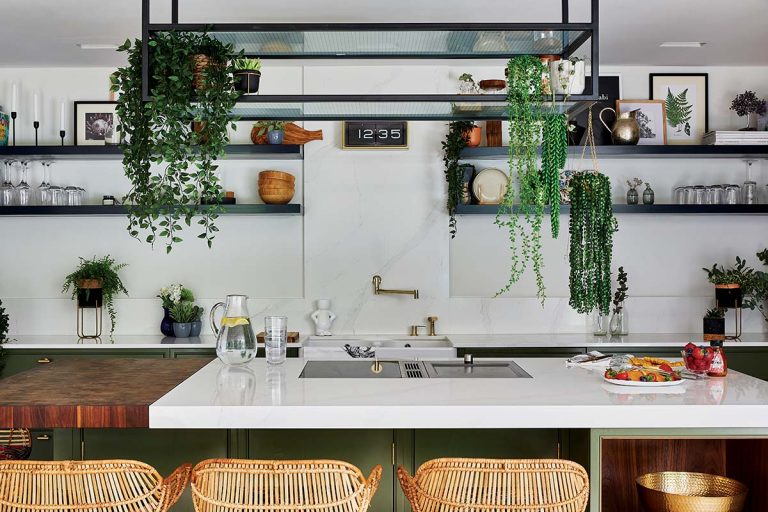 For the rest of the layout, the L-shape cabinetry includes base units behind the island with open shelving on one side and floor-to-ceiling cabinets on the other, housing the double ovens, integrated fridge, a wine cabinet, storage – and Sumit's favourite part of the kitchen, a dedicated bar area that can be hidden behind sliding doors. "We went for open shelving instead of wall cabinets because the way Amy designed the space meant there was plenty of storage – and I liked the idea of being able to display some of my favourite glasses, cook books, and to change the décor seasonally," Manisha explains.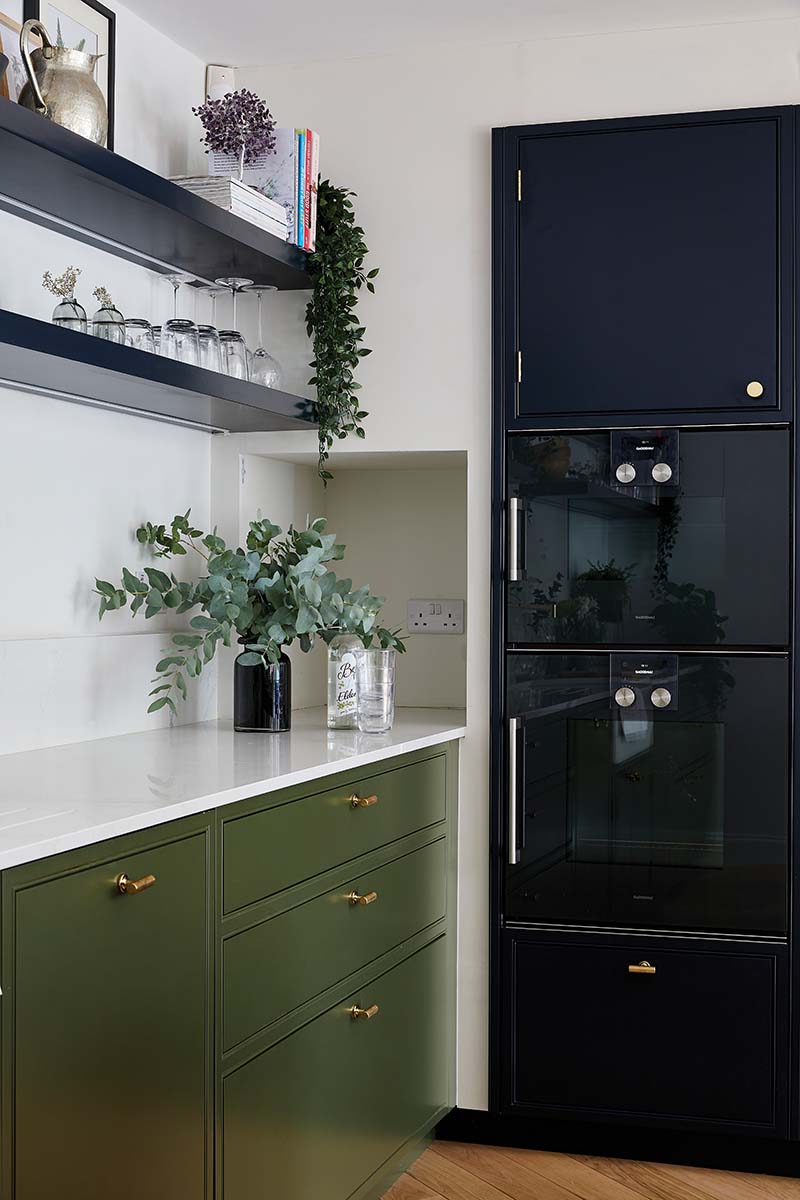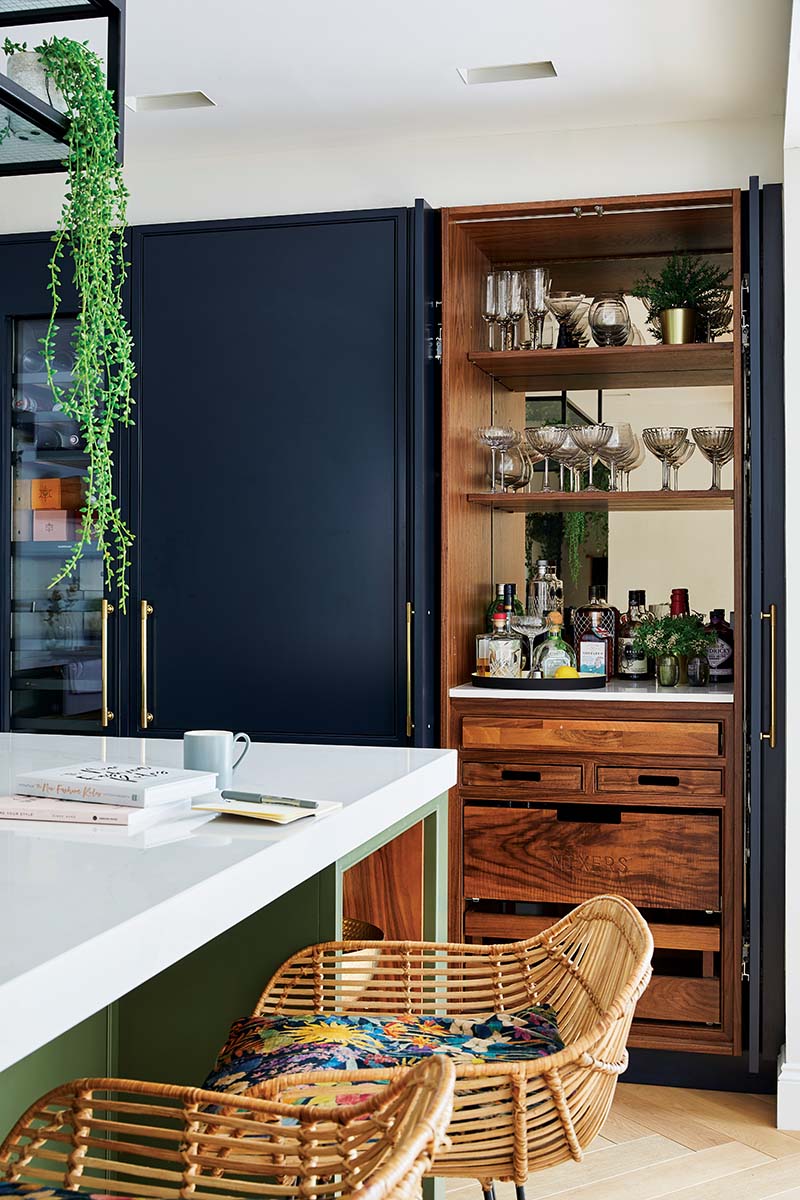 Along with their children's names, Lara and Amelie, being carved into their own snack drawers, as part of the finishing touches a gold foot bar surrounding the island has been included. "Staying in is the new going out, especially for us: we are so much happier to be at home and go at our own pace and have everyone round," Manisha laughs. "I loved the idea of having a night-out feeling in our home and wondered how I could bring that in – so we went for the bar around the edge. Not only does it give off so much character, it's actually really practical as you have somewhere to rest your feet."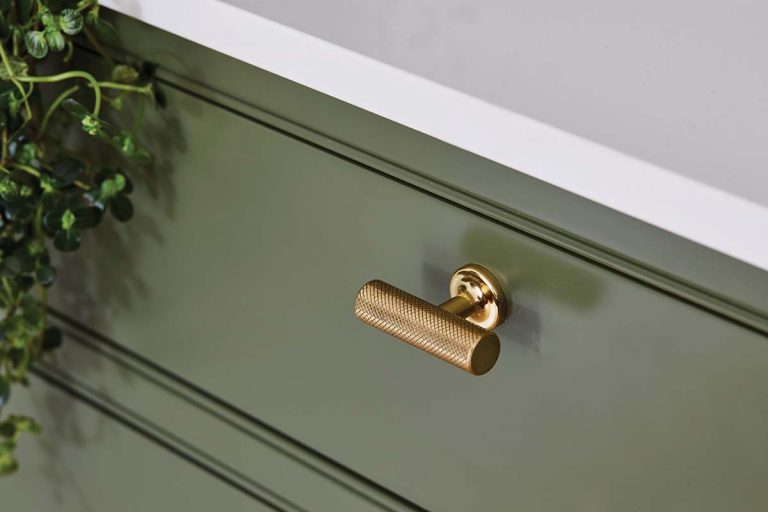 Perfect for all social occasions, the room has become the place where everyone hangs out. "It's fabulous: not only has this become our everyday living space with the girls, we're also a very open house: we can have 10 children round sat up on the stools, but similarly can set up the bar area and host an adult dinner party. It simply works."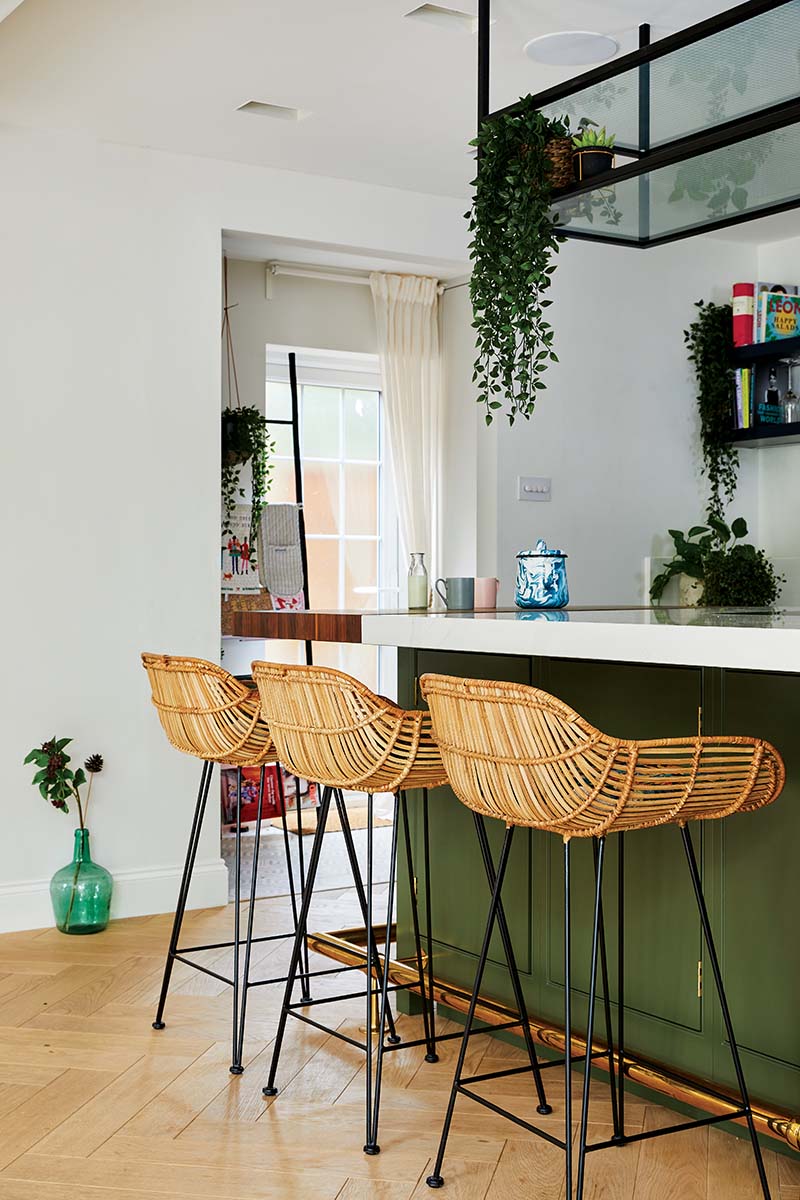 Photography: Chris Snook
Featured image: Manisha imagined a kitchen with both modern and traditional elements that also shows off her creative personality. Kitchen design, Day True.
Get Manisha and Sumit's look
Love their home style? We've put together some products to help you achieve the couple's look.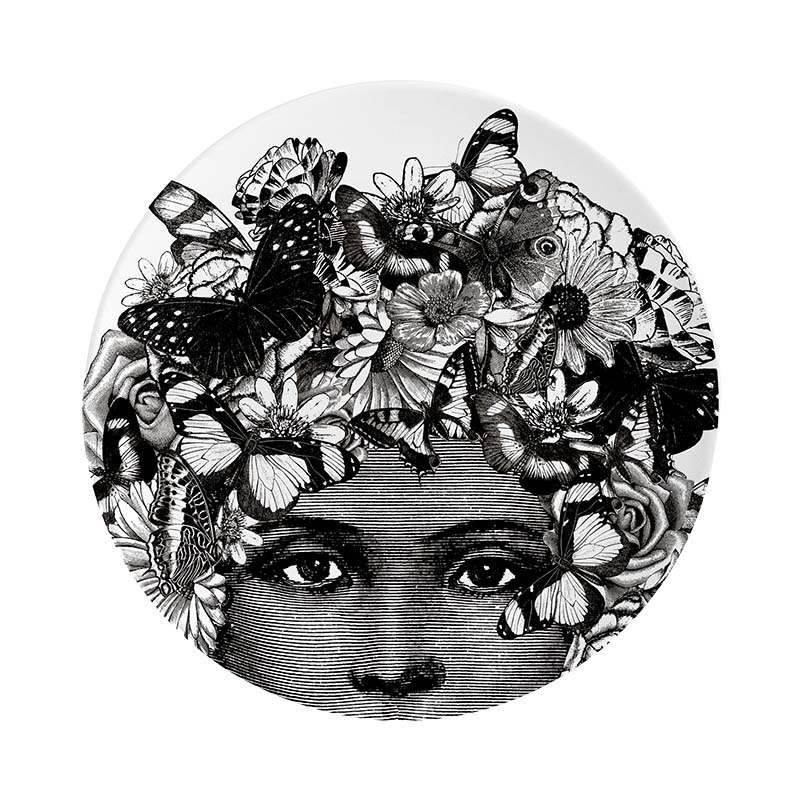 About Post Author