I remember when I was designing my kitchen, and top of the wishlist was a beautiful oak shelf to keep my cookbooks, with a double-layered wine rack underneath, at the end of my peninsular. And, it was perfect for about two years – until my baby learnt to crawl. And then everything changed.
No longer does a variety of full-bodied, rich red wines live in the rack. Nor, does sumptuous and delicious recipe books sit on the shelf.
Look what they've been replaced with. Just look!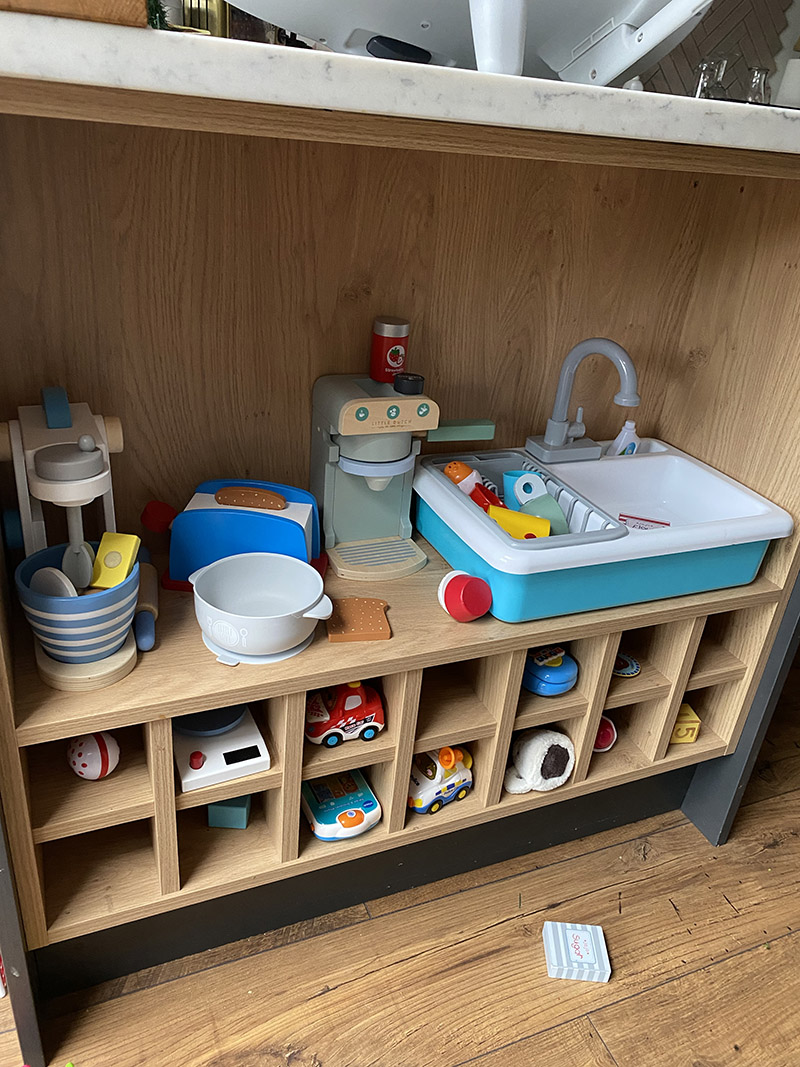 We even caught the moment on video when we realised we could no longer keep things the way they were. She had been crawling all of two, three, weeks maybe. It was March 2021. I remember it well….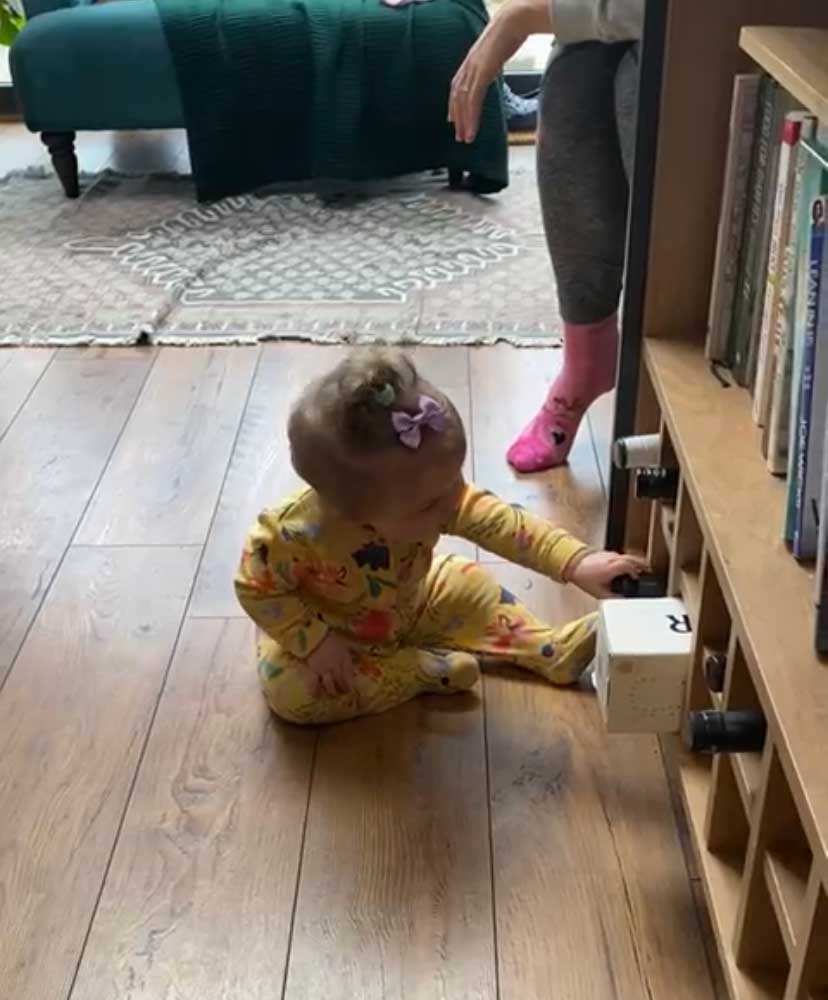 We took everything away, which now lives in the living room, and replaced it with toys. While she does love to play there now, it's not doing my interiors cred any favours!
And this is where the childproofing of our kitchen began.
As she continued to explore, plug sockets for some unknown reason looked like really fun things to play with. And, she could now also crawl to chairs and pull herself up to standing, so sharp corners of things posed a threat. Below are now very common things you see in my kitchen (and around the rest of the house, too)…
Not long after this, maybe a couple of months, she learnt how to open the base cupboards. While this one pictured, which contains all her bottles, plates and Tupperware – which she loves to play with, probably more so than her actual toys – isn't too bad.
The cupboard next to it contains snacks, and then a couple of doors down is where we keep the bleach and cleaning products. So not ideal.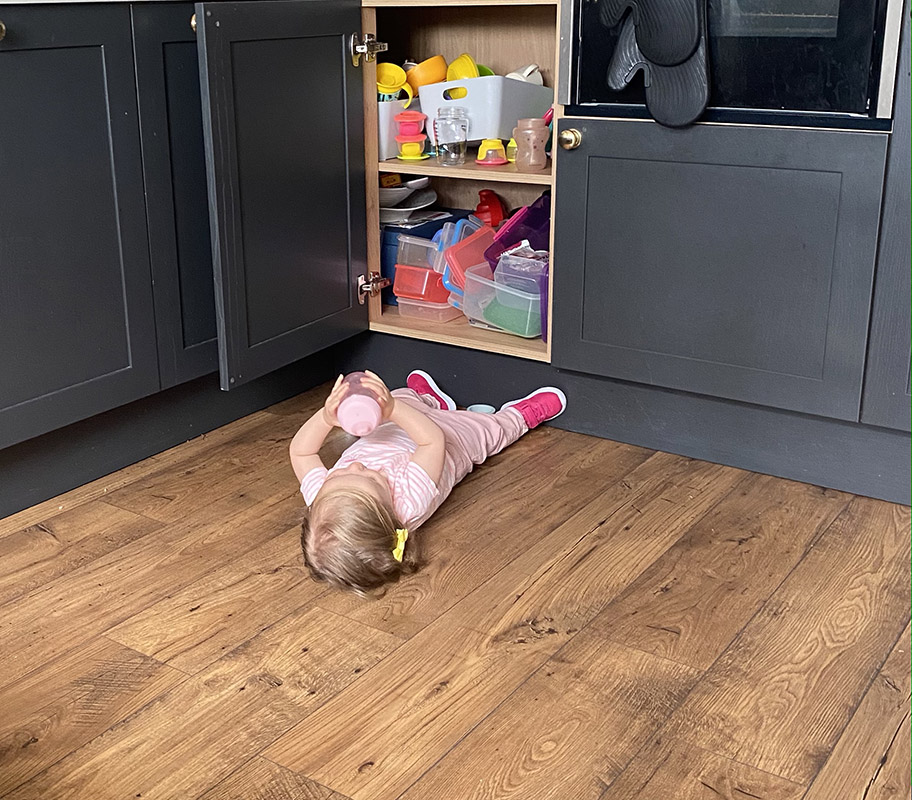 It was time to get the childproof locks.
We went for the kind where you need an actual magnet to open your cupboard doors. After a few tantrums were thrown, our little girl has thankfully got used to not being able to get into every base unit. Although she has been appeased slightly, as we've left the storage one for her to play – aka cause sheer carnage – with.
Problem is, it's now also Georgina-proof.
After I once left the magnet in the cupboard I was opening to get something out of, I was locked out of said cupbaord too. Thankfully, I discovered after a frantic phone call that my husband had hidden a spare one!
In preparation to writing this blog, I asked my mum friends with the same-aged children to see what they've had to do, too.
One has put down lots of rugs, as their stone floor is freezing to walk on and even harder to fall on. Another has to turn their range cooker off at the wall every time they use it, as their baby has discovered all the fun buttons to press and pull. Another is slightly worried about their fridge-freezer which has a water dispenser very nearly within reach! All these things seem like such good ideas when we're child free, right?
Having a kitchen redesign? Think futureproofing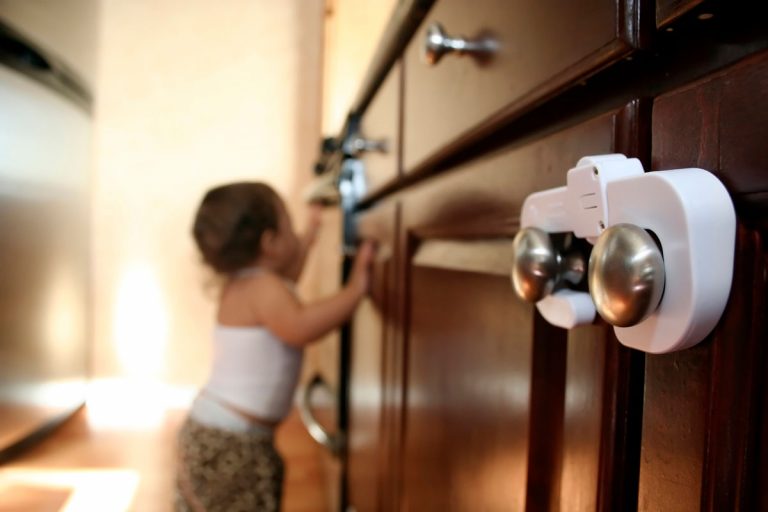 So, is it time for you to childproof your kitchen? If you're about to do a major redesign of your space, there's a few things you can consider if you know you'll have little ones to contend with – as by their nature, kitchens aren't exactly child-friendly.
For instance, go for anti-slip flooring, especially in the wet zone, and rounded corners on worktops to avoid little ones bumping their heads. Laminate flooring is also a great option – as it's durable and easy to maintain (perfect for when you start weaning!).
Think about grouping all your appliances into one area and positioning them out of reach of little hands. One way of doing this is choosing integrated ovens positioned at eye level. You could even conceal them behind closed doors, which is a great way to carry the family kitchen through from day into evening.
Induction hobs are a safer choice over gas, particularly if you have seating on the island, as their surface (where there isn't a pan) doesn't get hot, and it's even – so you don't have to worry about knocking things off balance.
If you don't want child locks, consider having lots of high-up wall cabinets to keep things such as glassware or cleaning products.
Instead of knife blocks on the counter or in drawers, consider having a magnetic strip on a wall above your worktops, well out of reach.
If the space allows, there could also be a way of including a child gate which ensures they don't get into the cooking zone at all.
What else can you do to childproof your kitchen?
Smaller things also include microwave and oven locks, door stops (for when they discover how fun it is to slam doors), hob and range cooker knob covers, metal cooker guards that help protect your stove or hob and table edge foam guards.
Whether you kit out your kitchen with everything in one go, or see what your child does or doesn't do and tailor your childproofing to them – it's fairly safe (pun intended) to assume you'll be seeing your kitchen in a whole different light once your little babe begins to crawl…and then walk. That's when the real fun begins!
Featured image: iStock
About Post Author