From handy apps to 3D planners, while modern tools to help you plan your dream kitchen or design your own bathroom might seem daunting, they can be simple – and fun – to use. Just follow our top tips to get you started.
As we all stayed at home for more-or-less 18 months of the pandemic, I can't be the only one who stared at a few of my walls and wondered how I could freshen things up.
But with showrooms shut, and face to face meetings with designers put to a halt, we had to think of other ways of redesigning our spaces.
And while virtual reality, and visualiser apps have been a thing for a while – even my mother in law planned her bathroom using one of those futuristic looking headsets – they have started to become more popular in the last year.
But what are they, and how can you use them, you're wondering? Well, I've popped together a few top tips on using virtual tools to design your own bathroom or kitchen, to help you along the way. (I've even tried and tested them myself!)
1. Know your space
Ok, things to know before you start to design your own bathroom or dream kitchen online: First off, you're probably not going to get very far unless you know the size of the space you're looking to update. So, get that tape measure out and jot down the length and width of the floor plan.
Some design tools may even take into account ceiling height, doorways and windows – so don't forget to do these as well. It might be handy to do a rough sketch of the room, noting down the measurements, and where the windows and doorways are located.
(These measurements will be handy to give your designer once you're ready to get to this stage, as well).
2. Technology
If you're going to be designing your own kitchen or bathroom at home, you're most likely going to need some relatively up to date technology – like a smart phone, tablet, laptop or computer.
For example, you may have an online consultation with a designer, where you can have a virtual meeting, where you show them around the property through FaceTime or Zoom. (Make sure you've got good Wifi or 4G before beginning to avoid awkward freeze frames or being cut off). Once things progress, you may also be able to live screen share with your designer while they work on your plans.
3D planning tools can work on both a smart phone and computer – so it's about what you have available and what you find easiest to use (or where you're most comfortable, for that matter). For example, I really enjoyed using Villeroy and Boch's bathroom 3D planner on my phone – I've included a video below for you to get a better idea of what to expect.
3. Be patient
Following on nicely from the above point, getting to grips with new technology – unless you're like my 14-month-old who is well on her way to using my phone and the remote – takes some getting used to.
These tools can be really great to design your own bathroom, so just stick with it even if you find the new programme takes a bit of getting used to.
4. Why not think outside the box
If you want to design your own bathroom or kitchen from the comfort of your own sofa, time is a luxury you can afford. Take as long as you want or need to properly look at all the options available to you. Have a play with designs or colours you wouldn't usually pick – you never know, you might discover something you like that you would have never thought of if constrained to a time slot elsewhere.
Using my computer this time, I had great fun using Howden's kitchen visualiser to play around with different styles and colours. Other kitchen companies with similar services include Wren Kitchens, Ikea and Magnet.
By experimenting at this stage, it will also make things go a lot smoother when you eventually talk to a designer, as you'll hopefully have a better of idea of what you want – and maybe more importantly, don't want – to include in your scheme.
5. Planning the decor
What if I'm going to keep the layout and fixtures and fittings the same? I hear you ask. If you're looking to design your bathroom or kitchen with only a few tweaks here and there, there are plenty of other apps and tools that can help you out. For instance, paint companies such as Delux and Benjamin Moore have visualisers to test out different shades in your existing schemes. Carpetright has something similar if you wish to refresh your floors.
Usually all you need to do for tools such as these is download the app, take a picture, and get playing. When you do this, make sure your device's camera has a high resolution, and that the room is brightly lit.
Here I've used the Dulux app to have a play around with different tones in my kitchen (taken pre baby, of course – notice no mess!) I actually really like the Fresh Plaster shade….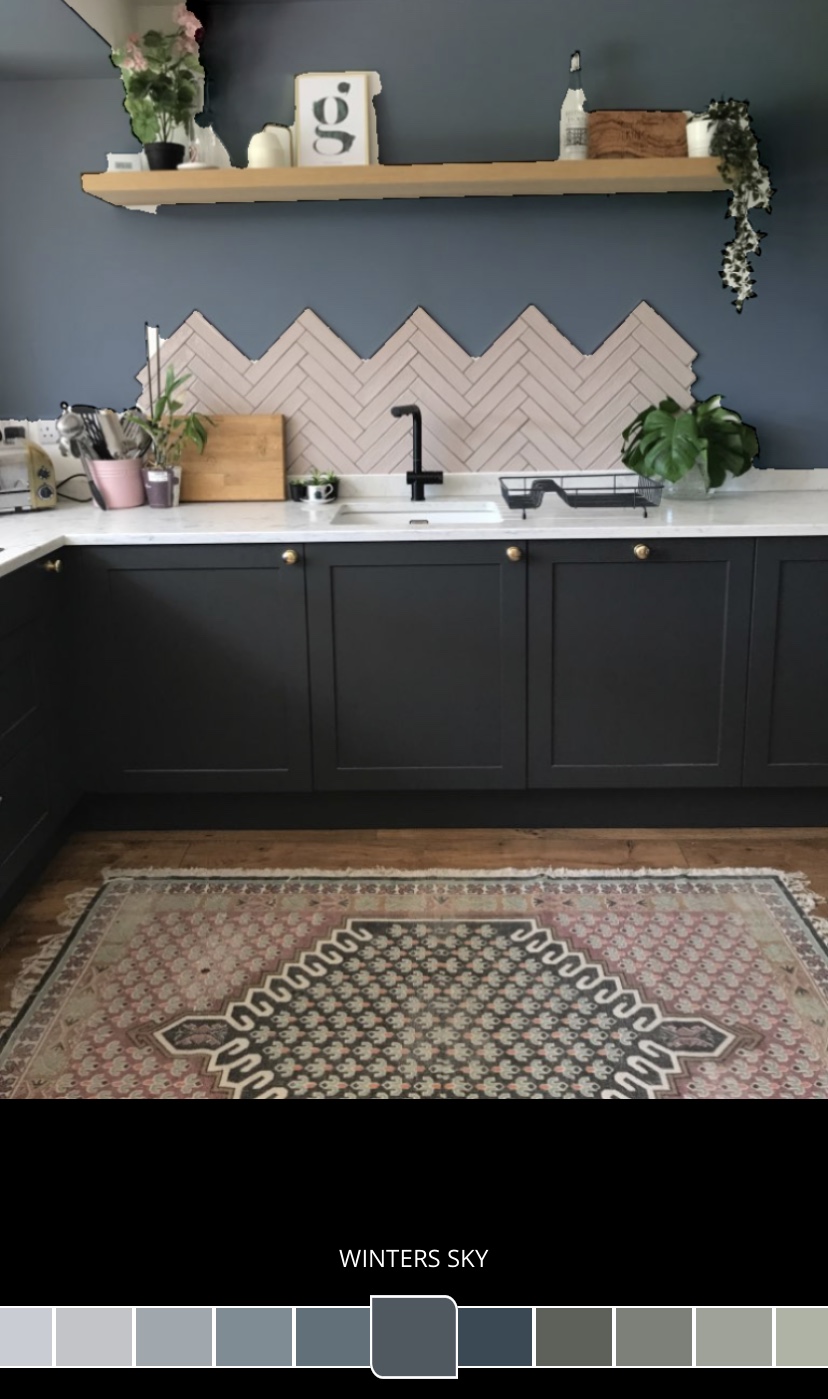 Once you've got your plans all ready, you can usually download your designs – or take screen shots – and then be able to show them to designers, once you feel ready, to get the consultation process well and truly off the ground.
Happy designing!
Featured image: iStock
About Post Author