Ok, I'm fairly sure you could cook anything, and I mean anything in chef and TV personality Rosemary Shrager's kitchen.
I mean, how many people can say they have three ovens that include steam and combi functions, a wide gas hob, warming drawer, integrated sous vide machine, large stand mixer, and 100 different ingredients lined up in kilner jars on 1950s open shelving?
Her home, in the centre of an East Sussex postcard village – which I almost didn't find thanks to going seriously wrong on my journey and ending up around 20 miles away – covers the ground-floor flat of a converted chapel.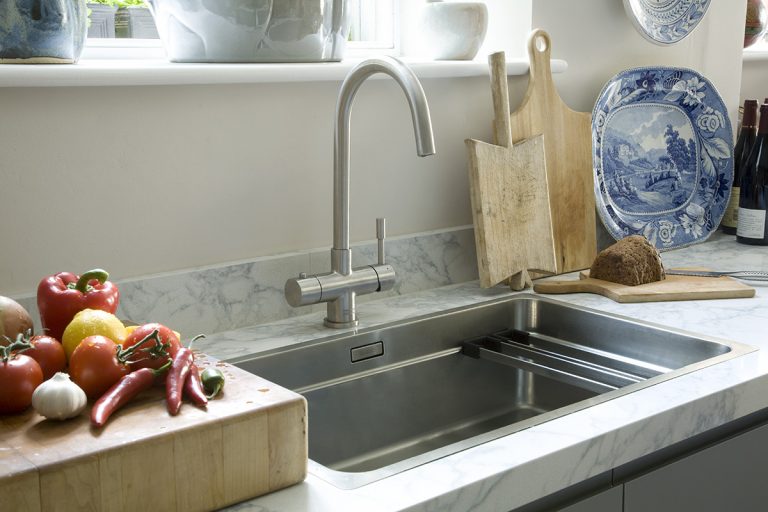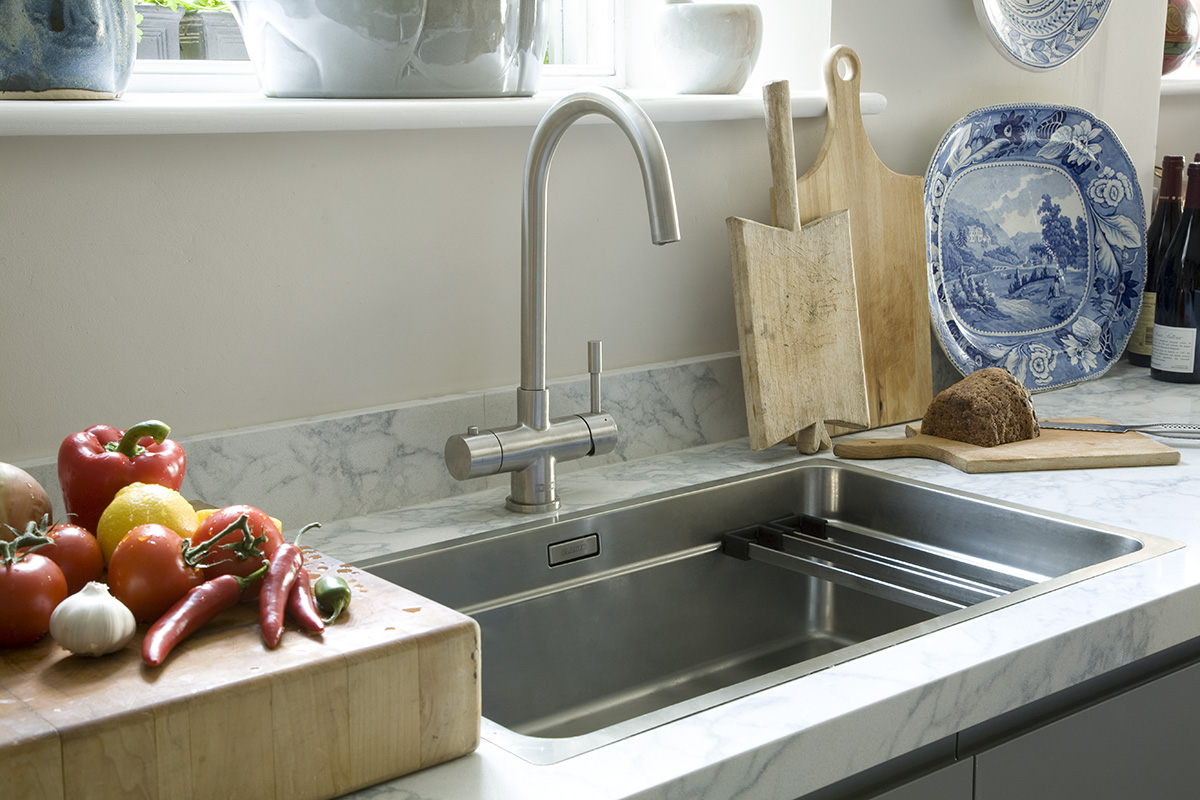 Artwork and Rosemary's personality don almost every bit of free space on the walls and countertops, while the outside courtyard bursts with herbs and plants – some of which I use to style the shoot.
Much better than the sad bunches I brought with me that had wilted on the treacherous journey – which Rosemary very much agrees with.
While I set up Rosemary tells me how her "ultimate kitchen" came into fruition – with work starting the day after she got the keys.
The flat was split into little rooms and hallways, and had a poky, dark kitchen that was not practical. So, she decided to knock through and open it up to include living and dining areas.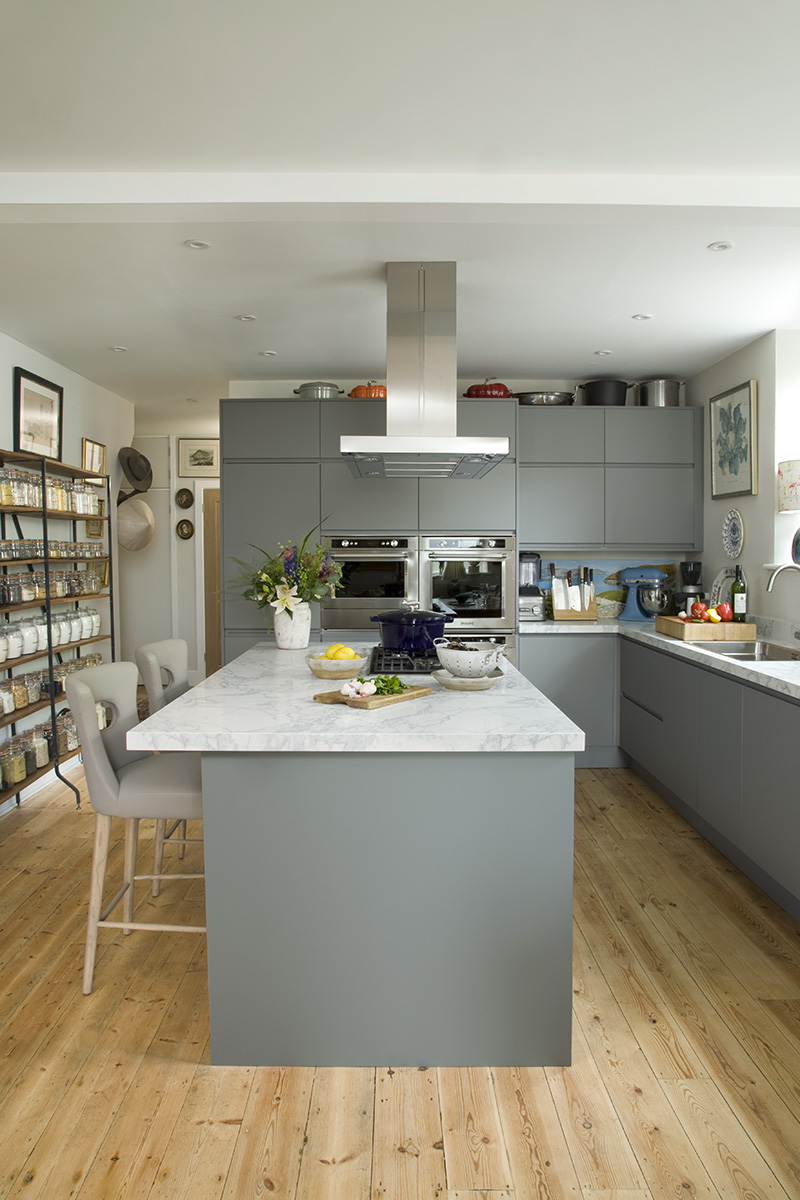 For the design she went to Granite & Trend Transformations, who did the worktops at her cookery school in Tunbridge Wells.
Something that I love, and wasn't expecting, is that the whole kitchen was inspired by a piece of marble she's owned for 40 years – taken from her dad's Georgian house in Cornwall.
From the colour of the cabinetry to the veining in the worktop. Cool, right?
But, of course, with Rosemary's profession, the layout was just as important as the look.
A large central island with plenty of storage makes the space efficient, while the open shelving keeps the room spacious while providing a creative way to display all her ingredients.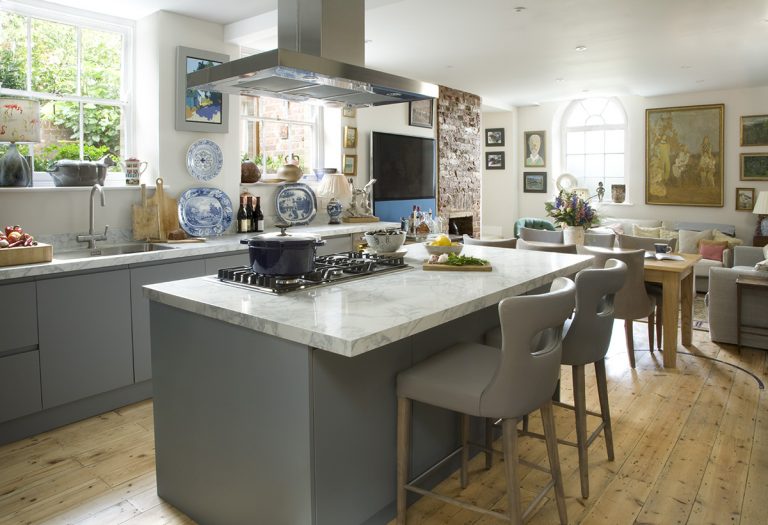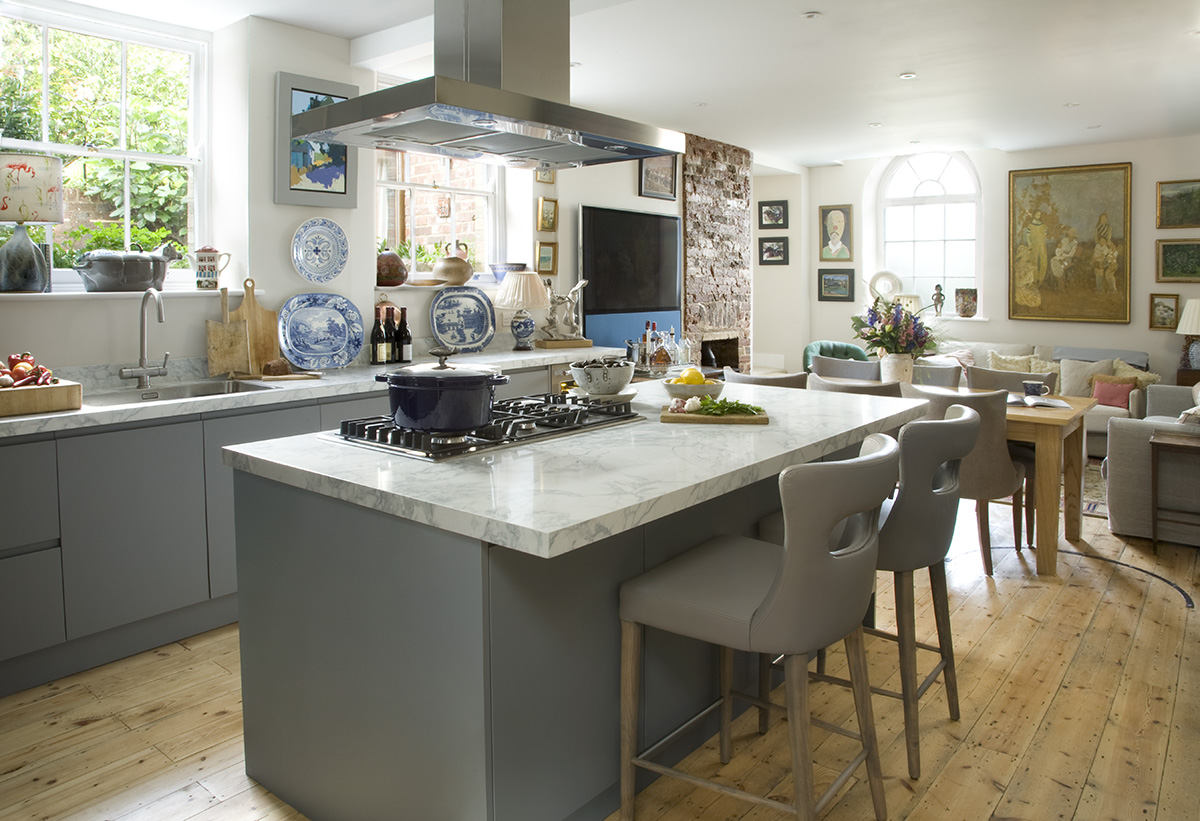 The appliances, which are mainly Kitchenaid, have also been placed ergonomically. The gas hob is on the island, to the right is the bank of ovens, then directly behind is the sink with boiling-water tap.
Her wine fridge has then been positioned next to her dining table – especially handy for dinner parties I would imagine.
In terms of décor, grey handleless cabinets keep the kitchen furniture cleaner and fresher, while pine flooring and khaki-coloured linens inject some warmth. Finally, bright, fun pieces – a giant apple painting, cauliflower print, and pumpkin pot – showcase Rosemary's individuality.
Now, who else is hungry?
Photography: Alison Hammond
Feature image: The kitchen of Rosemary Shrager.
Updated on 29/06/21.