Owning a Victorian property – one that needs a lot of TLC – is up there on a most renovators wishlists. And can you blame them? With ample character, high ceilings, and period features, they are full of charm and personality. And, if they've not been touched in decades – the potential of doing a Victorian terrace kitchen extension is incredibly tempting.
Before we look at some ah-mazing projects, how about a little history lesson? Victorian homes were built between the mid 1800s-1901 during the reign of Queen Victoria I.
Between this period, land and factory owners would build properties for their workers. These houses were cheap, with around two to four rooms, with no water – and certainly no toilet. (This is why you often see downstairs bathrooms connected to kitchens, added on when plumbing became more readily accessible.)
However, homes for the middle and upper classes built during this era were not only bigger, but better. They included all the bells and whistles – including flushing toilets, gas lighting, and decorative features such as cornice and geometric tiled hallways.
It was the industrial revolution, with an expanding middle class, that meant it was necessary to build more of these homes – which is why we now see rows and rows of thin, Victorian terraced housing on narrow streets.
Ok now we're all clued up on the history of Victorian terraced houses, what types of renovations will add both space and light to this type of house?
The most common extensions you'll see with a Victorian terrace are side-return infill extensions or rear extensions – due to the nature of their structure.
I've put together a collection of simply stunning Victorian terrace kitchen extension projects to show you just what's possible with this type of property. Scroll down to have a snoop…
Victorian terrace kitchen extension with mixed materials
This project included the full refurbishment of a Victorian terraced house, which included adding a side and rear extension by Brian O'Tuama Architects.
The extensions are deliberately contemporary in style, as a counterpoint to the original house, where period features were maintained.
Careful attention was given to the selection of materials, and to maximising areas of new glazing, resulting in a stylish, comfortable and light-filled family home.
Victorian terrace kitchen extension with glass roof
This project, by Paul Archer Design, includes a side-return infill extension.
Two pieces of glass are all it takes to make the structure; one for the roof and one for the window, enclosing the space from the party wall to the original house.
The kitchen joinery continues from inside to outside blurring the boundaries helping to increase the feeling of space.
Victorian terrace kitchen extension with lots of glazing
This Victorian terrace kitchen extension was created by The Gentleman Architect. The property had been used as bedsits and needed complete refurbishment.
The owner was keen to maintain the period feel of the existing house whilst extending it in an unashamedly modern way, maximising light and air penetration into the house.
By working with Fordham consulting, they devised an engineering solution to rebuild the rear annex whilst letting it appear to hover over the new kitchen space. The triangulated roof structure allows the extension to dynamically wraparound the annex adjusting to the site angles.
Rear asymmetric extension that's super modern
Nestled into a row of Victorian terraces in Catford, is this modern, angled, zinc clad beauty with its quirky pitched roof and exposed white spruce beams.
The extension brief by homeowner Karen Astbury, known as @sweatingthesidehustle, to architects New British Design, was "no box please".
And they delivered – instead it's a light filled, voluminous and sociable space, that houses a "modern kitchen-diner, that doubles up as a dancefloor or cinema room for angst ridden England penalty shoot outs," says Karen.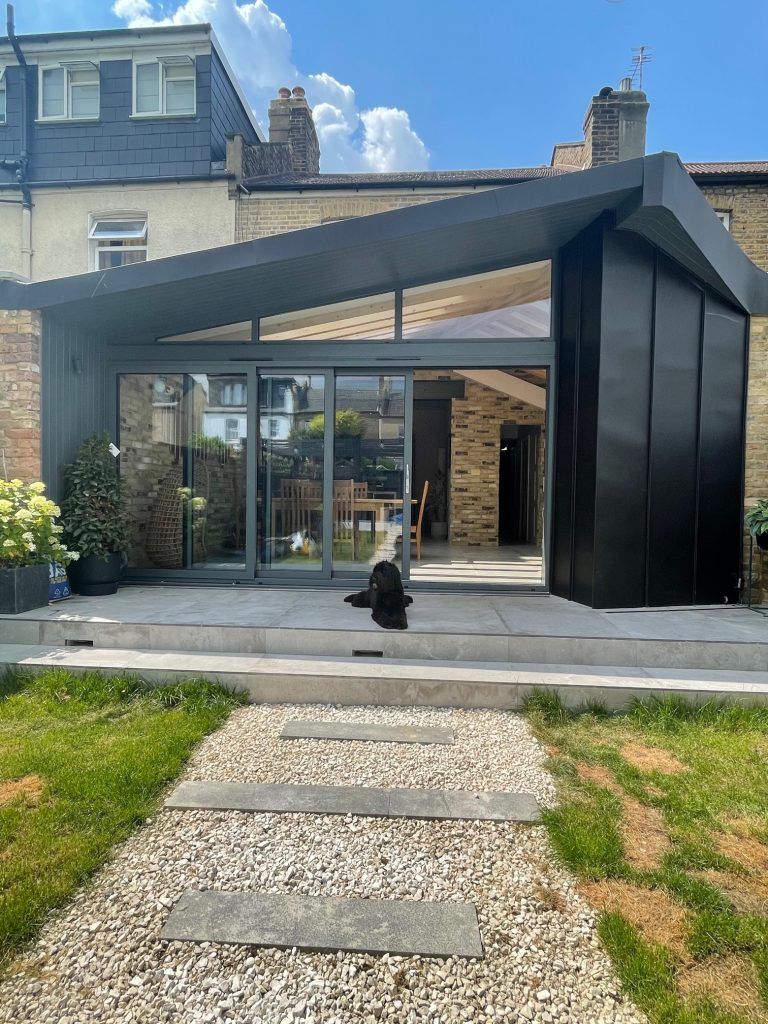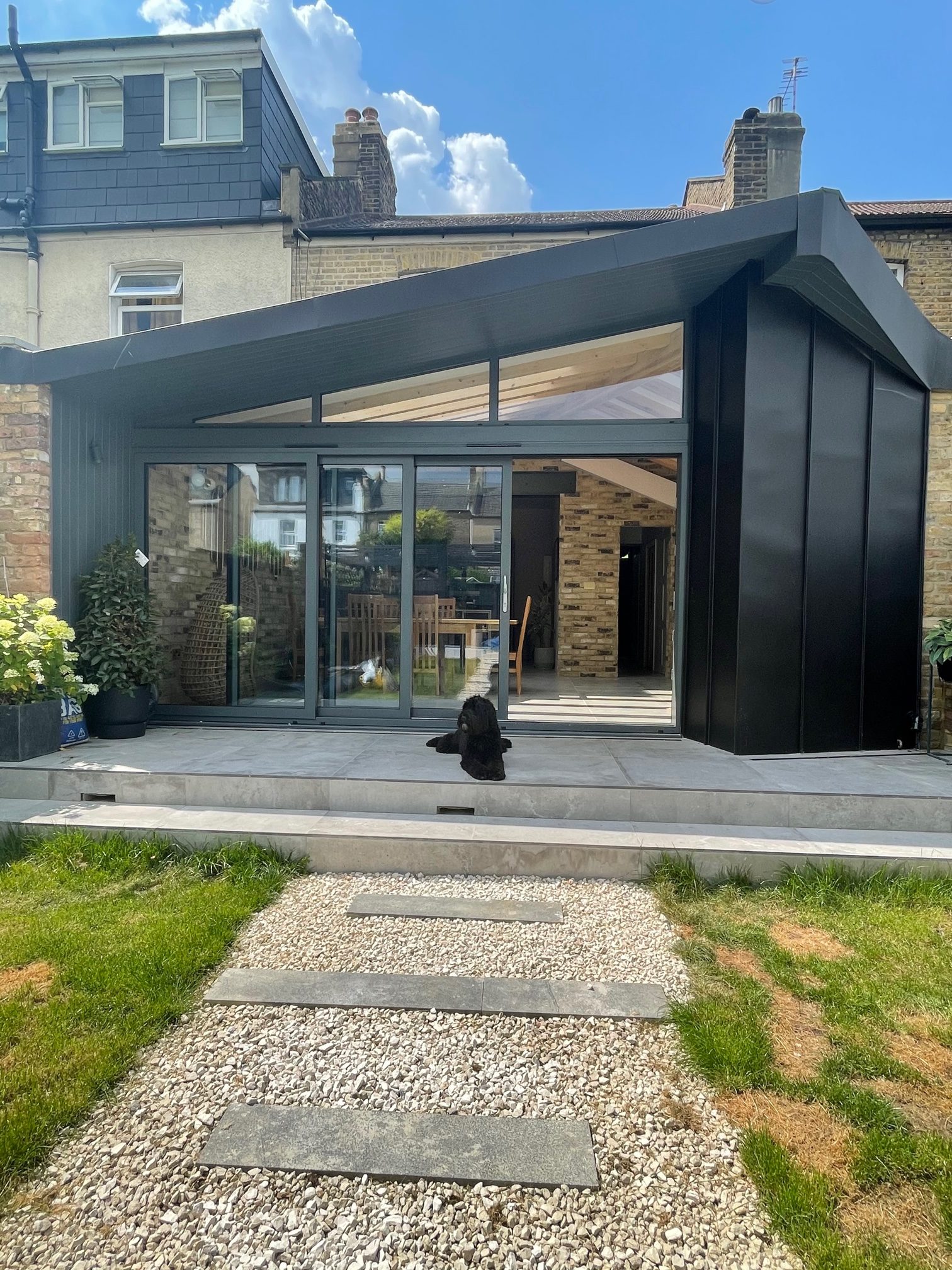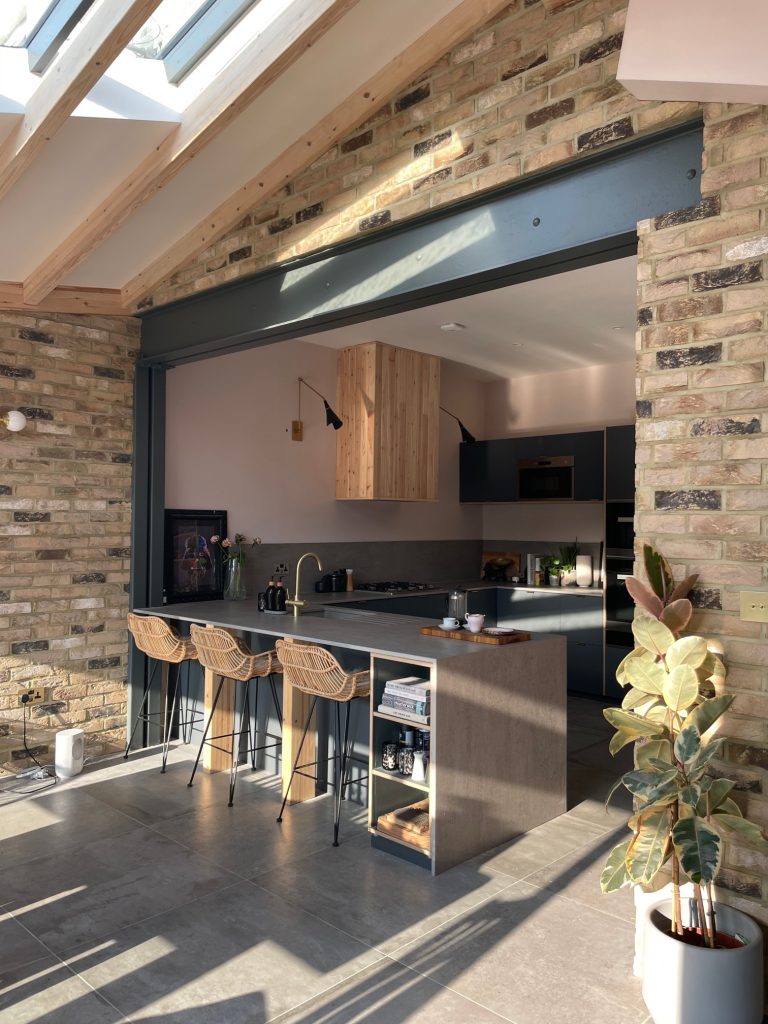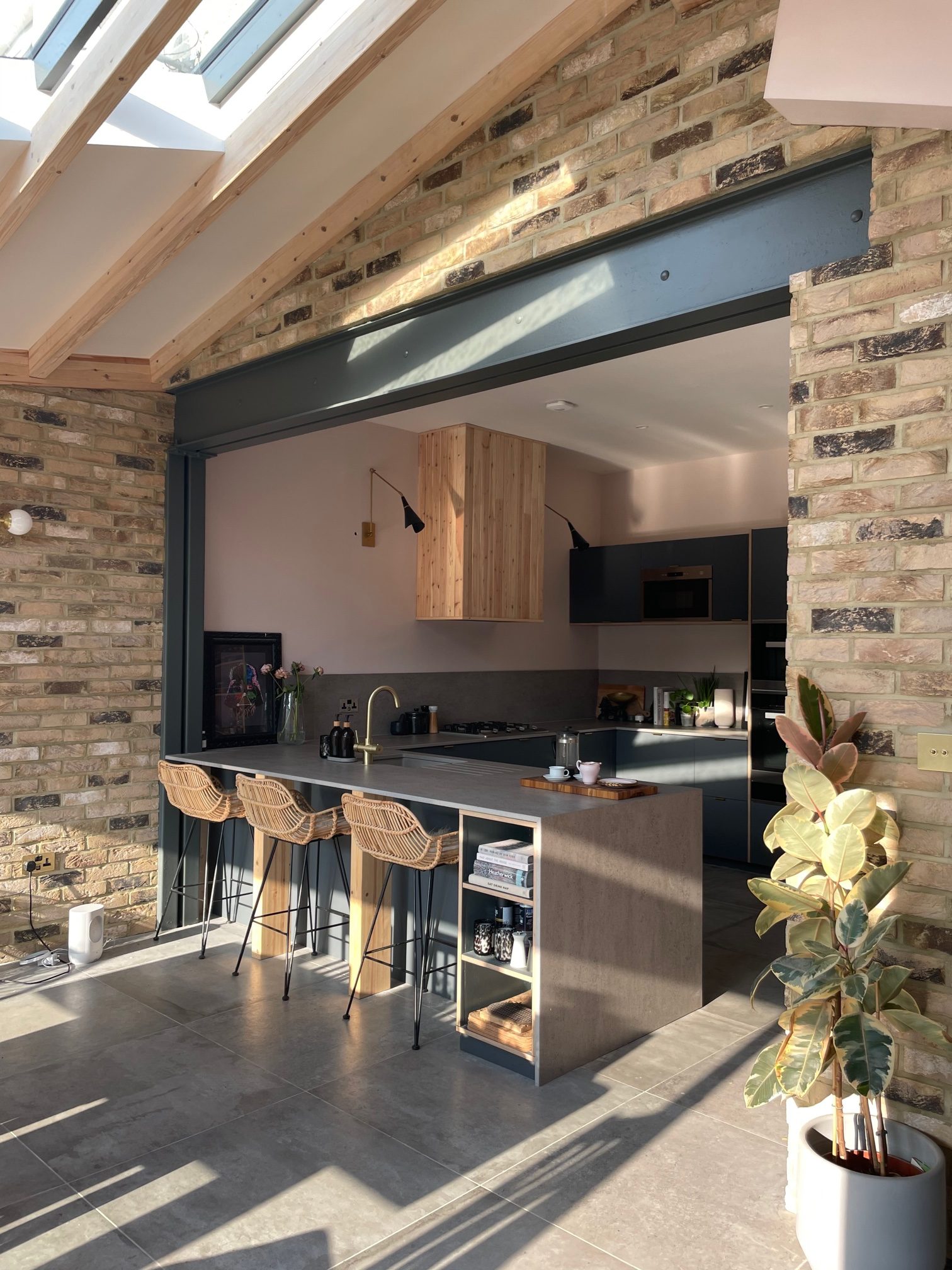 Victorian terrace extension to increase space and light
This mid-terrace Victorian house was in need of complete refurbishment to bring it back to life and function as a modern family home.
This gave the opportunity for Rider Stirland Architects to complete contemporary rear extension increasing the space and functionality of the kitchen whilst maximising the natural light to the whole ground floor and view from within. A palette of materials, including western red cedar gives the space a warm and natural feel.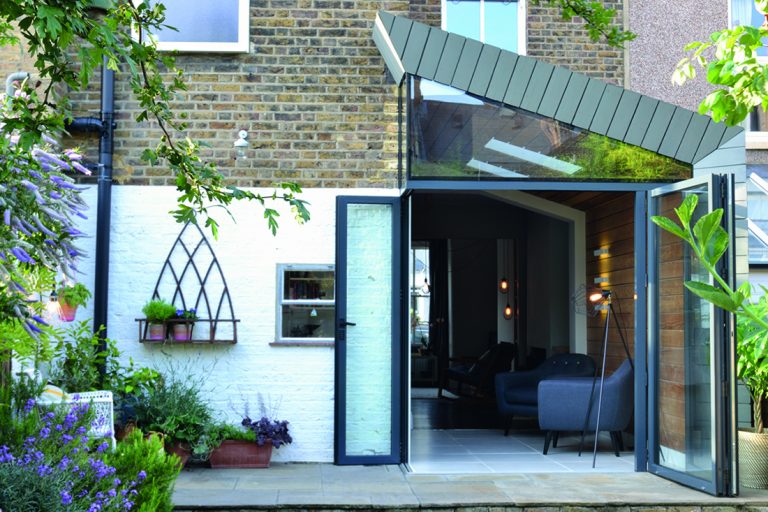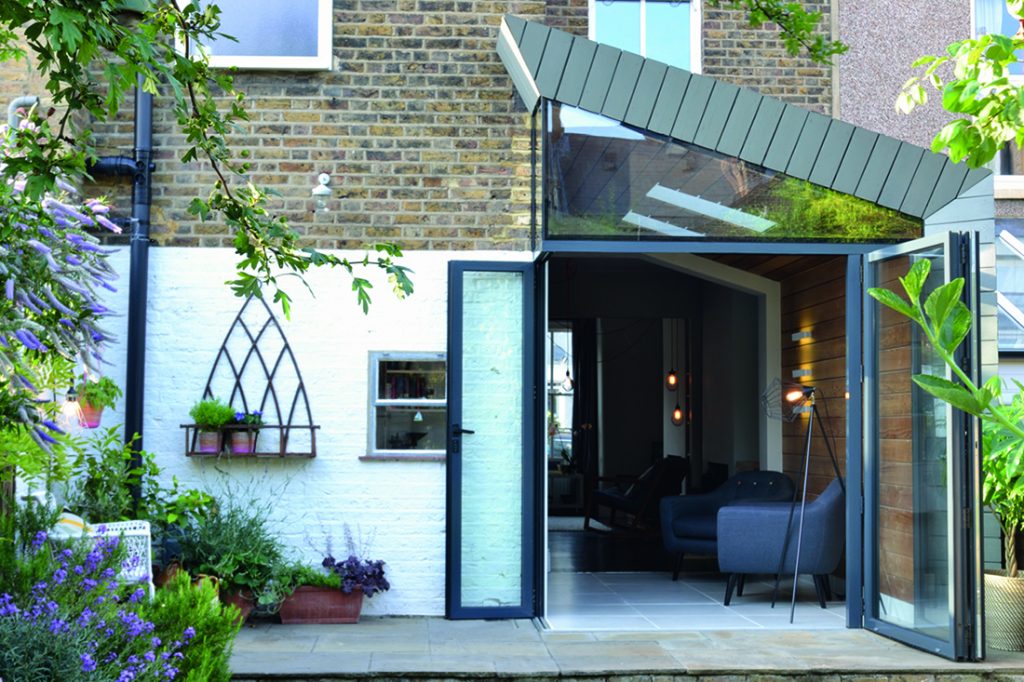 Side-return extension to bring in light
This kitchen has made an amazing change to what was once a rather gloomy, north-facing kitchen.
Homeowner Gary Walker, known as @hereisonethreefour on Instagram, built a side-return extension on a patch of land that was a 'damp, dark, moss-ridden strip of concrete that was barely fit to keep the odd bit of junk and sad looking barbecue'.
The open-plan kitchen-diner is now flooded space with daylight. The garden was designed to be an extension of the kitchen – "which, at the moment, in the summer we finally are enjoying, and it is just perfect," says Gary.