OK, so 'laundry room design ideas' isn't the most exciting topic, I know. At least it certainly isn't in my house where the laundry basket never stays empty for more than five minutes. Just when you think you've finally reached the bottom, more appears… anyone else? But although a totally tiresome chore, I can definitely see the benefit of having a laundry room. It's a dedicated place to keep things in order (or shut away said overflowing basket…).
Laundry room design ideas are important though, as laundry rooms are growing in popularity. I've also heard many designers say there's merit in having one upstairs. (Or wherever your bedrooms and bathrooms are.) It reduces the distance you have to go to pop a wash on and then put everything away again. But most UK homes have them downstairs, off the kitchen or hall. Often also referred to as the utility room.
But a utility room usually functions as overflow storage for the kitchen as well as to house a washer and dryer. However, a laundry room is designed solely for laundry and ironing.
I was chatting to @kbbmagazine journo Jill Morgan about the growth in demand for laundry rooms. So she went off and spoke to those who know a thing or two about designing these spaces.
Here are Jill's tips on creating the perfect organised laundry room…
First off, why are laundry room design ideas useful?
At the very least it takes pressure off a busy kitchen, freeing up valuable under-counter space for storage or appliances. While finding a suitable area may require creative thinking, or even a small extension, it will quickly prove invaluable. It will help you to speed through chores and keep a well-organised home. Even if you sometimes decide to shut the door on those full baskets for another day – which we all totally do!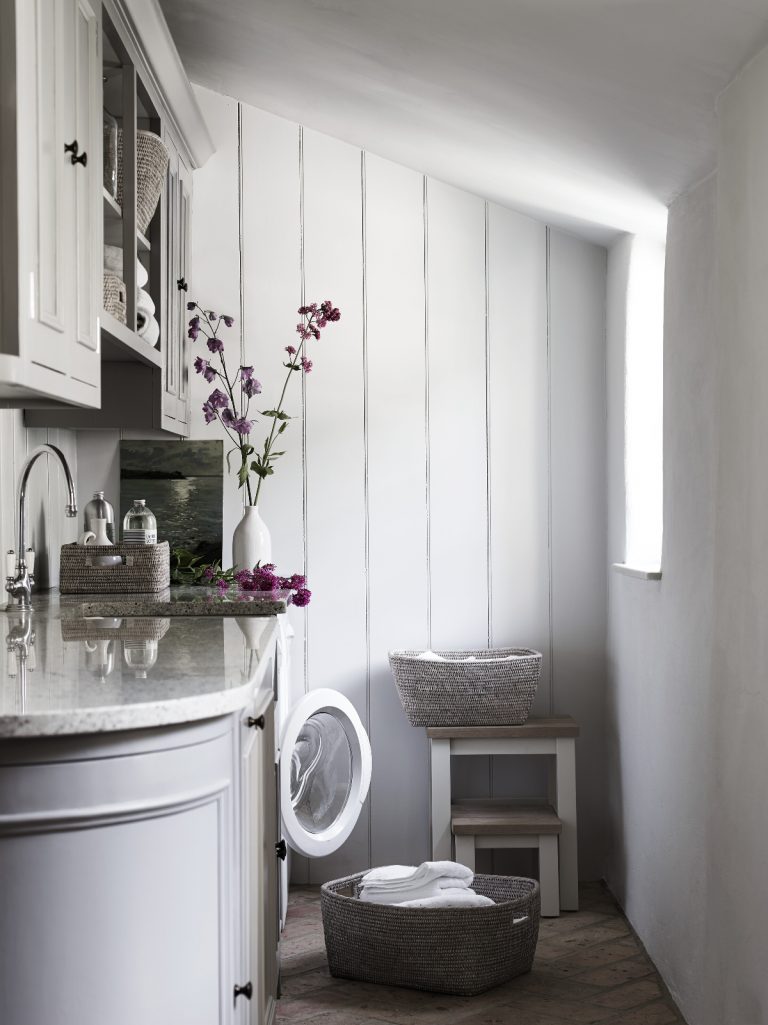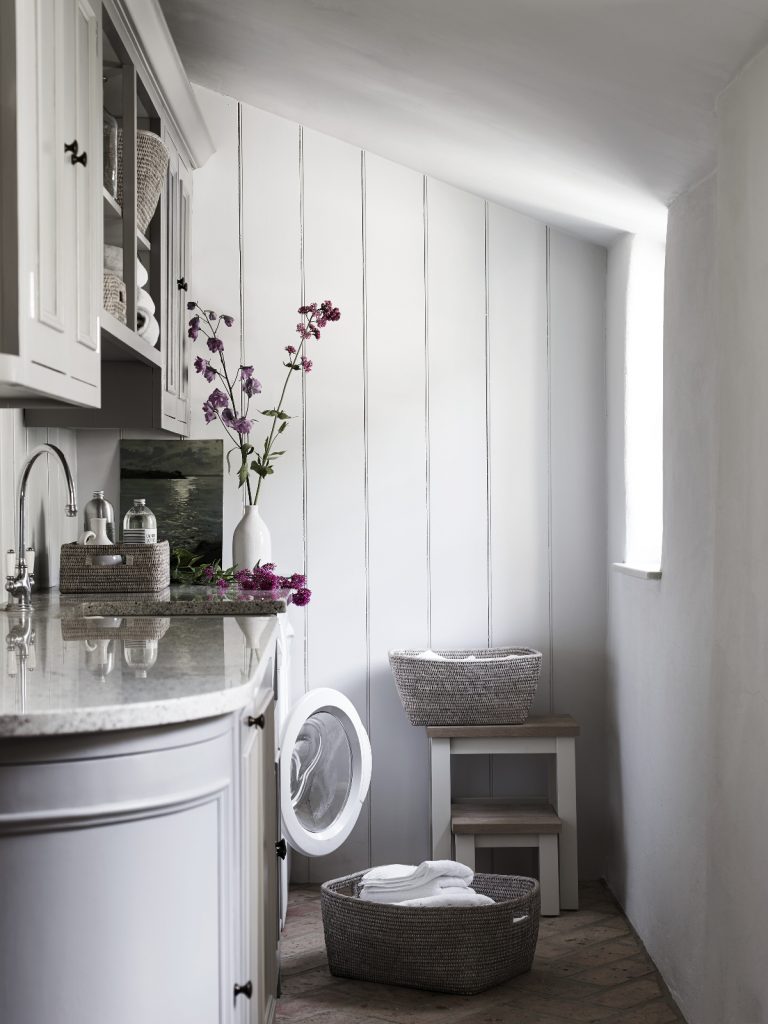 How to find the space
Water supply, good drainage and electricity are all essential for a working laundry room. So, depending on the space, you may need to extend or reroute some of these services.
As drainage is the most expensive and disruptive to alter, it makes sense to locate a laundry room as near to an outside drain or existing waste pipe as possible. A good plumber will be able to extend or alter existing pipework to the requirements.
Does a laundry room need windows?
Proper ventilation should also be top of any list, as these spaces are quick to get steamy. A steady, natural airflow will help dry clothes and avoid a build-up of damp and mould. An opening window is the most obvious answer, plus there's
the bonus of daylight, but fitting an extractor and a dehumidifier will also reduce moisture levels.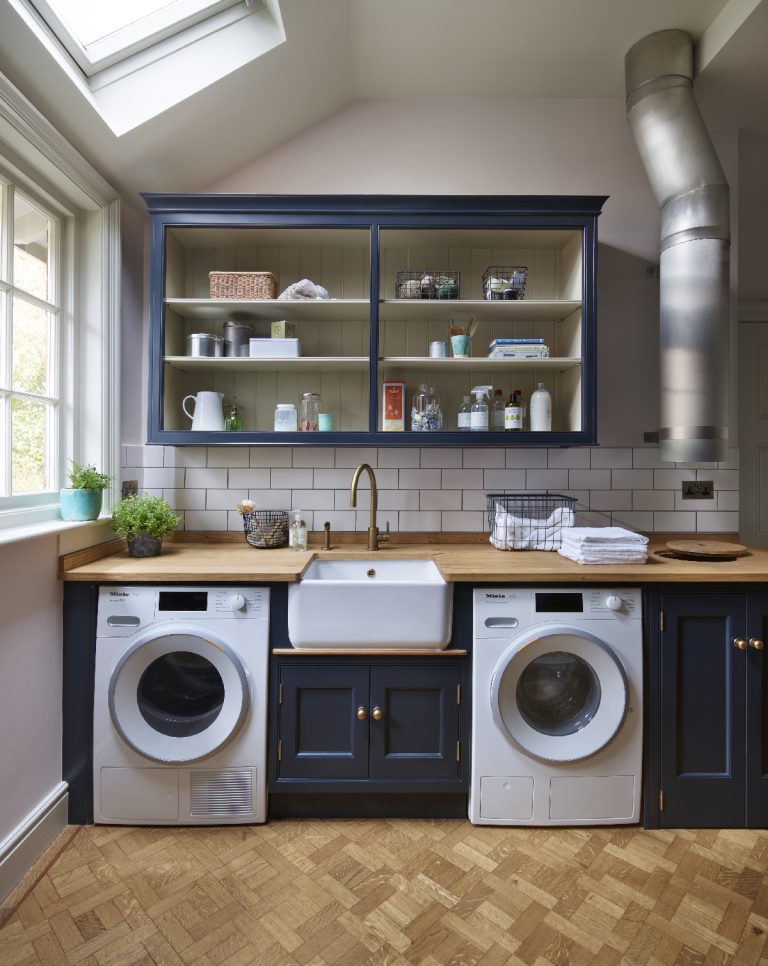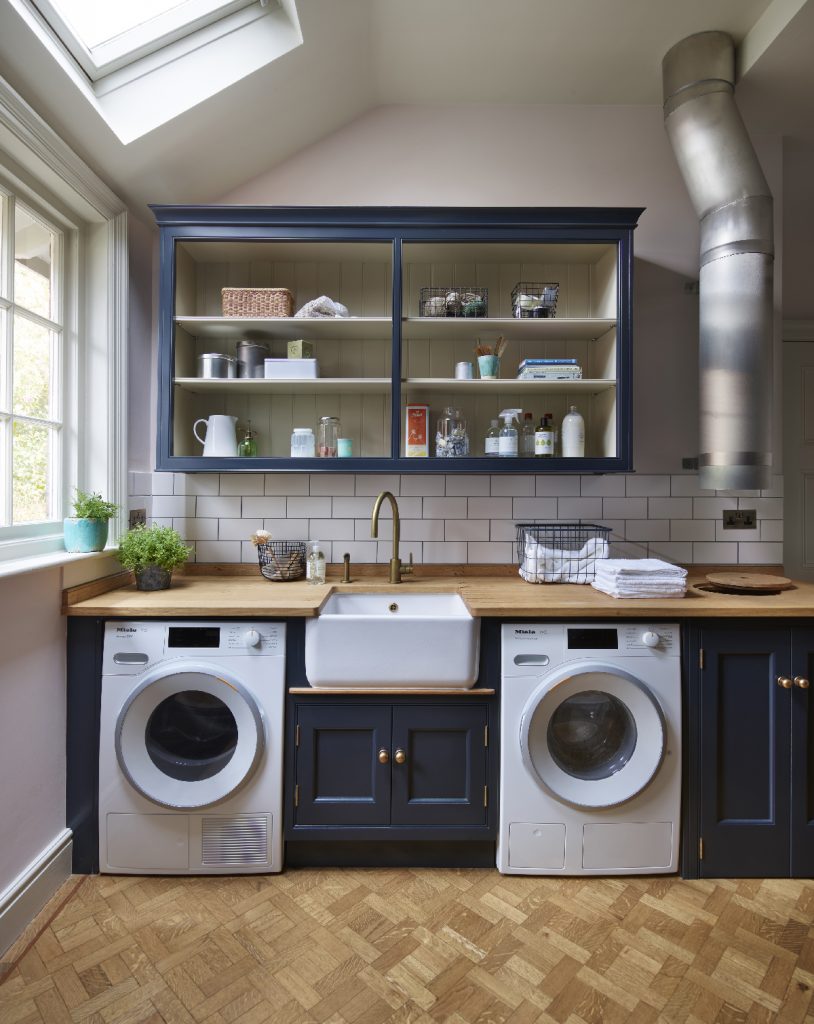 Make sure there are plenty of plugs
Sufficient power sockets are a must, so be sure to have them installed where you plan to have the washing machine and tumble dryer. Remember that any extractor will also need power. Add a few extra sockets at worksurface
height for the iron, and any extras such as a radio.
Don't forget a sink
No laundry room is complete without a sink, so if you can, include one in your plans, even if it's compact. A space for rinsing, draining or refilling the iron will save you trips to the kitchen or bathroom. Position it next to the washing
machine if possible, so the waste pipes can be neatly routed alongside each other, and go for a built-in drainer, too.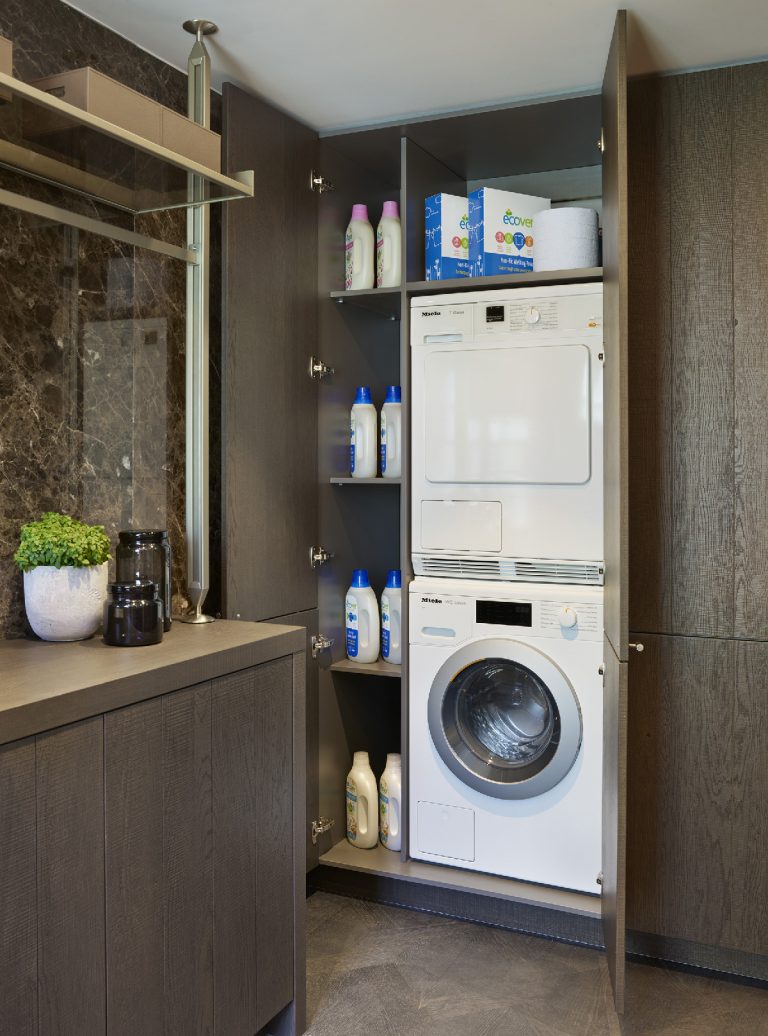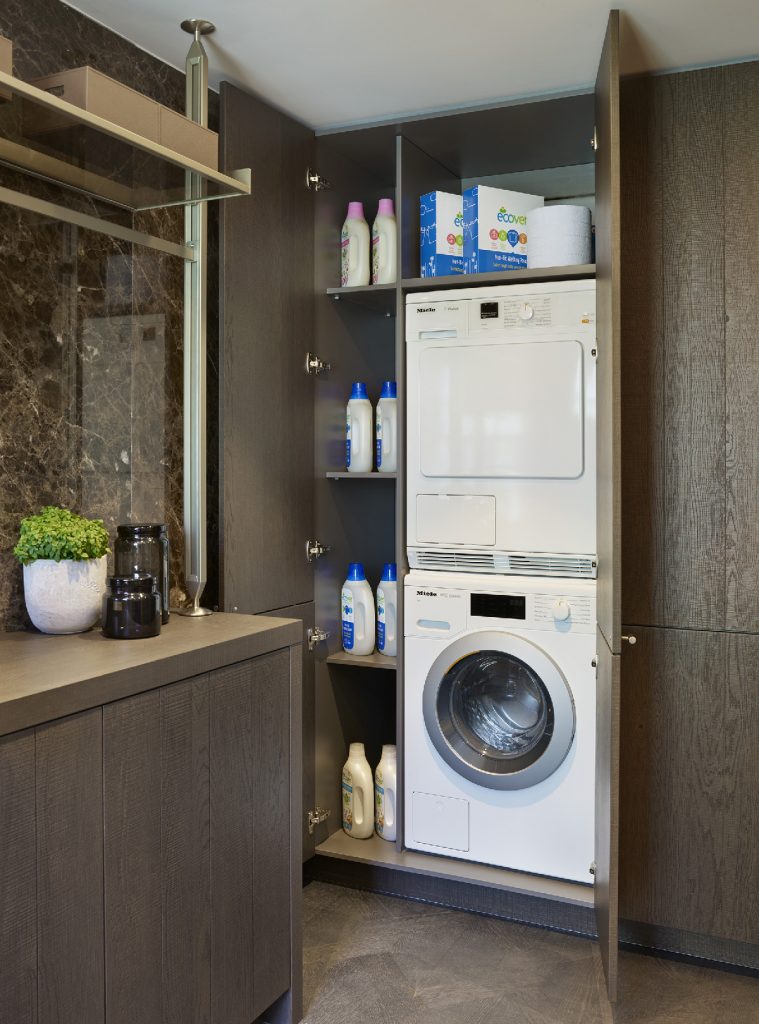 And storage
Storage is absolutely key. Laundry essentials such as detergents, baskets and the iron and board take up space, plus you may decide to keep bulky items such as bedding and towels in there, too. As well as bulk buy your detergents.
Think carefully about how much space the laundry basket, detergents, ironing pile and more take up and try and divide the scheme accordingly.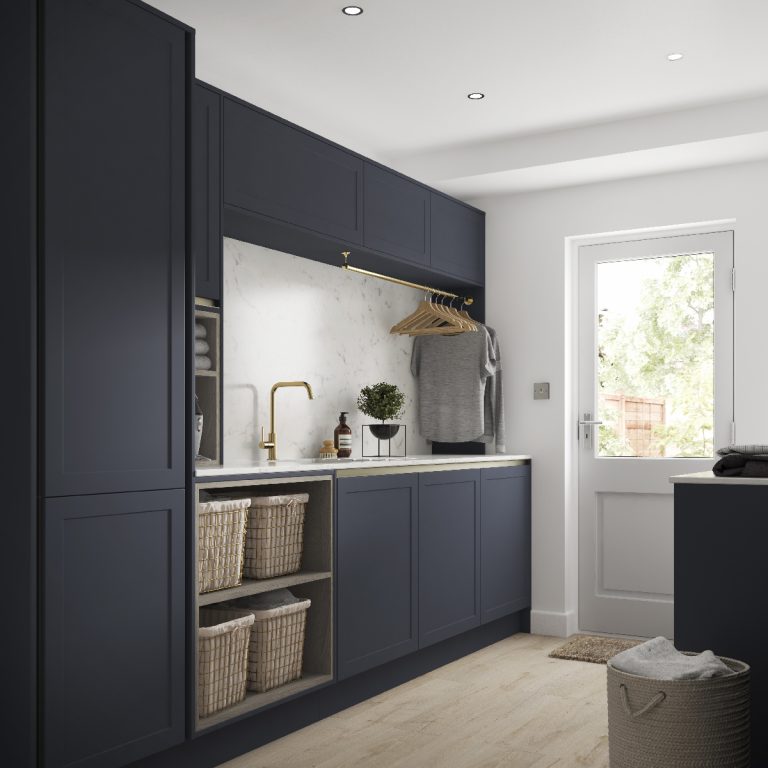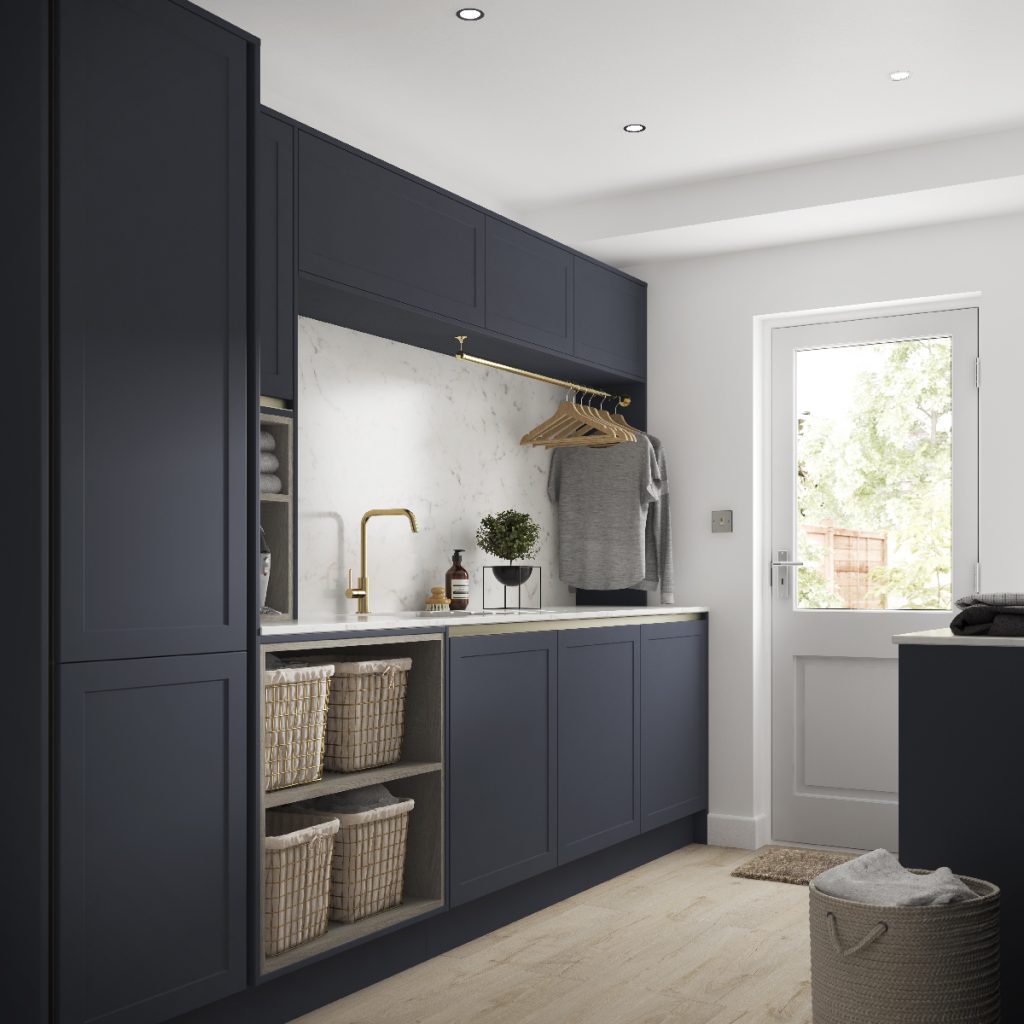 A separate washing machine and dryer will help you speed through laundry, but can take up precious floor area. Tall, floor-to-ceiling appliance housings make it easier to stack the washing machine and tumble dryer and most feature a handy shelf for your basket to make transferring garments between the two a little easier. This will help leave the rest of the room clear for other storage units, the sink, worktop space and even open shelving.
A hanging rail or airer is useful, too. Ideal for keeping ironing pristine or to put rain-soaked kit, fit a fixed rail
underneath high wall units or above the sink and drainer.
Alternatively, go for a ceiling-hung and pulley-operated 'Sheila', which can be easily raised or lowered as required, or a wall-mounted concertina-style airer.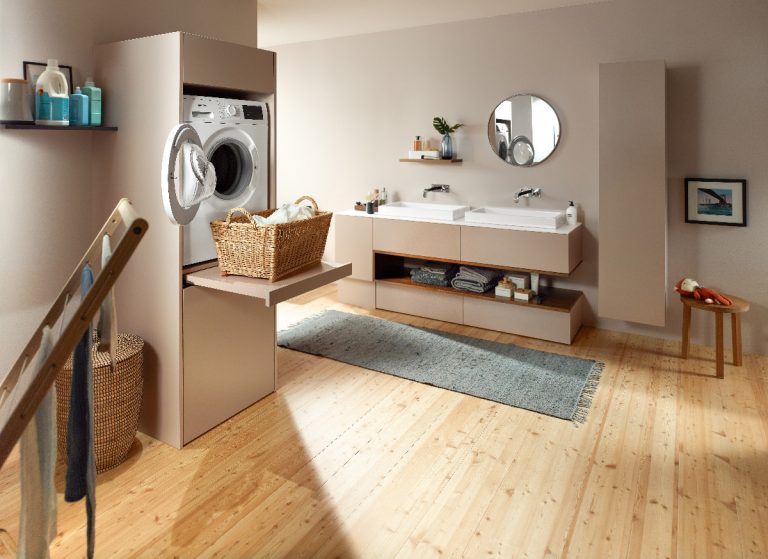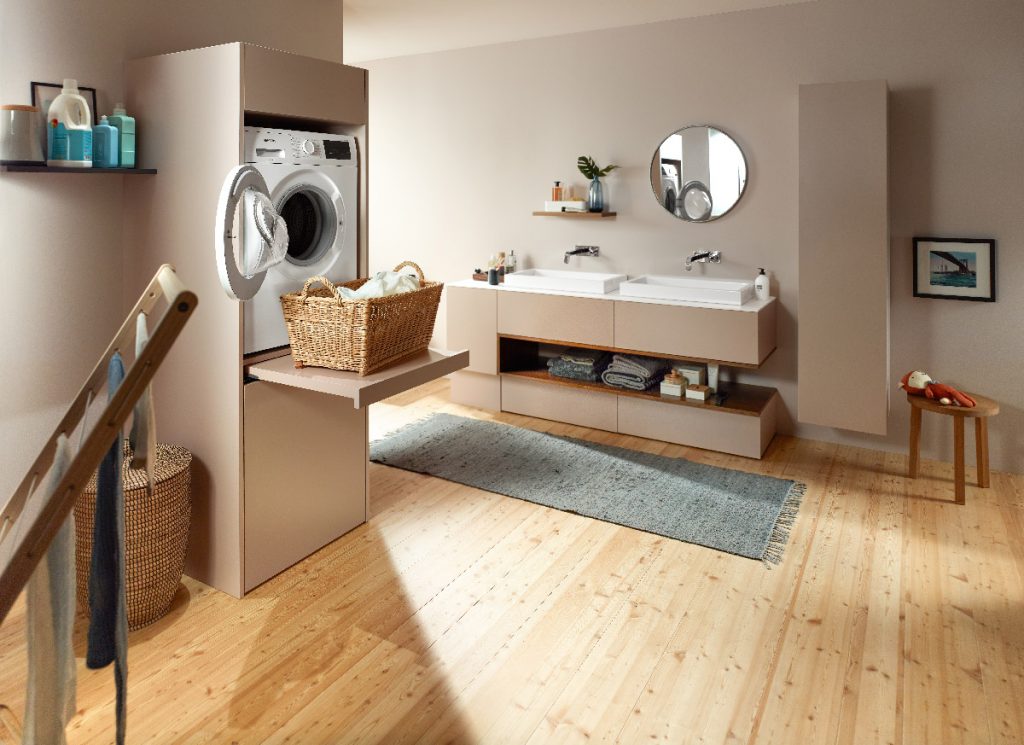 Add space for the ironing board
Ironing boards tend to be a common storage quandry, so why not opt for a built-in version that will swing out and be ready to use in seconds? Many kitchen company's offer ingenious concealed designs that can be hidden behind cabinetry or beneath an extra work surface, often with its own power socket too.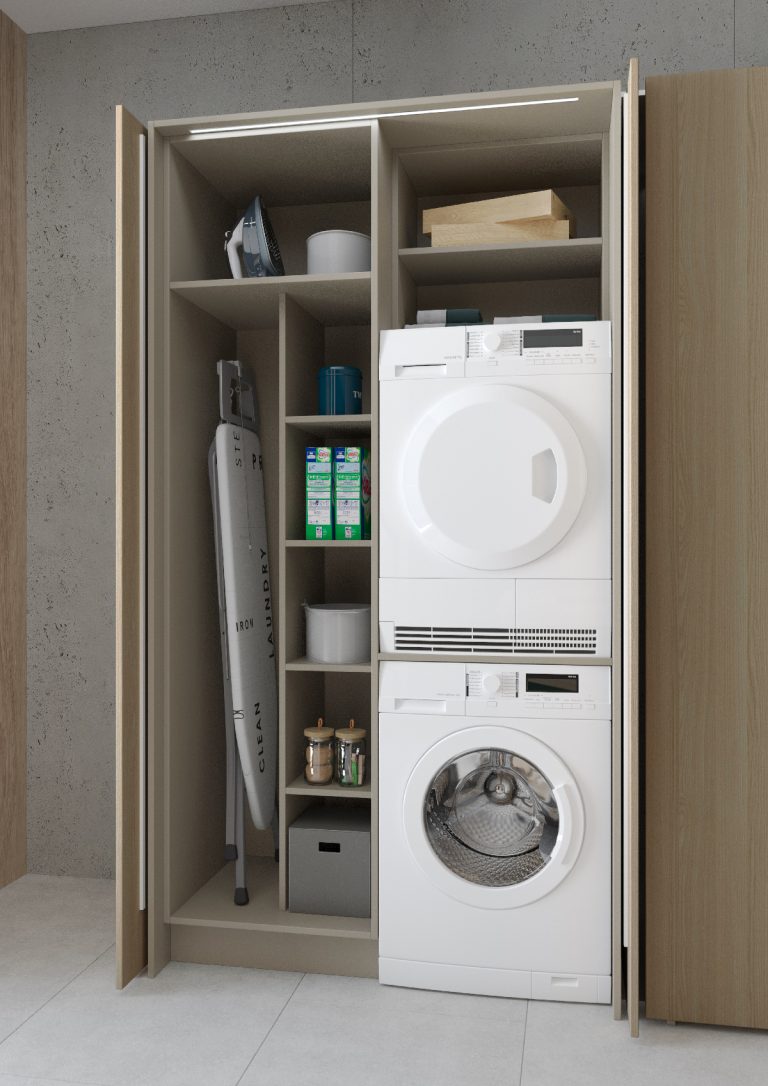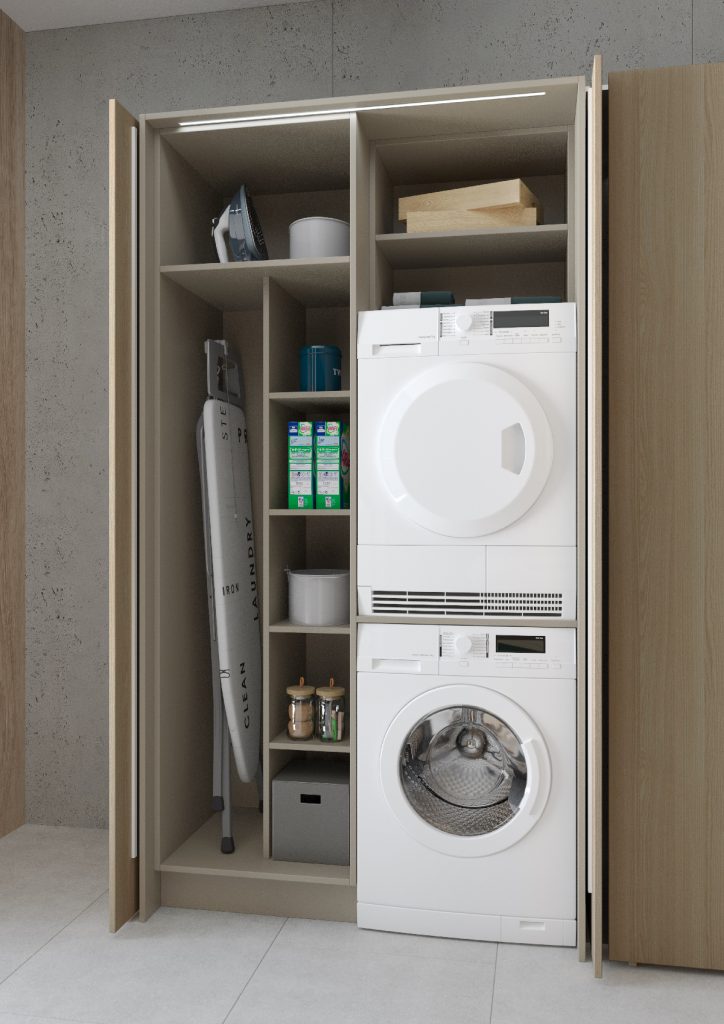 Laundry room design ideas: Have fun with the décor
There seems to be a split of opinion with some homeowners seeing the new room as an opportunity to try something new and daring, while others are a little more restrained.
You may prefer to replicate the look of your kitchen in the laundry room, including the same worktop and colour scheme, or you may like to make subtle changes to features such as the handles or colour of the tap and sink, while keeping the same overall style, for example.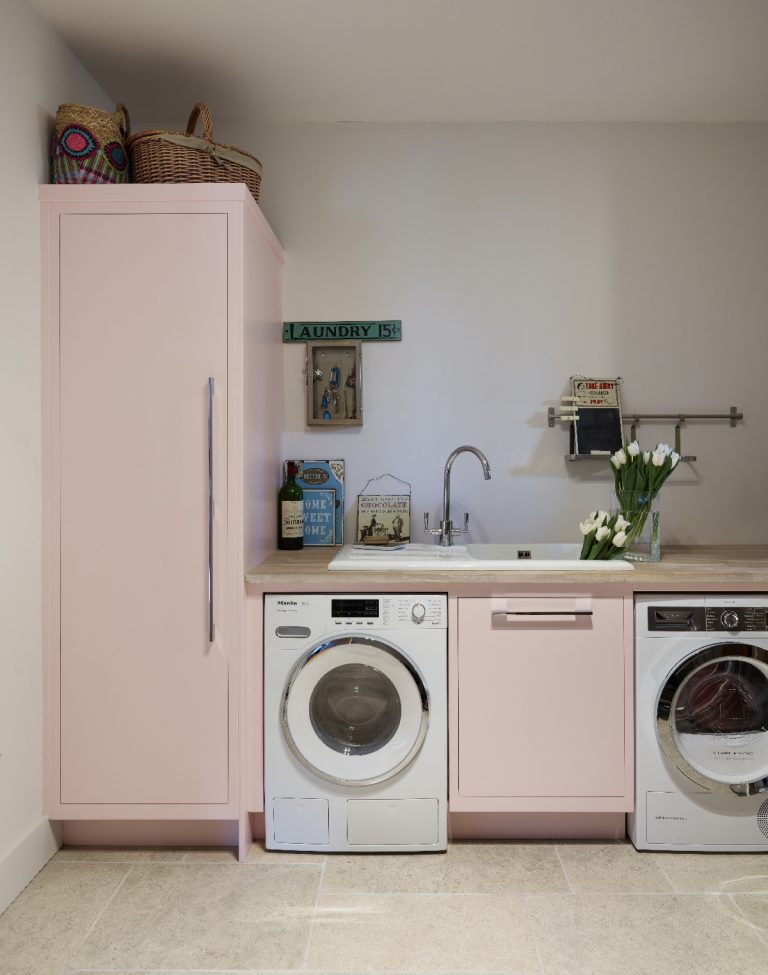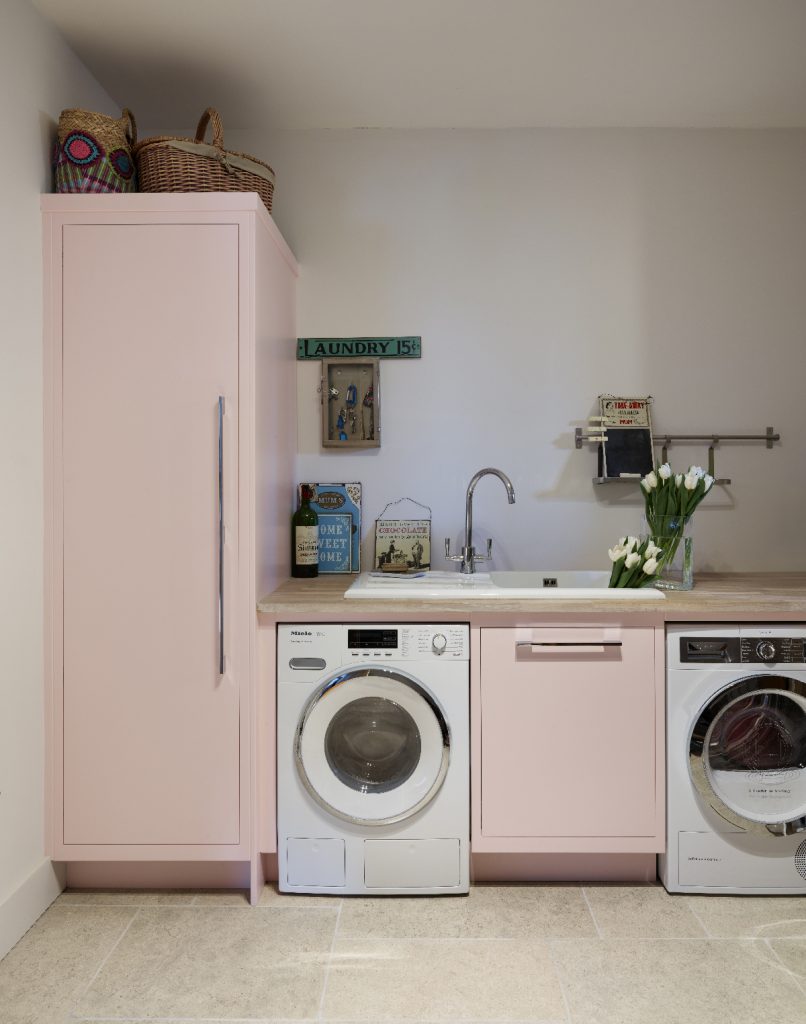 An affordable and planet-friendly option is to use units from your old kitchen in the laundry room if the carcasses are of good quality. You can easily update the doors for a new look if needed.
For worktops, you might have invested in a real stone or composite in the main kitchen, so could replicate the look
with good-quality laminate or granite in your new room. This is a cost-effective, but design-savvy way to keep the two schemes connected.
If flow isn't such a concern, create a design that you love with colour, pattern and alternative materials and finishes. Why not try a bold shade for the cabinetry with statement tiles? Or colourful vinyl flooring? You could even
experiment with a braver décor – since it's a small space, changing it again won't take too much work.
Who knew laundry room design ideas could be so fun?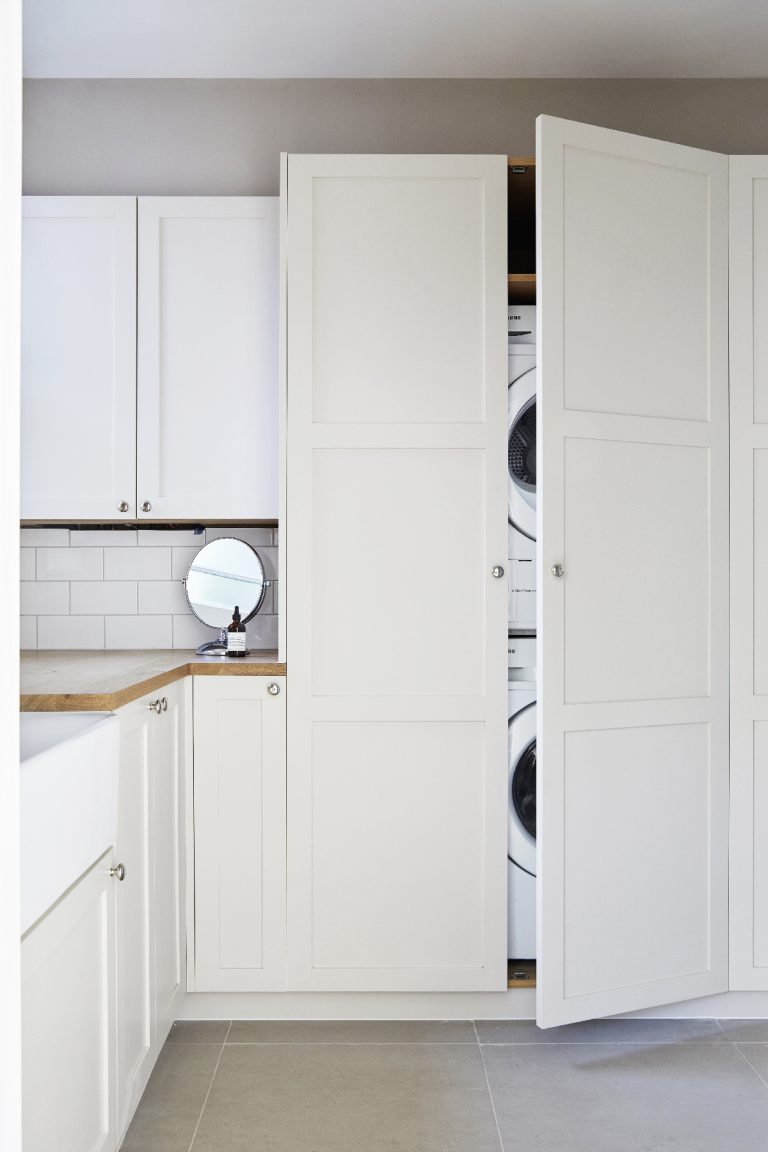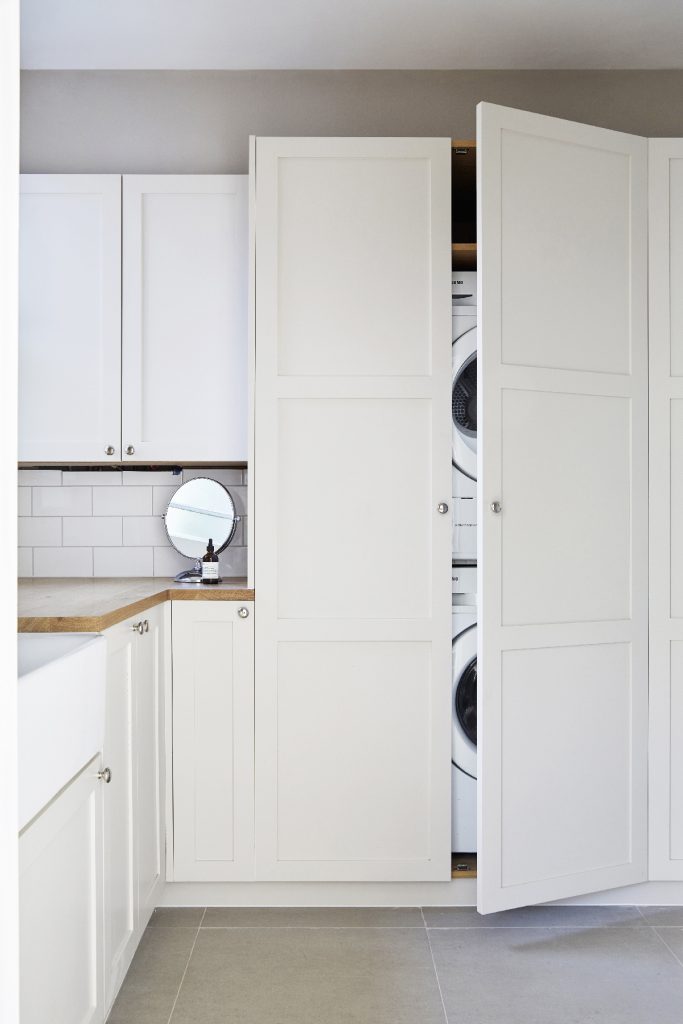 Now you have lots of laundry room ideas, come this way for laundry tips.
About Post Author