Aren't we all in need of extra functionality within our homes? If you're thinking of a new kitchen renovation, why not include a utility room?
It's a great addition to your space as you can do so much with it. From including a downstairs loo or a laundry room, designing a boot room or a walk-in pantry. Or including a bit of everything for the ultimate multi-functional scheme.  
So, I've come up with ten utility room ideas to help you nail your new practical and stylish utility space. Everything from adding a second sink to stacking your appliances…
First things first, check for plumbing and electricity
Firstly, you may be building a new utility room in an extension, or looking to improve the layout of your existing scheme. Either way, make sure you have waste access and electricity for all your appliances. You don't want to fit everything, realise you don't have enough plugs, and have to rethink your layout.
Utility room ideas: The more storage, the better
Secondly: to make the most of your space, seek the help of a designer and go for bespoke furniture and built-in cabinets. This way you can even hide away your washing machine and dryer in a tall and durable cabinet for a sleek and clean look, if yours doubles up as a laundry room. Some designs come with built-in drying racks and ironing tables too. 
You can keep your hoover and cleaning must-haves in a freestanding unit in there too. Make sure to add a mix of drawers, as well as smaller storage solutions, like jars, wicker baskets and trays for easy access.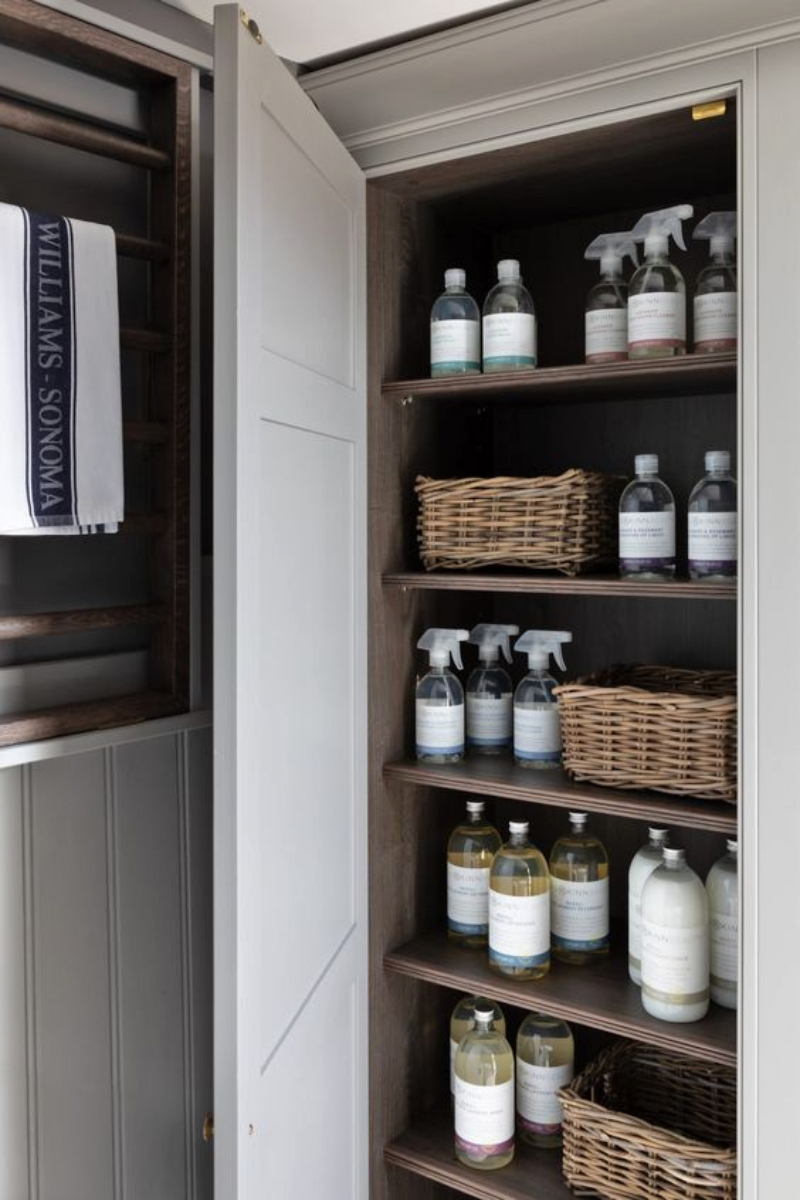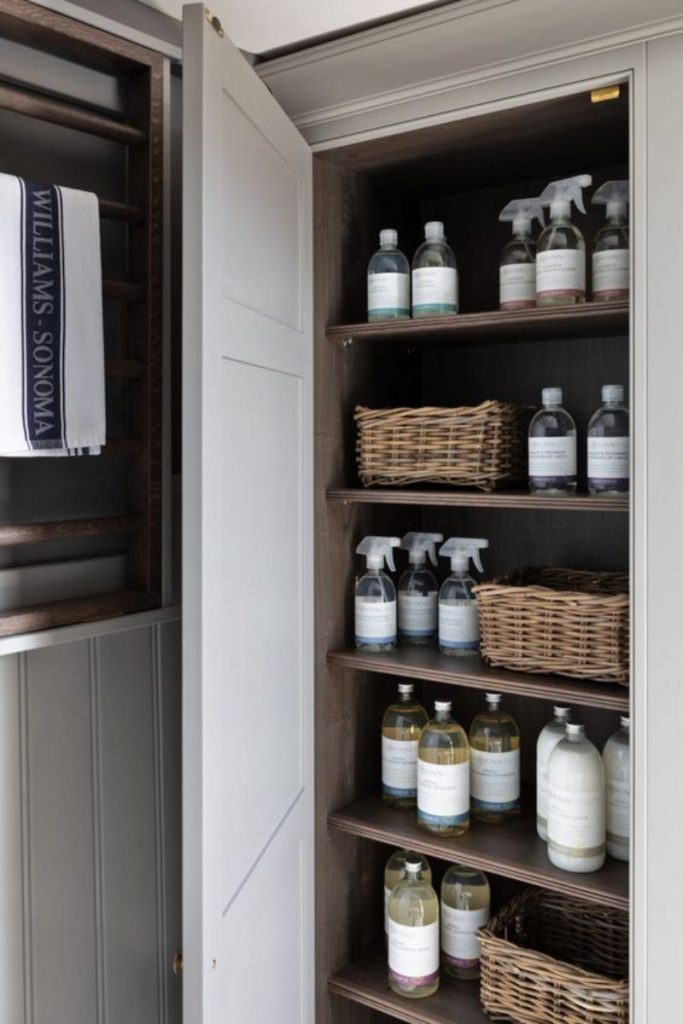 Install open shelving
Thirdly, let's not forget about small utility room storage ideas. Shelves instead of cabinetry will ensure you won't overcrowd your space or get that closed-in feeling. You can use shelves to store your laundry detergent, spare washcloths and towels, or keep your cleaning must-haves on hand. Open shelving is a great solution for extra drinkware and other entertaining essentials that don't fit in your kitchen anymore. Use the height of the room to maximise your storage potential.
Utility room ideas: Add a second sink
Fourthly: your kitchen doesn't provide enough space for an extra sink? Then, you can include one in your utility. Depending on the space you have available, you can fit in a compact washbowl or or a large butler sink. This way you will have a dedicated space to wash your delicates, refresh your little one's sports kit, or give your furry friend a bath. 
When you have guests over, you can easily shut the door on the dirty dishes, which you can sort once your party has left. Plus, if your utility room has access to the outdoors, it is especially handy as you can quickly wash up once you arrive home or fill up your watering can for your house plants. Or why not use it to wash fruits and vegetables when unpacking your grocery shop? The benefits are endless.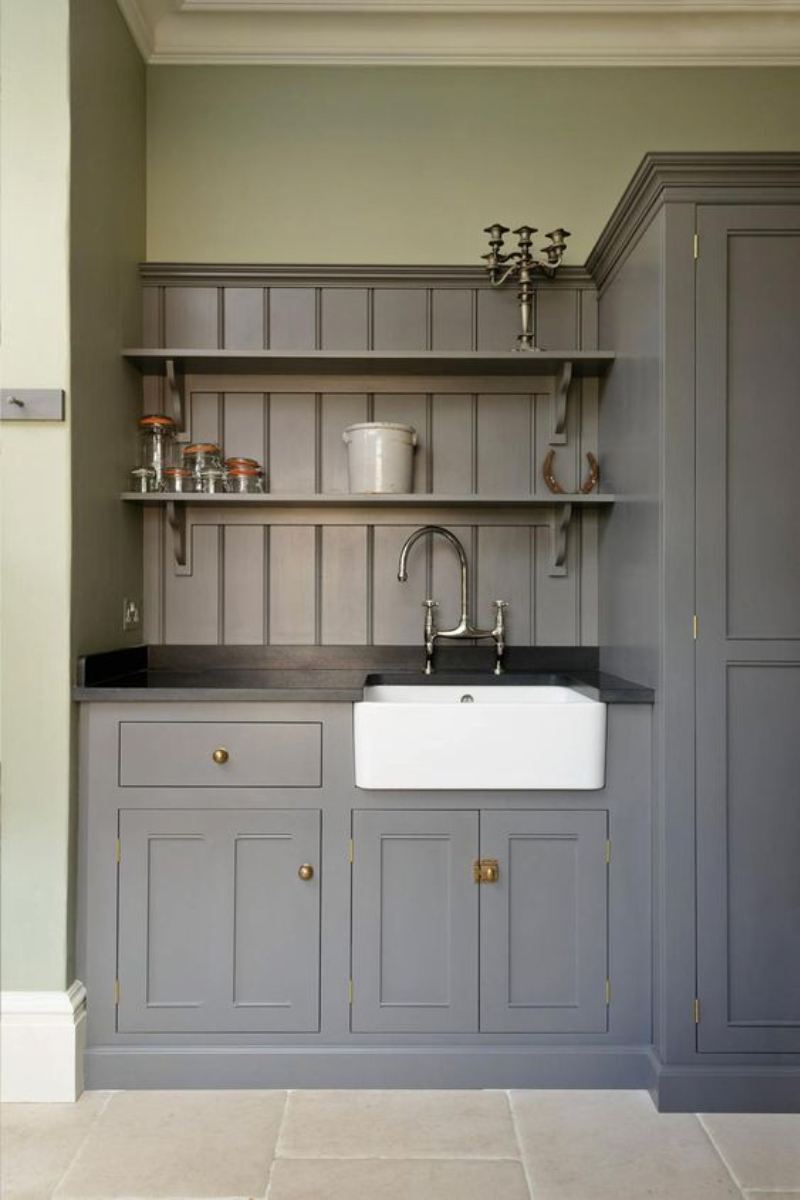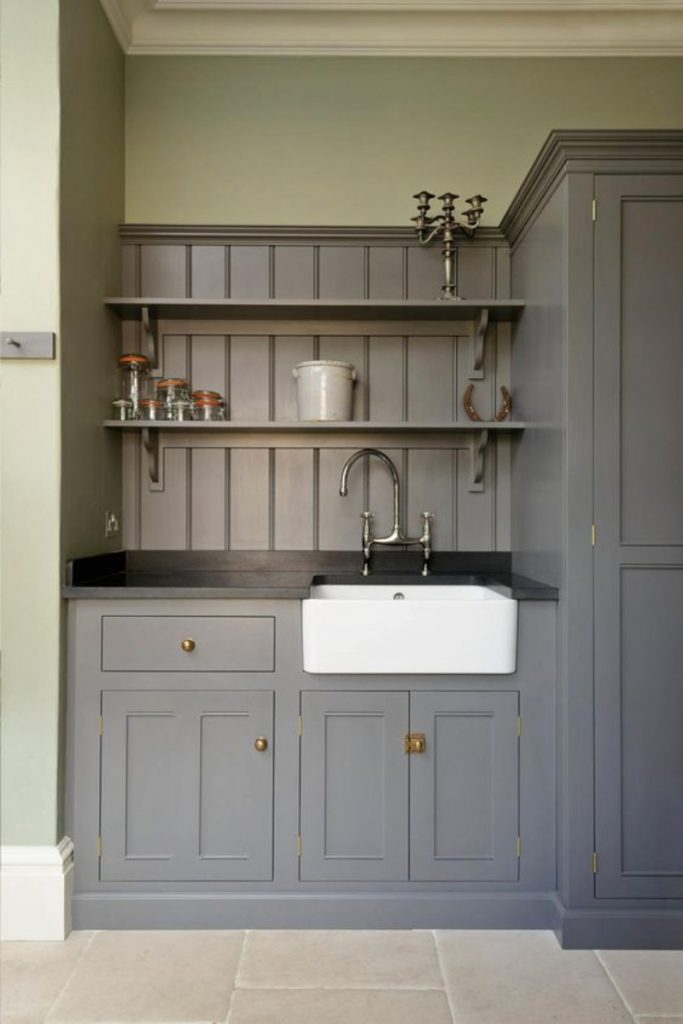 Create the ultimate laundry room
If you are tired of all the noise from your washing machine, you can finally hide it away in your utility room. Stack your tumble dryer on top to maximise your space and include a clever shelf which you can pull out and pop your basket on. What's more, you can store your ironing table, iron and a hanging rack near your dryer for quicker access, and even include a multi-functional heated towel rail with compact shelves which can be pulled down to dry your smaller garments.
Make sure you pay attention to those fine details and store your washing essentials in pretty jars and containers. Having a dedicated space for your laundry, might make this task more enjoyable, right?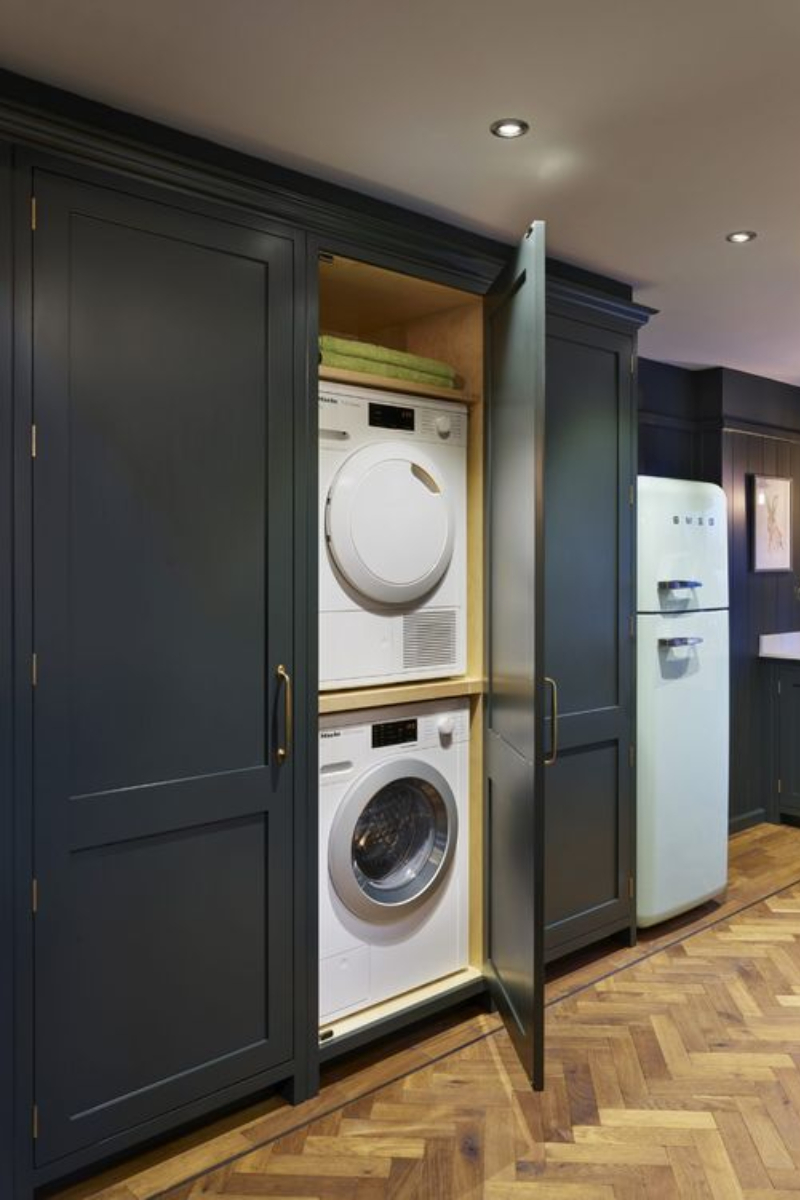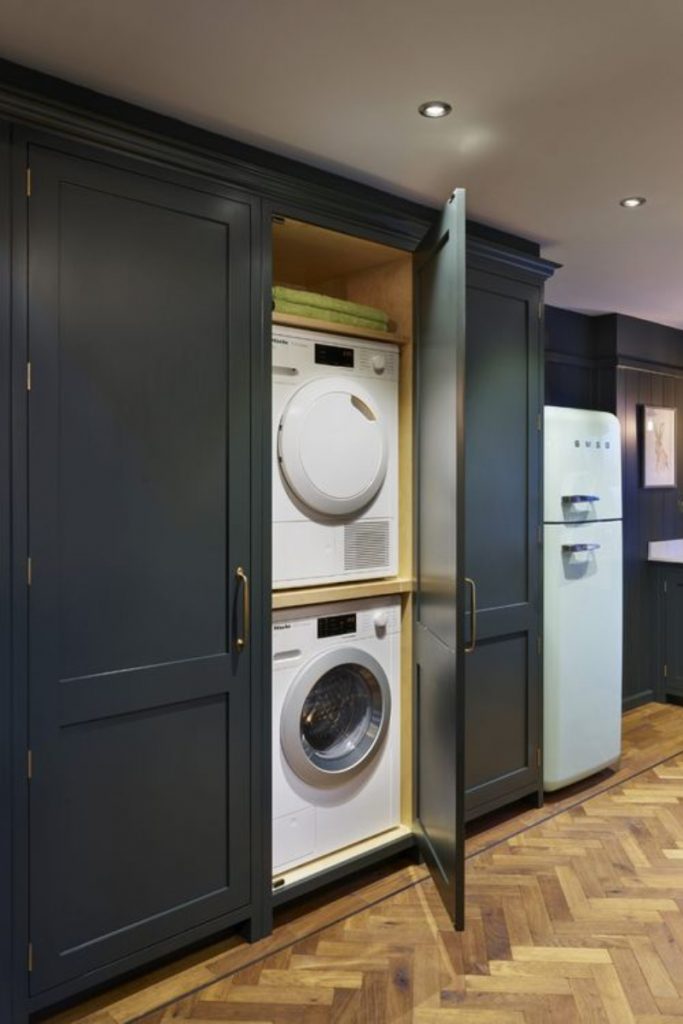 Utility room ideas: Store your large appliances in there
Apart from the washing machine and dryer, you can place your dishwasher in your utility room too, along with other noisy or bulky appliances. If your food shop got bigger in the last year, you will definitely benefit from an extra larger built-in fridge and freezer. Check our Georgina's round-up of the latest designs.
Think of the air quality
If you are building your utility room from scratch, make sure you prioritise natural lighting. It will open up the space, plus it will help improve the air quality in your room. However, if you don't have any windows, make sure you include an air purifier to avoid mould and keep your space as fresh as possible.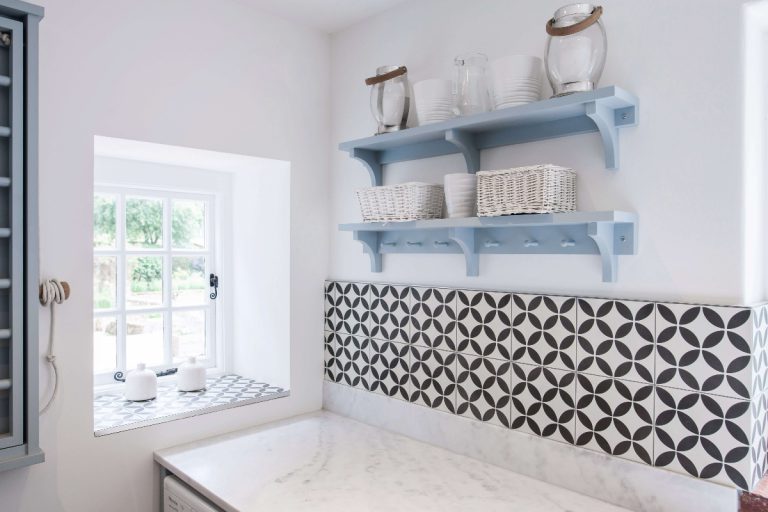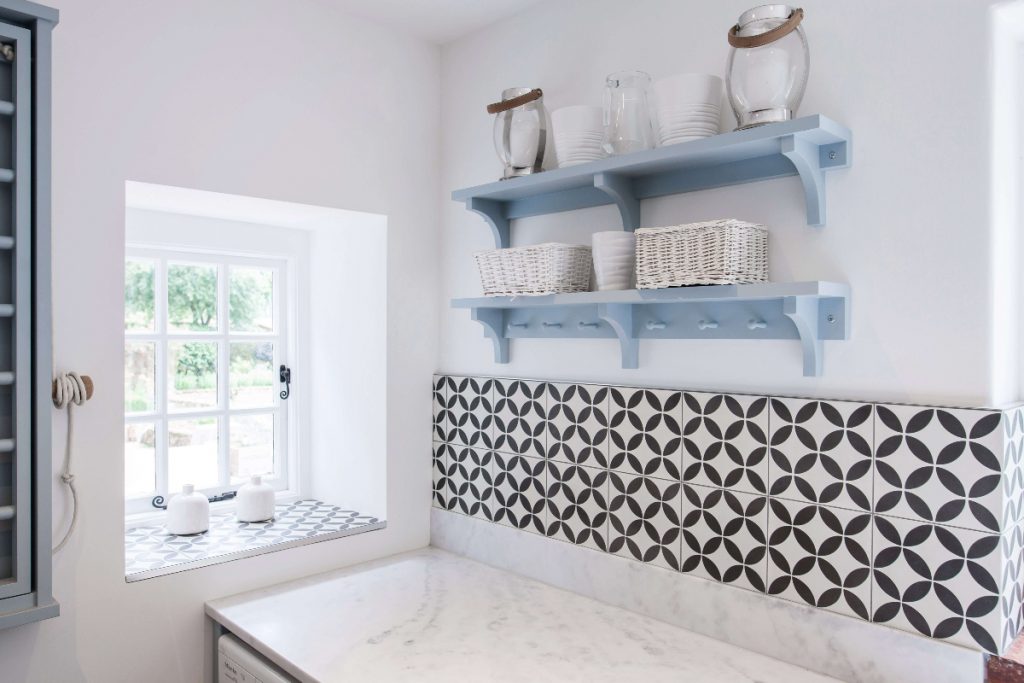 Utility room ideas: Ensure a seamless link with your kitchen
Looking for utility room extension ideas? Know you don't have to go for a large one to achieve a successful design. You can build a smaller extension and try clever tricks to create a cohesive look with a nice flow from your kitchen. For example, using the same flooring throughout both rooms and sticking to the same colour palette.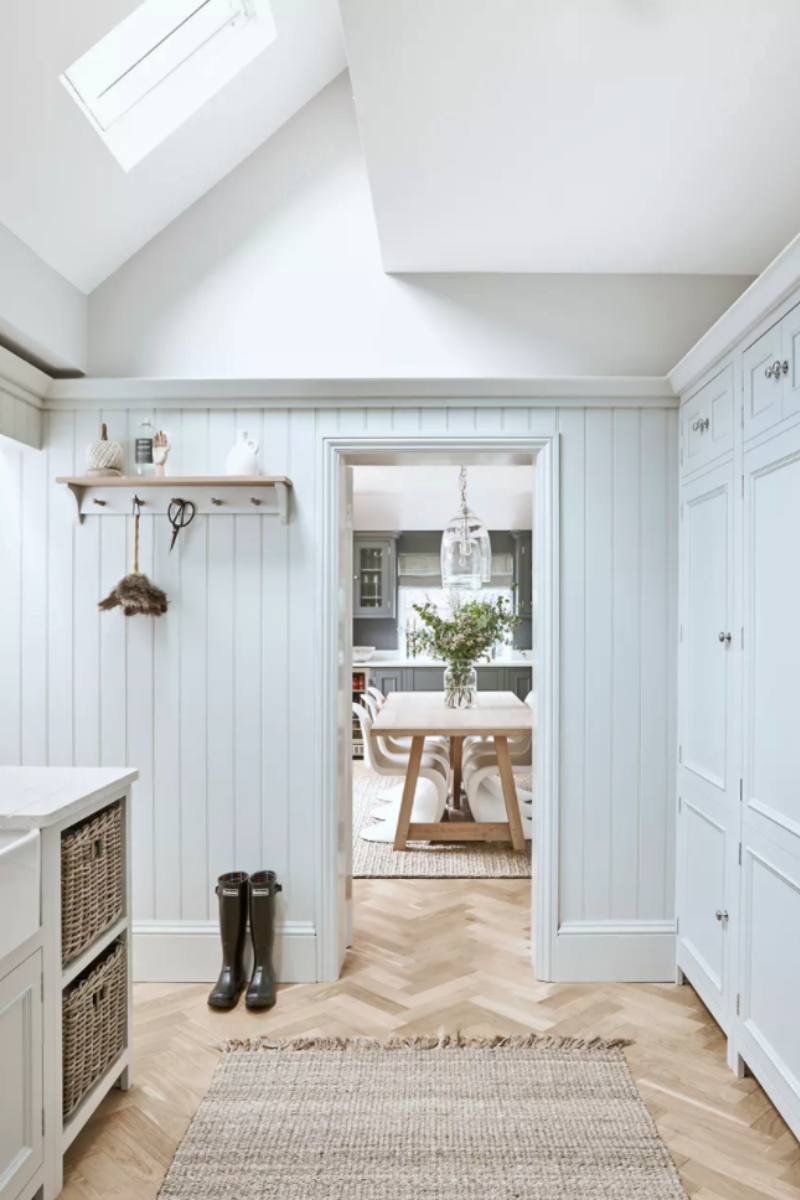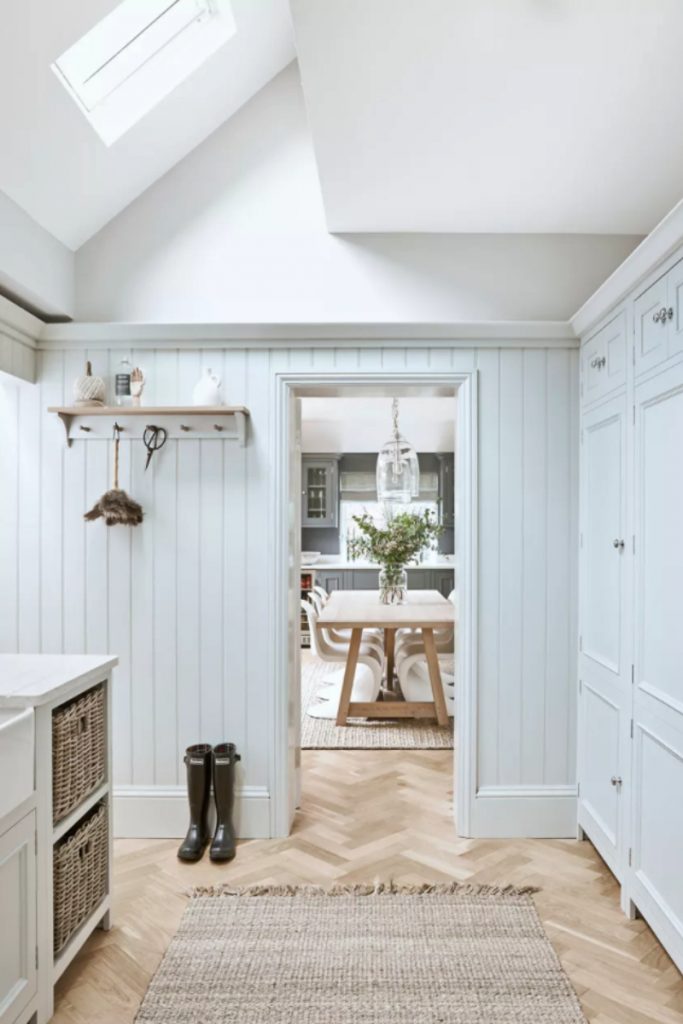 Or hide it away…
Remember you always have the option of including a door to hide everything away. This way you will effectively zone your home for extra privacy and keep away unwanted appliance noise. Think about what works best for your lifestyle and design a utility room suited to your needs.
Utility room ideas: Why not create a cosy nook for your pet?
Lastly: if you have a furry friend, you can include a comfy bed within your freestanding units or under the boot room cupboards. Simply add an open shelf beneath. You can store their food and toys in the utility as well and maintain an uncluttered home. Want to take it a step further? Designs can be so clever nowadays and provide wardrobes for your pets where you can keep all their essentials. You can find out more here.
Featured image: Downstairs toilet and utility room ideas, plus boot room and laundry room inspiration. English Revival – Shaker Utility Room from Mereway Kitchens.
So, now you have lots of great utility room ideas. Why not also read about a real-life utility room project?
About Post Author