Is an open-plan bedroom bathroom something you'd love to have in your home? Très hotel chic, they can make the perfect getaway after a long day at work (or escape from the kiddos). But what layout should you go for? And what about the bedroom flooring? We look at some of the things you can do to create your dream space.
If you have the space for an open-plan bedroom bathroom, go for it, I say! Nothing says 'luxury' more than that hotel suit feel in my book.
You can go totally open plan with the bath in the bedroom or, if you're a bit shy and want a little privacy, perhaps a broken-plan scheme could be better for you. Things like the bedroom flooring, stud walls or tiling will help create a room perfect for your needs.
Either way, you can achieve the feel of an open-plan bedroom bathroom that looks fabulous with these design tips…
1. Make use of pocket doors
For instance, this design by Lucie Young at Light Intervention is the perfect example of a broken-plan bedroom-bathroom. The wide pocket doors can slide all the way open (or shut) creating a large, open-plan space or two separate rooms for a bit more privacy.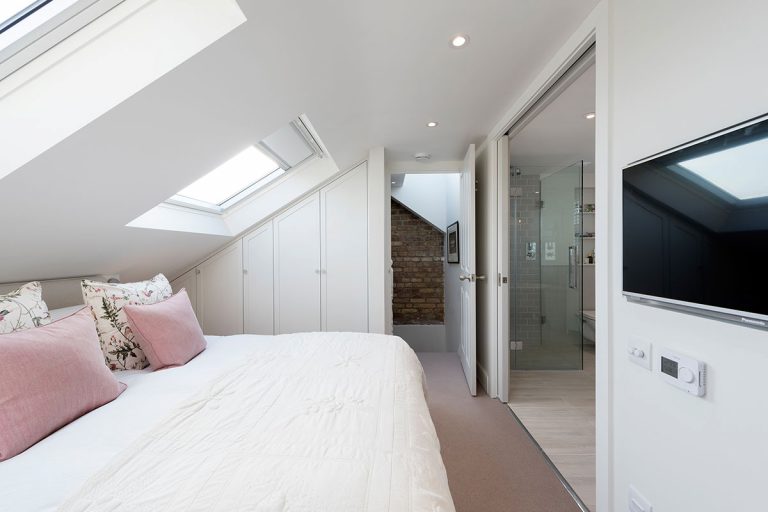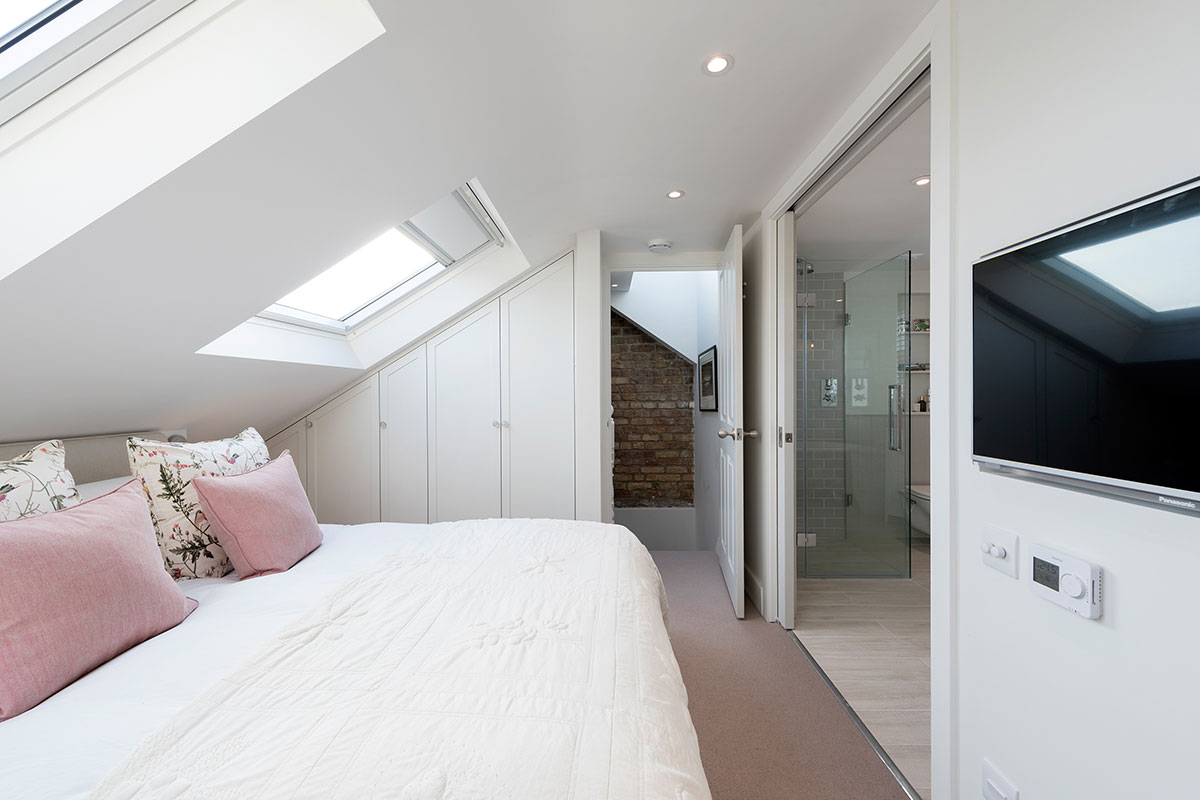 2. Mix and match bedroom flooring
Because there might be a certain amount of splashing if you have an open-plan bedroom bathroom, it's wise to think about separating the bedroom flooring to the wet zone, especially if you're thinking about having real wood or carpet in the space. Real wood will warp with moisture so won't be the best option, so a tiled area may be better. You can get porcelain tiles that look just like real wood so you could create the look you want with added practicality. Talk with your designer about what would work best, where.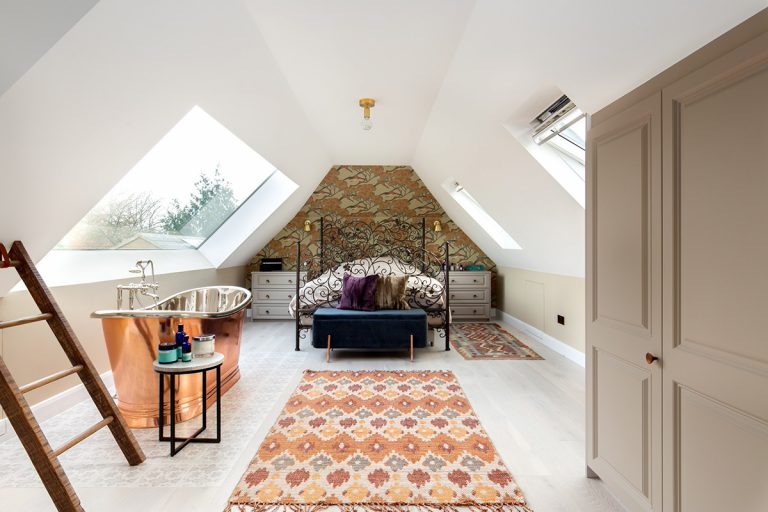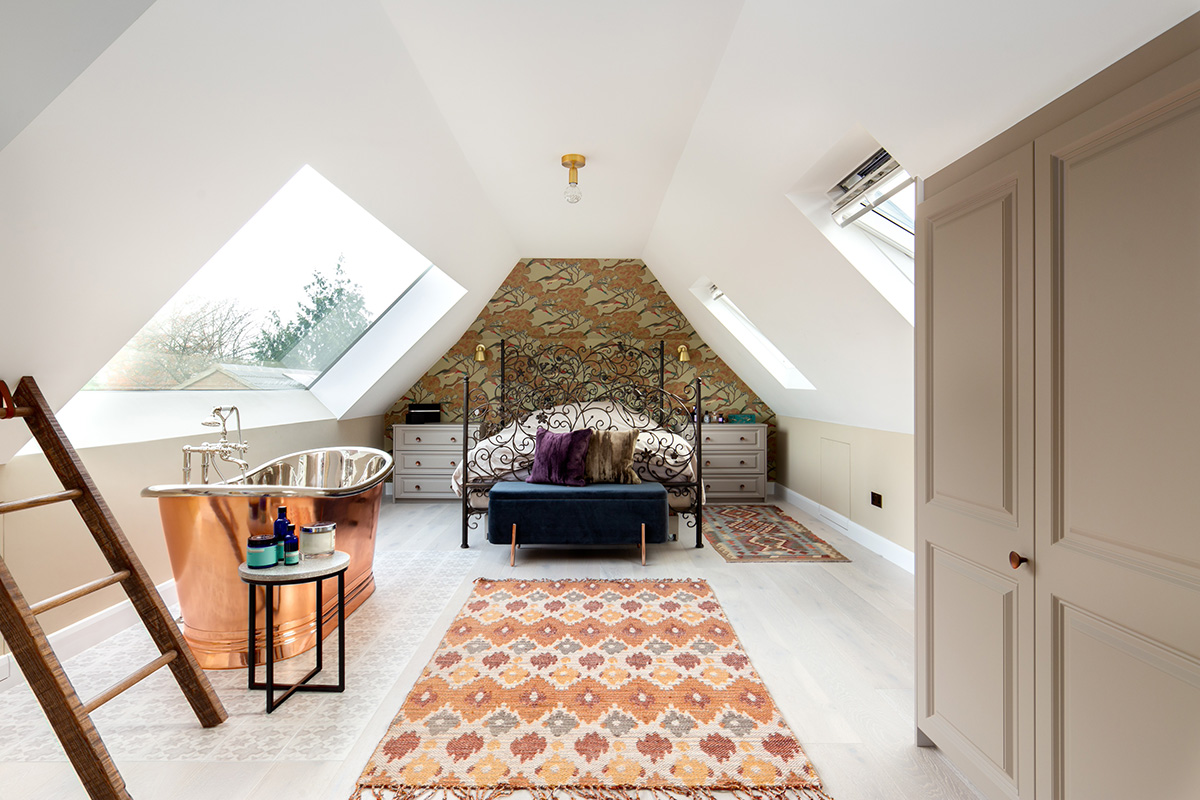 3. Add stud walls
To break up the space and create dedicated zones for your bedroom and bathroom, the use of stud walls is an ideal solution. The below bathroom is the perfect example of this – several stud walls help separate the vanity area from the walk-in shower, and the bath area from the bedroom. All while maintaining a luxurious open-plan feel.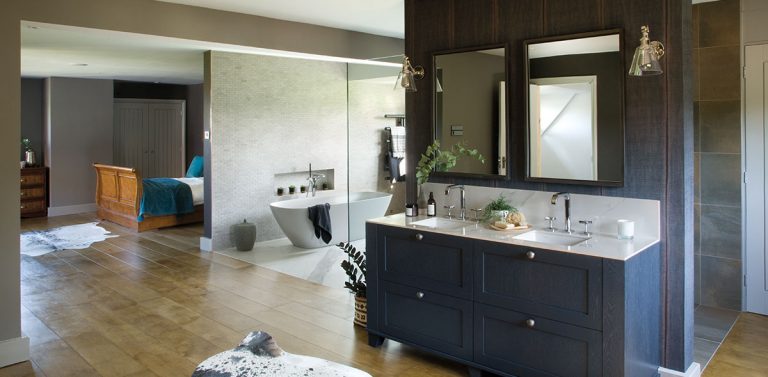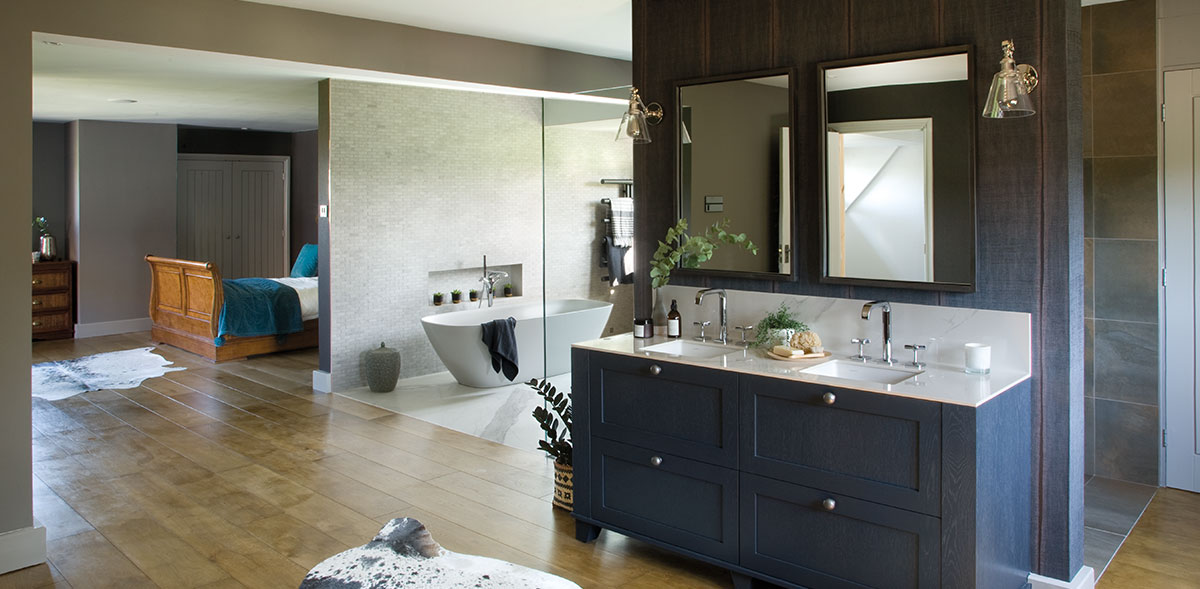 4. Keep the same palette
To create an open-plan bedroom bathroom space that flows, think about using similar tones, shades and textures. Just like in this bedroom-bathroom, which has the same white walls throughout. While the bedding and tiling also match, even the pops of colour in the bathroom area go well with the wooden bed frame.
Remember, if you're going to include a shower in your bedroom space it is essential to have the correct extraction installed to prevent mould and condensation (and to comply with building regs).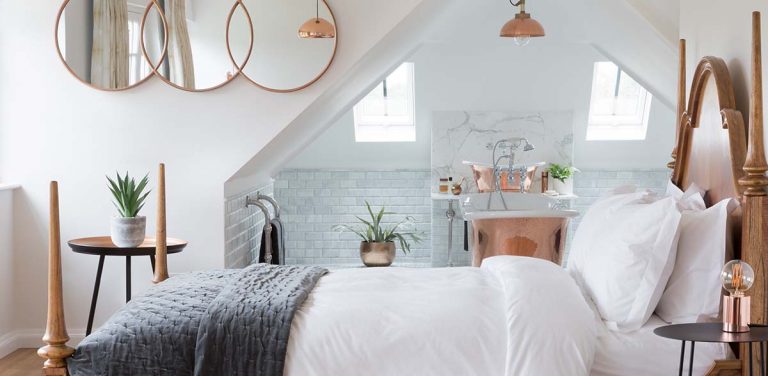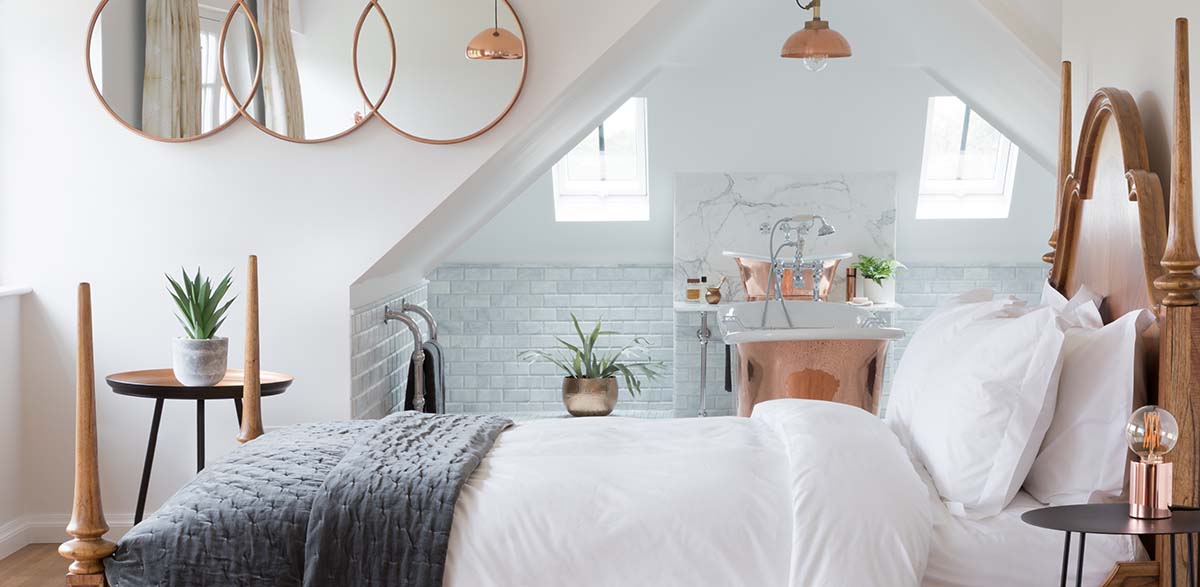 5. Introduce different levels
Why not separate your bedroom and bathroom space by introducing different levels into the scheme? This would obviously be quite a complicated process – if starting from scratch – so ensure you talk to a structural engineer or architect to see what's possible in your space.
This will help zone the bedroom and bathroom areas while removing the door will still create the feel of it being open plan. There's something quite nice about stepping up into the bathroom too, right?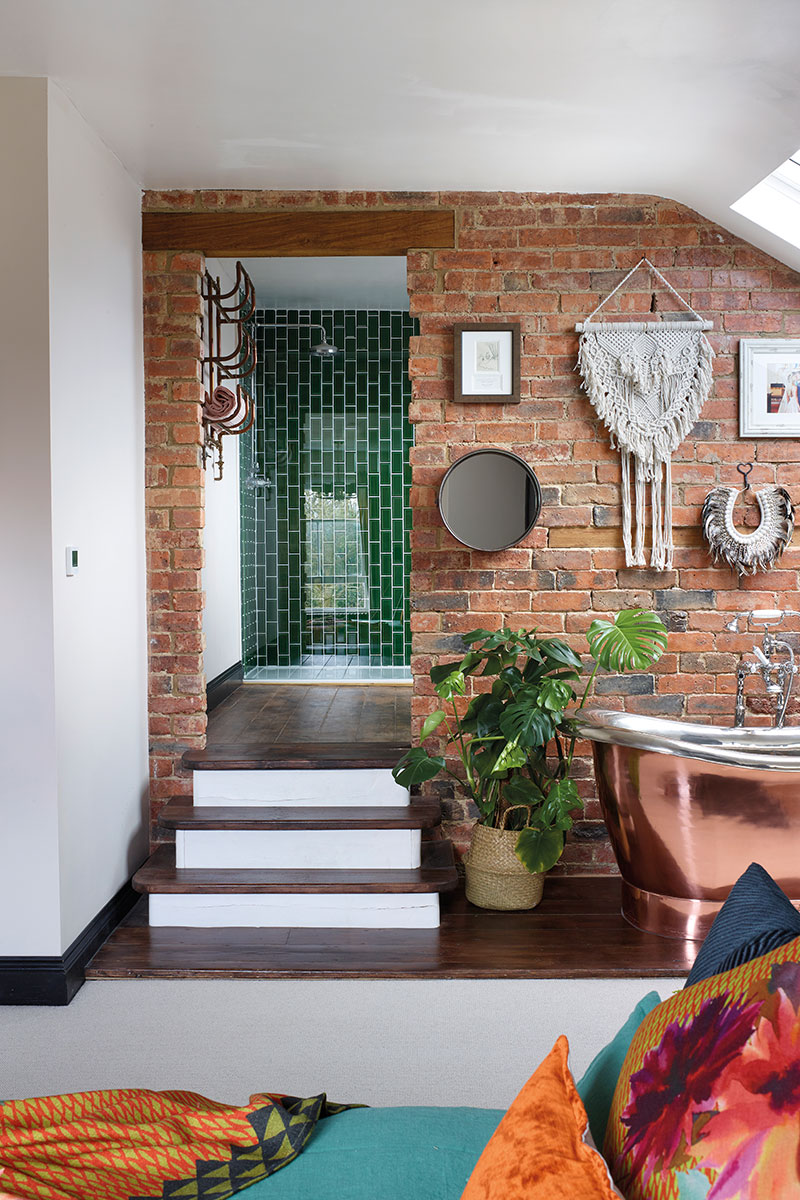 6. Have a feature wall (and floor)
To help define the wet area of your bedroom-bathroom, as well as the flooring, why not introduce a feature wall as well? For example, the height of the below bedroom's ceilings is really accentuated by the blue paint.
Then, the patterned tiles on the floor create even more of a statement (and are practical for the wet area) – clever.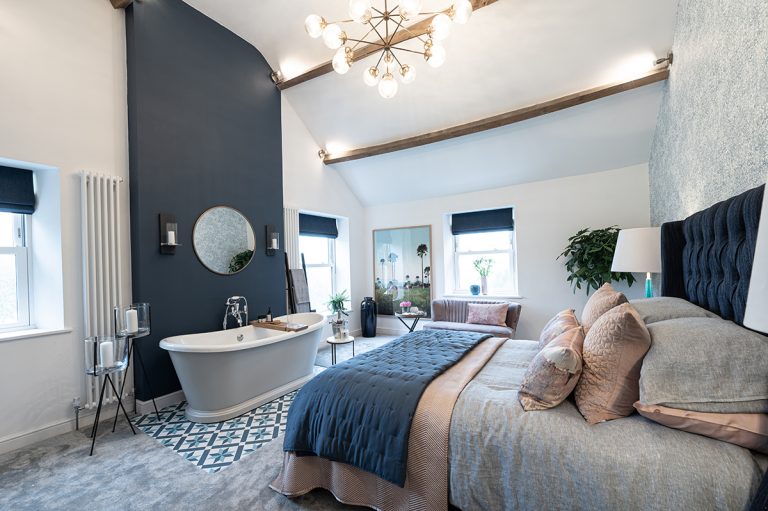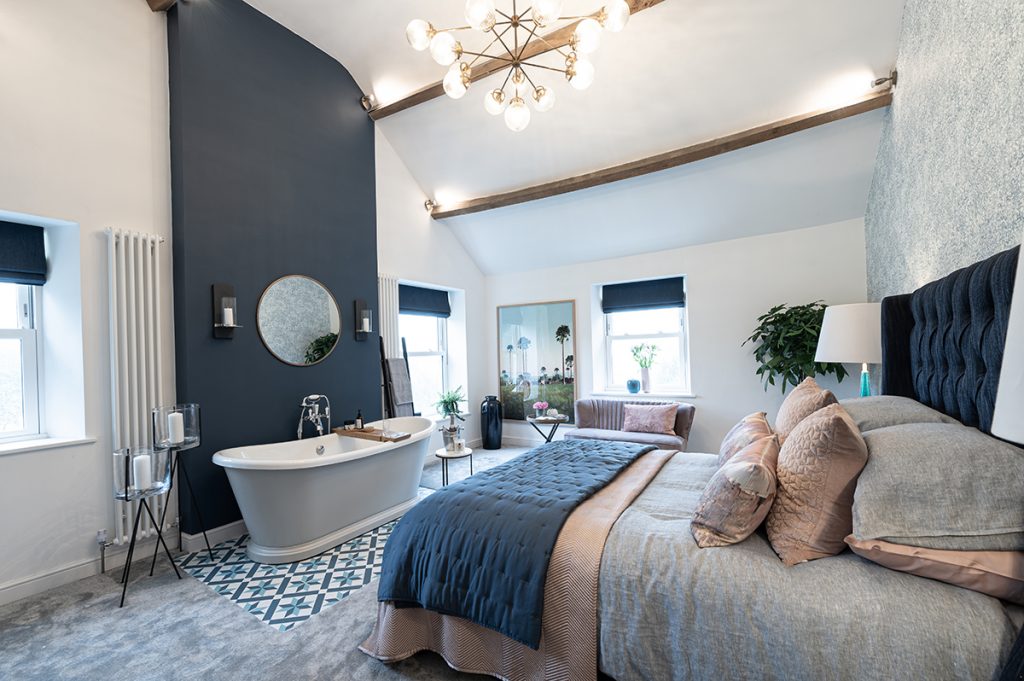 7. Just go for the bath
If you think having your entire bathroom in the same space as your bed might be a little much, why not just go for a bath instead? Create a boutique hotel vibe by placing a freestanding tub at the end of your bed – however make sure that works for you and your lifestyle, first.
Some baths are very heavy, so the floor might beed reinforcing as well. Moving pipework can also be an expensive thing to do. Plus, you'll need a plumber to advise if it's possible to route water and waste pipes to where you'd like the bath positioned.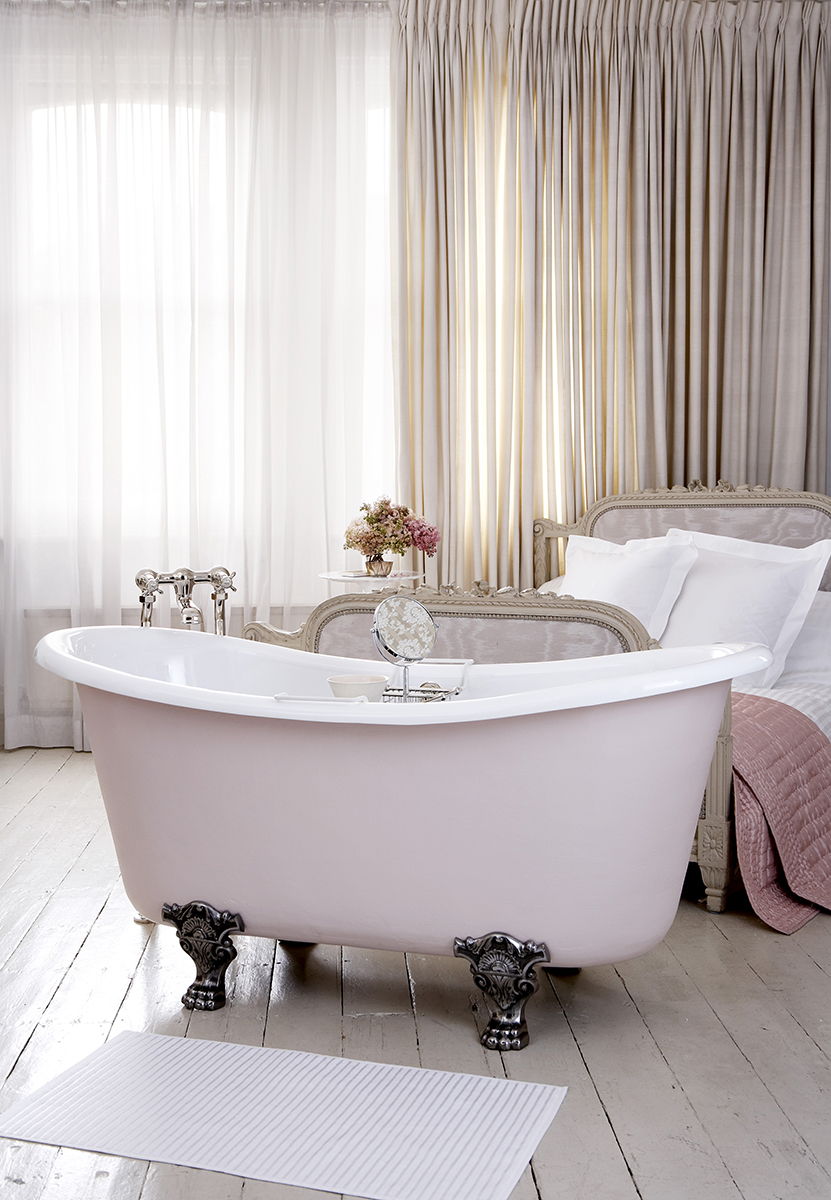 Featured image: Diamond Bathtub by Maison Valentina.
About Post Author