Do you follow interior writer and blogger @_lisa_dawson_ on Instagram? If you do, you'll know she's well known for her impressive room makeovers. Transforming her lovely house in York with enviable design flair, Lisa's grid is the place for #inspo.
Lisa Dawson's bathroom is brand new and gorgeous, so she offered us her tips on bathroom design. And we are so here for them. Not only have we had the chance to snoop around the new project before it's fully unveiled, we got Lisa's best advice. She explained how she likes to tackle a bathroom and also how she created this new show space.
Lisa teamed up with bathroom brand Geberit to document the design journey of creating an ensuite bathroom. So if you do follow her, you'll have seen some of the ideas, moodboards and room sketches already. Check out her En Suite highlight to catch up with Lisa Dawson's bathroom news if you missed it.
Now it's time for the *big reveal*: we've got an exclusive sneak peek at the ensuite before the final images land on social media this week.
Here we've caught up with Lisa to get her top tips for when you're planning your own bathroom redesign or renovation…
Lisa Dawson's bathroom tips
Start with a good plan
Planning is absolutely key to a revamp, whether it be the smallest room in the house or the biggest. Plan out the key pieces in your room to start with, the pieces that you really need, and then work the rest of the space around them.
Think about the bones of the space – flooring, windows, doors – and get those pieces right before you start thinking about the rest of it. And if you have budget left, don't scrimp on the small bits – a simple door can be elevated by investing in good handles and a basin is uplifted with a beautiful tap.
Think about your theme
How do you want your bathroom to make you feel? Consider that and your theming is the fun bit, think colours, textures and accessories!
Trends make the interior world go round but it's important to consider carefully before investing your hard-earned cash into something that might be here today, gone tomorrow. It's easy to be swayed by what we see in the media and on our social feeds but do bear in mind that you shouldn't add anything to your home unless you really love it and it suits your space. If you're smitten by a trend, then start small – perhaps with a textile or an accessory – to see if it's going to stick with you.
I chose a biophilic theme for this bathroom, to bring the outdoors inside and to incorporate natural textures, tones and a calming spa-like feel to the room.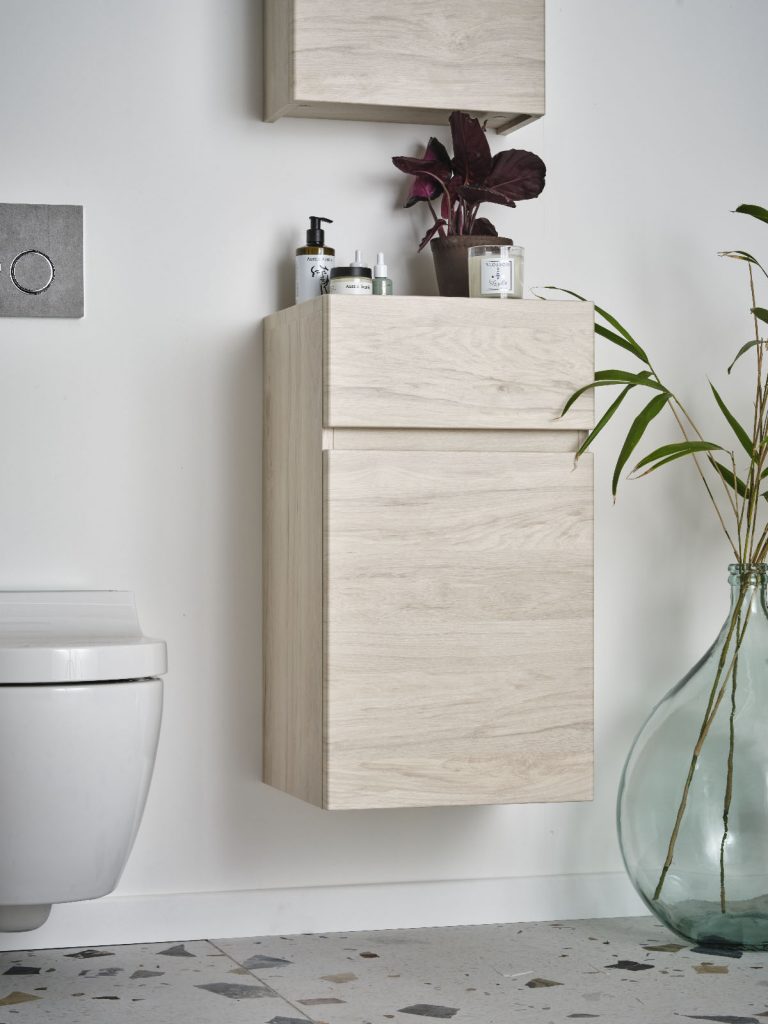 More of Lisa Dawson's bathroom tips
Always consider storage!
Storage is the most important part of bathroom planning, so don't underestimate it. You can never have too much storage!
So, once you've decided on a theme for your bathroom, you can consider incorporating smart storage solutions throughout. This will help to maximise that all-important space to store everyday essentials, toiletries and cleaning products.
If floor space is limited, think vertically. Wall-hung furniture will create the illusion of more space, and floating shelves provide the perfect place to store bathroom necessities. They'll also house those finishing touches, whether it's a plant or candle, creating both order and style.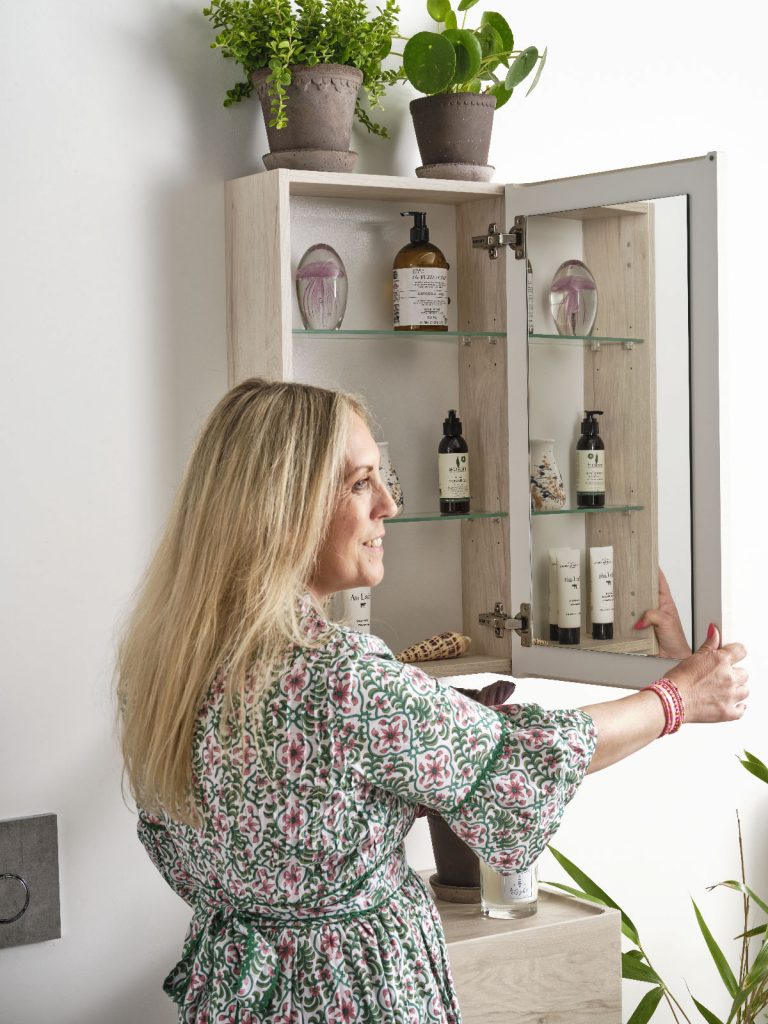 Choose lighting early
Creating the perfect lighting is key for a relaxing atmosphere. As well as main fixtures, consider opting for additional dimmable options, such as wall mirrors with integrated lighting such as in my ensuite bathroom.
With a range of settings, these types of lit mirrors can easily be fixed to the wall and will create the perfect ambience for the room. They're ideal, whether you're looking for the bright light of a beauty station or want to cast a soft glow across the room.
Think about going high tech
The bathroom of the future is here! Looking for ways to enhance the spa-like feel to your bathroom? Then smart WCs such as shower toilets pave the way for washing with water. They offer self cleaning functions, a warming seat and adjustable sprays to wash you once you're done. In addition, this smart toilet comes with a handy remote which I've wall-mounted so it's easy to access. In addition, note there's no loo roll on display, which helps keep things nice and tidy.
I also love the idea of a touchless flush plate too – more hygienic and slick looking. You activate the flush plate by waving a hand to reduce surface contact and the spread of germs. It helps the loo area look much more designer. So it becomes a bit of a feature in its own right – not just the toilet!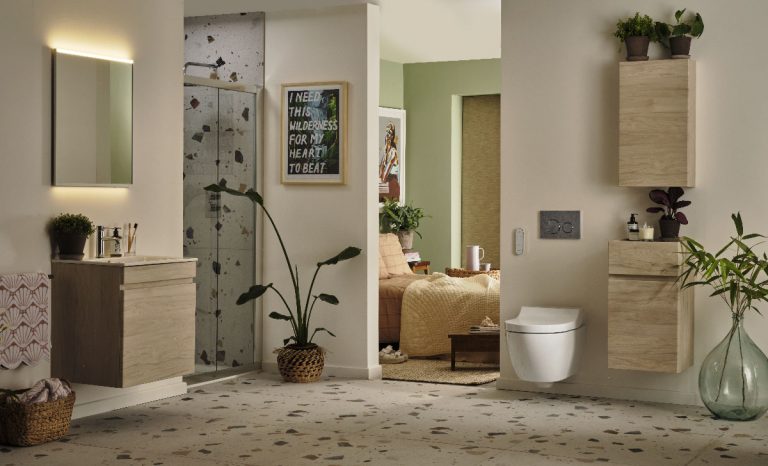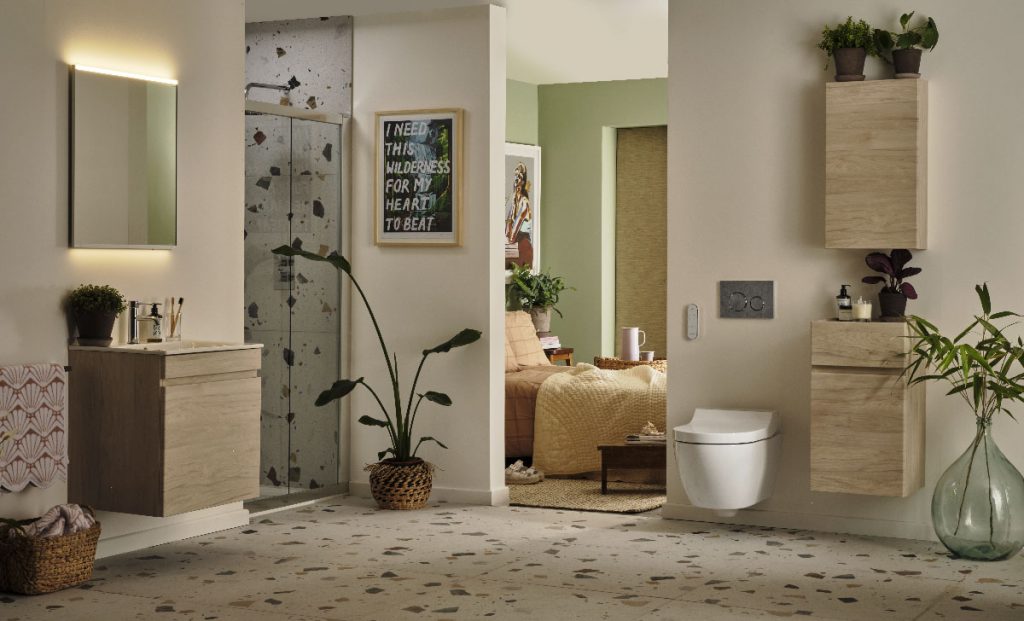 Have fun with finishing touches
The best bit of any room revamp is the accessorising, right? You might overlook finishing touches like flush plates. However, many models are now available in natural finishes, such as concrete and chrome. These will immediately add warmth and texture, creating the ambience of a luxurious retreat. They reflect the great outdoors at little additional cost.
Accessorise the room with plenty of plants and candles to complete the look. This will create a cool, calm room with lots of natural materials to aid creativity and enhance your wellbeing.
About Post Author