Can you guess which trend has won over most homes this year? With help from recent data, collected with help from Google Search Trends, I am here to tell you the top five interior UK design trends and how you can get these super-popular looks in your kitchen, bedrooms and bathrooms.

From contemporary to farmhouse, have you searched out any of these looks lately

?
Shabby chic
Our top trend in the UK is all about salvaged items that have that vintage, lived in allure that reminds me of quaint summer houses and cosy cottages. Be it in your kitchen, bedroom or bathroom, you can achieve this design through items that have a distressed look – from an antique bedside table to a mirror with an ornate frame that's been distressed. Why not upcycle items found at vintage fairs, charity shops and car boot sales with a couple coats of paint, or embrace the history of pre-loved furniture and leave them as you found them – every mark or sign of wear tells a story after all.
The industrial style
One of the most popular trends over the last few years, the industrial style, has quickly become a favourite throughout the UK. Inspired by factories and industrial spaces, hence the name, this style is characterised by exposed brick, concrete, metallics and utilitarian items. If you want to recreate this trend in your kitchen, go for a statement, concrete kitchen island, add a couple of black pendant lights with brass accents and designer bulbs, and choose unstained, dark woods and matt black accents. In the bedroom, leave a raw, unfinished look to your walls with oiled wooden panelling or exposed bricks and choose a mesh wall-mounted bedside table. Recreate the look with wallpaper or murals designed to look like a brick wall or concrete. For your bathroom's design, go for exposed copper pipework and add a metal mirror or a glazed iron cabinet to tie the look together, plus concrete-effect porcelain wall and floor tiles. Choose a steel-framed shower screen for the ultimate in industrial bathroom style.

Maximalism
If you like to be surrounded by bright colours and bold patterns, then chances are you're a bit of a maximalist. A successful maximalist scheme gives that serious wow factory when you first see it and leaves you looking around at all the little design details for some time after. Go bold with colours and patterns, but ensure there's a cohesive link in the design by keeping one shade the same or sticking to a limited palette or number of different patterns. You don't want the look to be so maximalist it looks a mess, do you? Go for a statement dining table and add standout lighting accessories and plenty of fun accessories. Why not add a bold art piece above your bed? With help from the maximalism trend, dare to create a unique wall and floor combo in your new bathroom and design the space of your dreams. This trend is one for the brave interior souls out there. Basically, if you love colour and pattern and throw it all together (stylishly), that's you!

Contemporary design


Sleek lines, neutral shades and simple looks – the contemporary style is not going anywhere and, according to Google, it's a firm favourite in the UK. Keep an uncluttered space, with plenty of natural light, wood finishes and geometric lines for that contemporary aesthetic. Focus on different textures in shades of white, grey, black and cream, to create a comfortable space. Dress pared-back walls with art and keep the rest of the décor minimal.

In the kitchen, go for the handleless look or choose thin handles on a slab door for your cupboards and drawers. For your bedroom, you can create a relaxing sanctuary in neutral tones and soft finishes. And as for the bathroom, a walk-in shower in a muted colour palette with simple black accents will do the trick.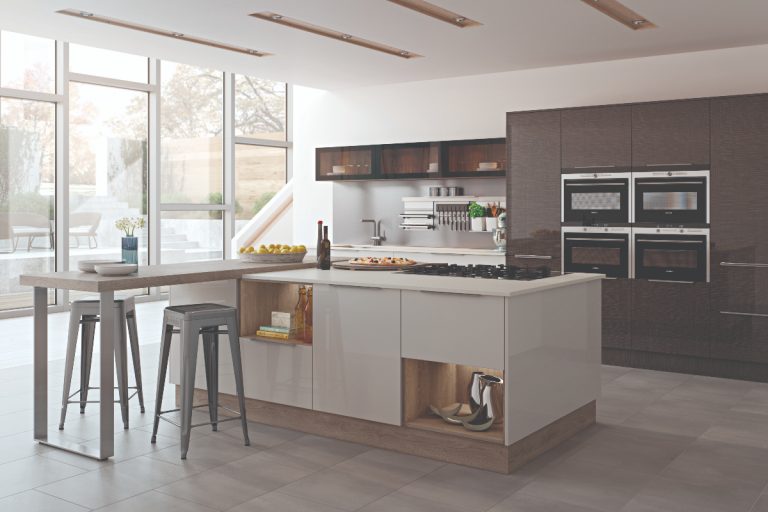 The French farmhouse look


Think warm hues of blue, pink and cream, stone floors, wooden accents and delicate finishes with a rustic touch. The French country trend is inspired from the homes of Provence and focuses on comfort, with a sophisticated edge. To achieve this look, go for bulkier wooden furniture, antique accessories with rough finishes, lots of cushions, elegant chandeliers and traditional patterns. Keep a neutral colour scheme, leave beams exposed and think about including a fireplace, too. Plus, watching old French movies curled up on the sofa won't hurt to get that much-needed inspiration for your renovation project, right? All in the name of research, of course!
Which are your favourite interior design trends? Let me know in the comments or tag us @kbbmagazine.
Featured image: Top interior design trends in the UK. iStock/ Hispanolistic
About Post Author