If there are two things I hear most often when I ask people what they want from their new kitchen it's: more space and more light. Now, usually, the latter often means more glazing – patio doors, skylights or beautiful full-width sliding doors or steel-framed designs – but, the lighting you put into your kitchen is just as important. By which, of course, I mean lighting of the artificial variety.
For perfect kitchen lighting, in both the day and night, you need a good mix of those said glazing options, but also a cleverly designed, well-thought-out lighting scheme that looks great and functions perfectly.
To secret to getting kitchen lighting right comes down to two main things, I reckon: planning and layers. Then you can think about the decorative parts and what it'll actually look like. For a successful lighting set-up, you really need to think function first and then work out the style of fittings you'll go for to best complement your kitchen.
Follow these tips and your space will be perfectly lit (pun totally intended!).
Figure out your kitchen layout
First and foremost, you need to work out which areas of your kitchen will be used for certain tasks. This is where task lighting comes in. Lighting can really make or break the functionality of a kitchen.
The worst thing is to have lights away from where you'll most likely be cooking, chopping and prepping or to have awkwardly placed lights above your head and then have a shadow of your head over the worktop where you can't see what you're doing!
So, when planning your kitchen, think about where you'll most need the light and work out at what times of day you'll most use the space too. This might be making a coffee first thing in the morning, so a light near your breakfast cupboard or coffee station would be practical, or wall lights by a run of base units close to where the hob is so you can see what's going on there when you're cooking.
If your main prep space is an island or section of worktop, make sure you allow for task lighting there in the form of wall lights, carefully placed spot lights or a pendant.
Similarly, if you work from home, do you need good lighting in this area?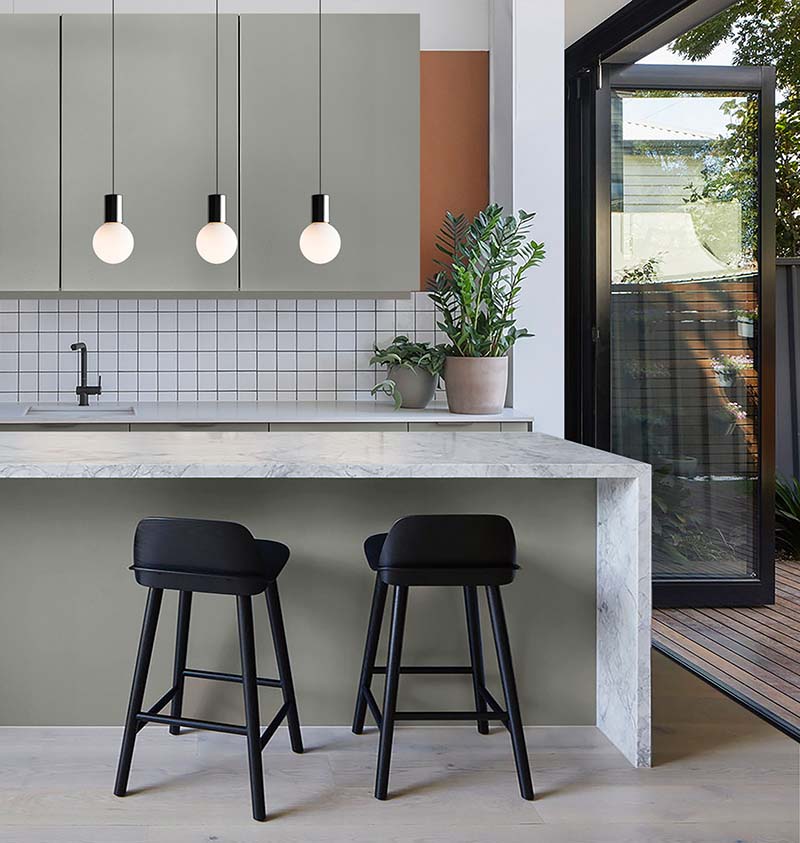 Include ambient lighting (i.e layers)
As well as the all-important task lighting (specifically to light up areas for certain tasks), it's important to add ambient lighting too. This is where you begin to layer your kitchen lighting for effective multi-functional use.
Imagine the scene: you're done with the cooking and are retiring to the living area for a bit of relaxation and the latest box set. If your space is open-plan with the kitchen, do you want bright lights shining from the kitchen to ruin the chill mood? Or do you want to have one corner of your room in pitch blackness? Nope, thought not.
The solution: ambient lighting.
Under-cupboard lights, in-unit options, plinth lighting and softer accent lighting can really help, well, soften the whole look and create atmosphere without being too bright.
These layers will give you the option to have a dimly-lit kitchen when required and offer better flexibility depending on the type of mood you want to set. It can also be useful first thing in the morning if you don't want to walk into a overly bright room… I prefer to ease myself into the brightness of the day!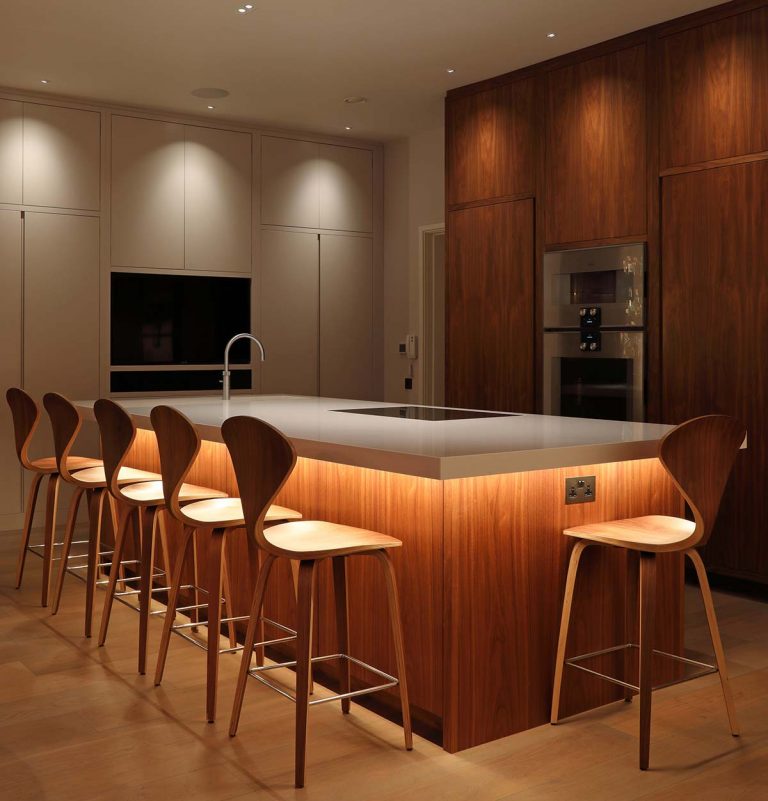 Add decorative lighting
Ambient lighting fittings such as plinth, in-unit and under-cupboard are usually concealed within the structure of the kitchen, so you only really see the glow of the lighting. Meanwhile, task lighting can be both functional and decorative.
For example, a pendant or row of pendants can be both task and decorative, so you may like to choose an accent colour, shape or design above the island, peninsula or dining table to add to the décor of your scheme. Similarly, task wall lights may come in the form of lovely sconce which can add a nice touch to the design of your kitchen, but also remain practical.
You can also accent particular parts of your room design, such as artwork or your favourite crockery, which highlights the decoration and adds ambience.
What about lamps? There's a growing trend for having lamps in the kitchen – I suspect as a way to create a space that feels less 'kitchen-y' and more like a living area. You may like to add a decorative lamp to suit the style of your kitchen as an added layer of decoration.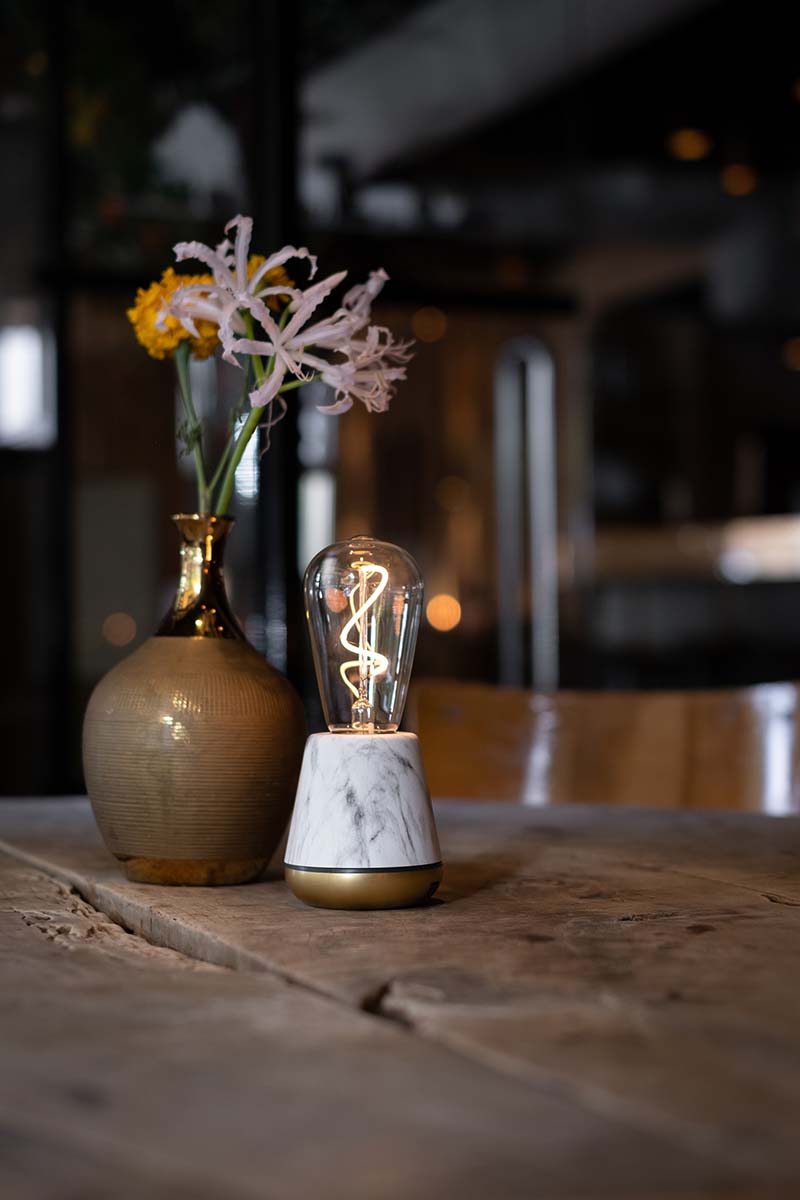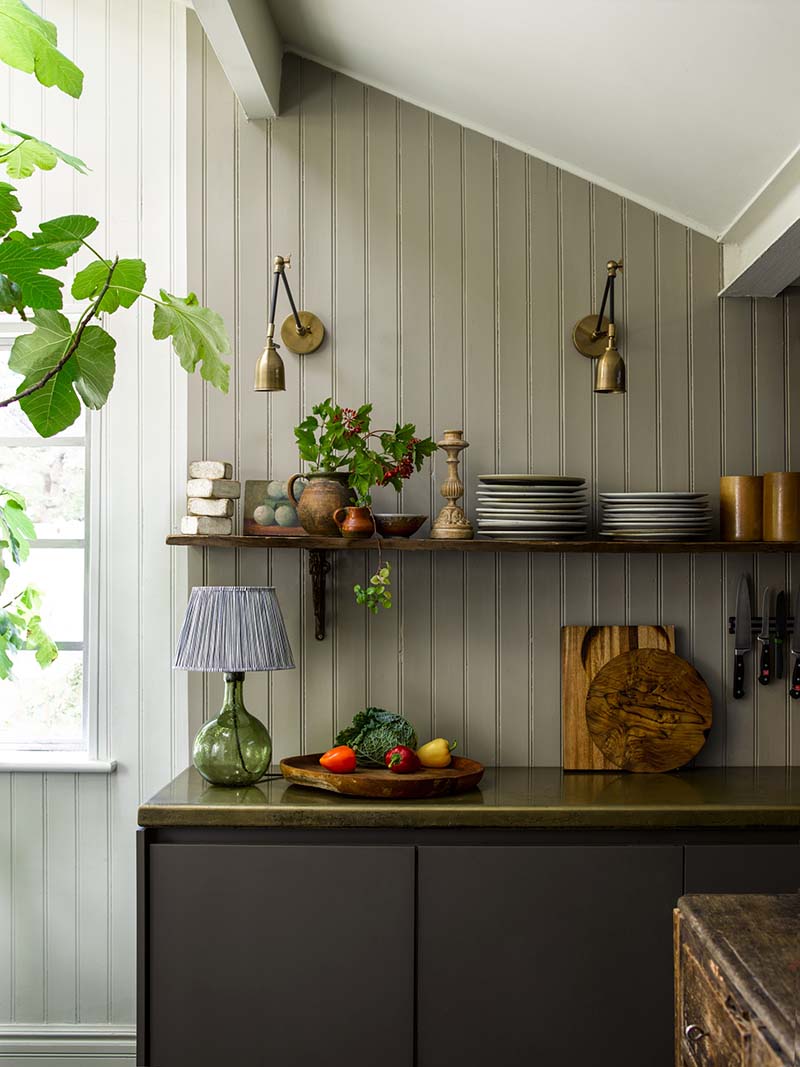 Think about sockets and outlets
This ties in with thinking about kitchen lighting early. You'll need to engage with a kitchen designer and electrician early in your project to ensure the electrical plan accounts for all the places you'll need lights, switches and sockets – for anything from lamps to blenders and power solutions for your laptop or phone charger.
The electrical plan of the space should work in tandem with the kitchen design itself and include all the different types of lighting you want to include – such as overhead pendants, spotlights, wall lights and any in-unit or plinth lighting, too.
Add dimmers
Flexibility is key in kitchen lighting. Now that we've nailed the different types of lighting and how they create layers, it's time to think about how you control them.
Rather than having one switch that either turns everything on or off, include multiple circuits for each lighting type so you can turn on your overhead lights seperately to the in-unit solutions. And add a dimmer option to give you the ability to tone down the brightness of each light when you need to.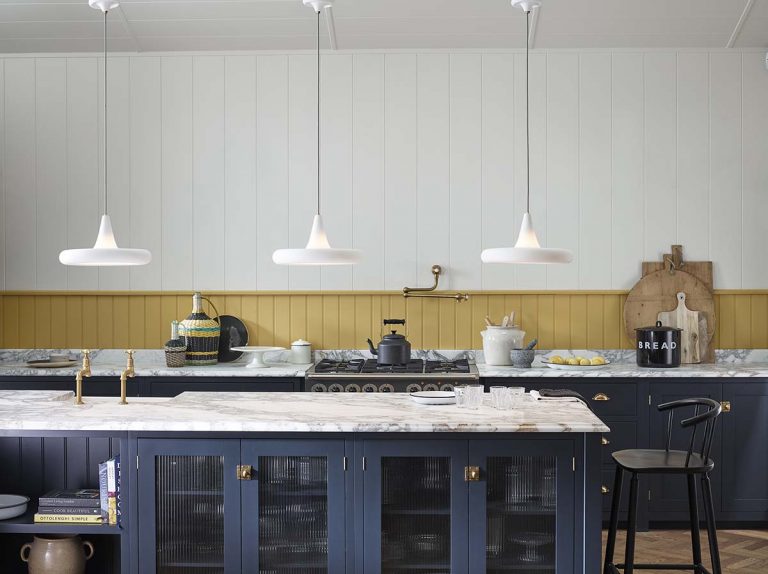 Match switches
There are so many options for switch designs these days. Rather than the standard white plastic switches we're all familiar with, why not opt for a brass, matt black or chrome design? Or even a switch that is colour-matched to the wall paint or wallpaper? You can even get clear acrylic switch plates that allow your wall finish to show through.
A light switch can become an accent in its own right or blend with other finishes such as the material or your tap or kitchen handles.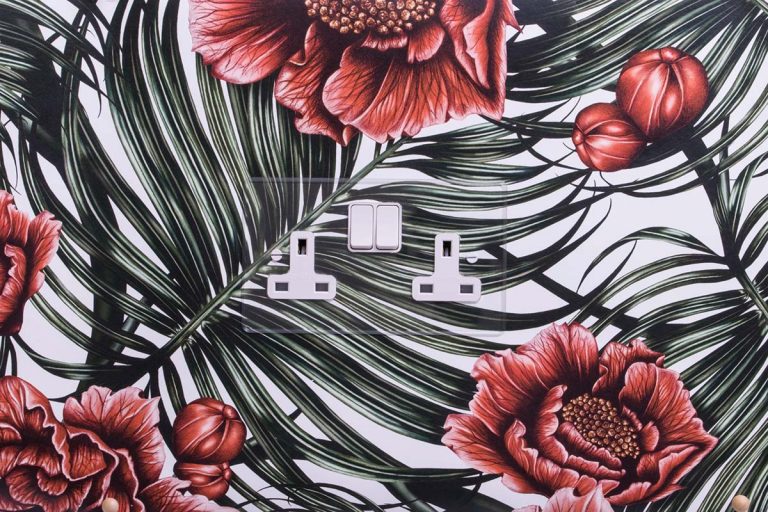 Ignore trends
Controversial? Maybe. But do what you like. A kitchen is a very personal space and you have to live with it each day, so choose kitchen lighting that you love and that complements the style of your kitchen best.
Trends come and go and if you like a look, go for it, but remember to create a design that you like most of all, despite whether it's trendy or not.
Having said that, if you do want to add an on-trend piece, what about doing so with a lampshade or lamp that can be easily updated should you wish.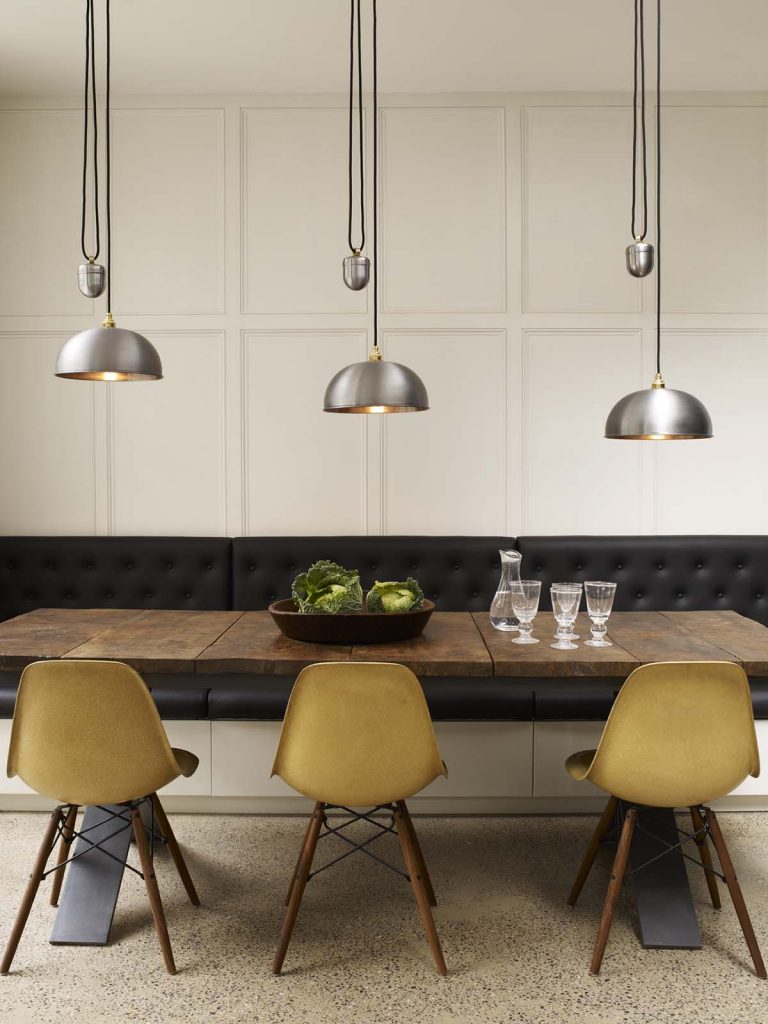 Add pendants in odd numbers
An odd number of pendants is more aesthetically pleasing than an even number. Whether that's one oversized pendant, three or five in a row, stick with an odd number and it'll look great.
When hanging pendants, think about the level they'll hang. It's often better to go slightly lower, particularly in areas where you might be sitting and eating, rather than having them too high. You can also stagger the heights for interest or opt for designs where the drop can be adjusted.
So there you have it. Follow these tips and your kitchen lighting will be illuminating in more ways than one. Don't forget to tune into How To Buy A Kitchen Or Bathroom for more tips on getting kitchen lighting right.
Featured image: Lighting Lover.
About Post Author