A bright and open room with a central multi-functional island, plenty of worktop space for cooking and baking, a spacious dining area, plus a large walk-in pantry (and a home bar fully stocked in the corner, of course) – that's what I envision when I think of my ideal open-plan family kitchen.
I love clever spaces designed to serve multiple purposes, from prepping food and entertaining to working, playing and relaxing. After all, the kitchen is the heart of the home, right?
If you are currently renovating your home, knocking down walls, adding an extension, or simply want to better utilise the space you have available, then I've got a couple tips for creating a stylish, safe yet super practical open-plan family kitchen.
Grab your pen and some paper – here's your checklist…
Find the perfect layout
If you are a fan of open and bright spaces like myself, then a kitchen-diner-living design is right up your alley. Start with the position of the kitchen and then work out the best areas for the dining and living parts from there.
Remember, your square meters are your blank canvas, so don't hold back and explore all kitchen layout options to find the right one that works for you and your family's way of living.
From the L and U-shaped to galley and island layouts, take a look at the pros and cons of each set-up first.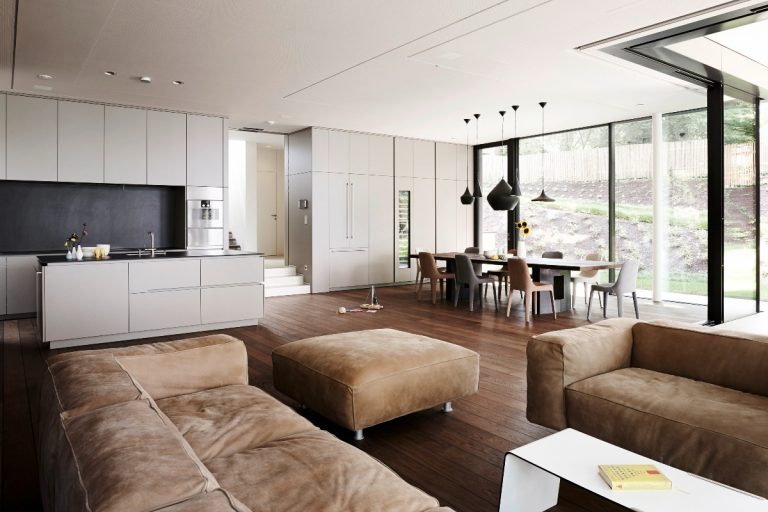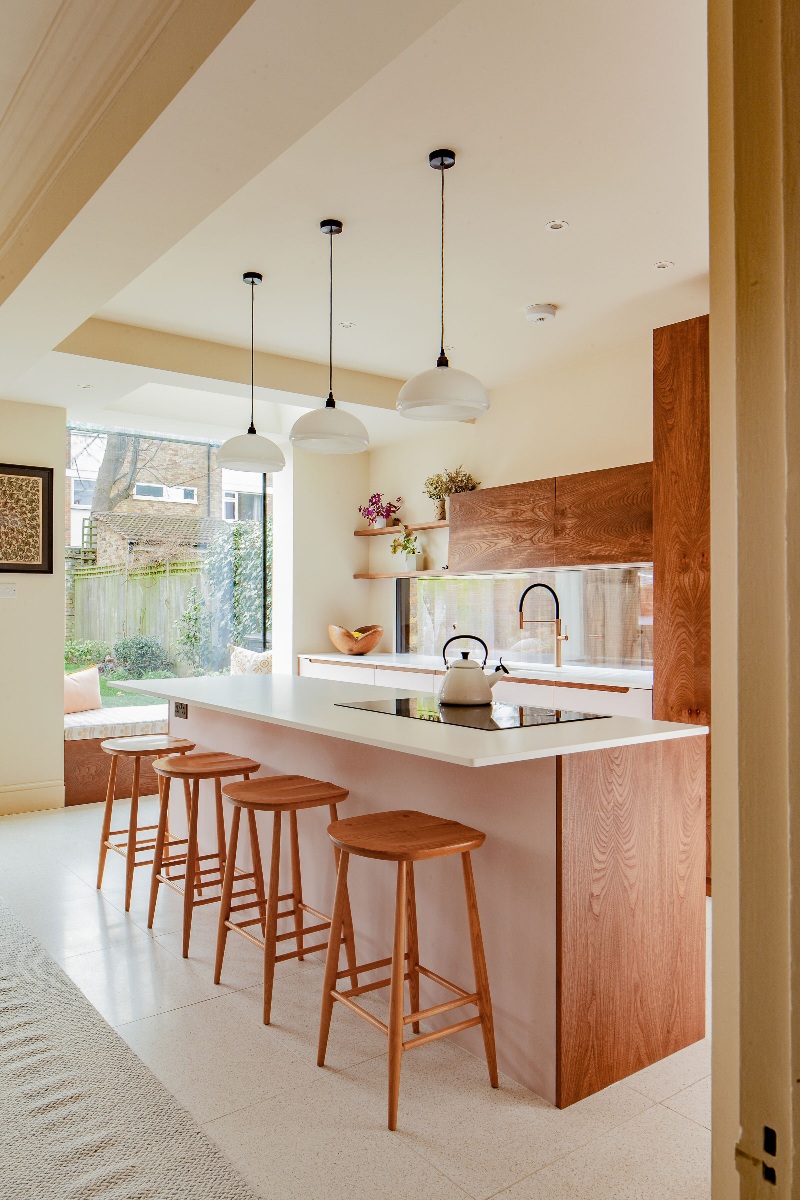 Working from home and need more privacy or simply not that into completely open spaces? Then, a broken-plan design could be a much better option. Effectively zone your space with help from clever pocket doors, room screens or internal glazing to achieve that 'room within a room' look and feel.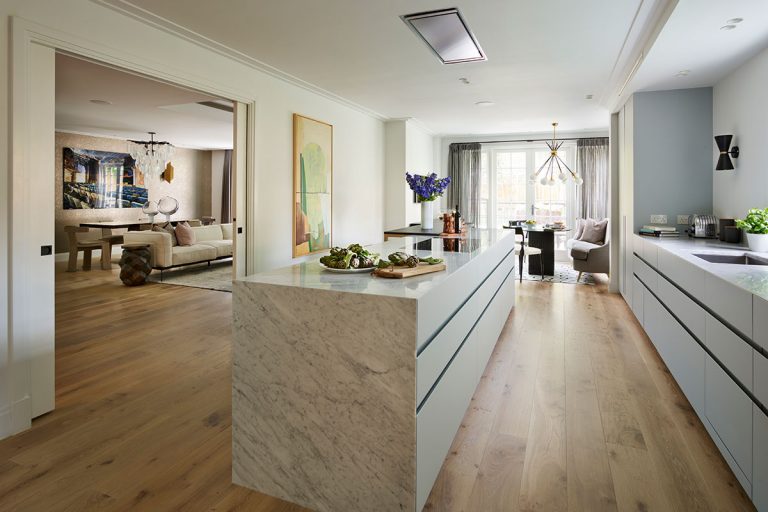 Make it multi-functional
With spending so much more time at home these days, I think everyone has had a go at improving the way their space works for them to accommodate the 'new' way of living. I know I've moved my work station to the dining table and workout spot to the living area.
Think about what each member of your household wants to use a space for and aim to accommodate them all – or as many as possible, anyway.
So, if the kitchen island in on your wishlist, then how about turning it into the ideal breakfast spot with a couple bar stools, too? Another option would be to attach a lower-level peninsula to your island which can act as a dining table or even homework spot – add plug sockets and comfy seating to ensure you're set up for those video calls.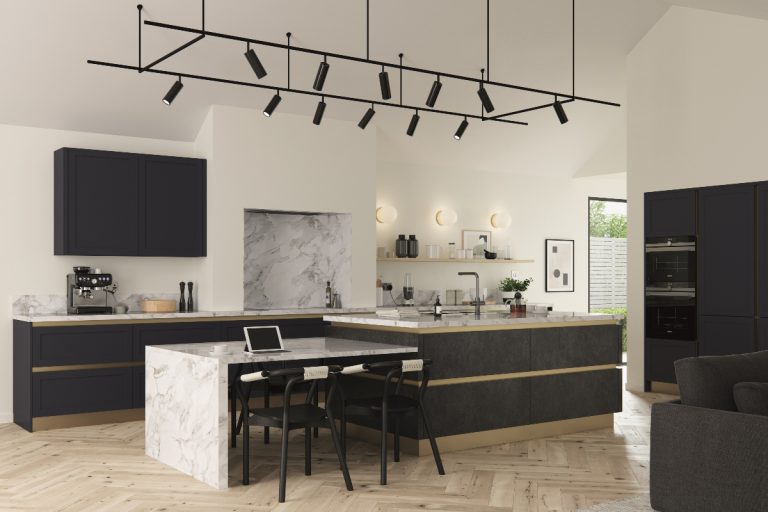 Add practical extras
You could also include a second sink and tap for easy access and to avoid a queue for washing hands when arriving home, and even a drinks cooler positioned on the outskirts of the kitchen for people to help themselves without getting in your way when you're cooking.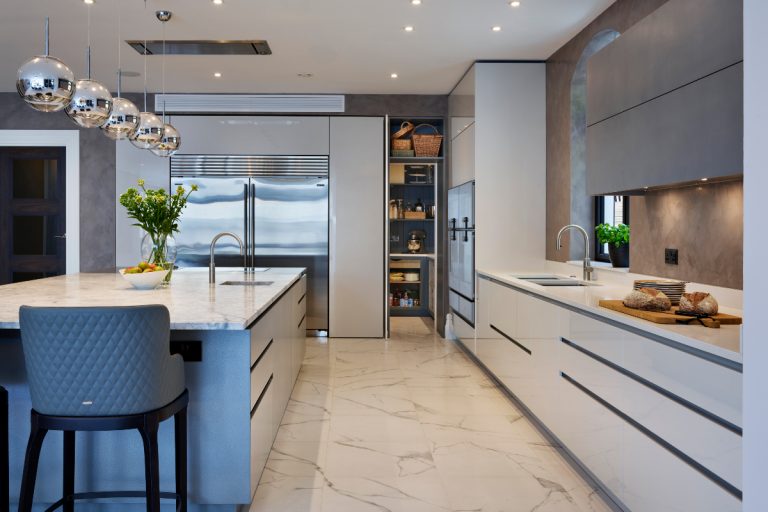 Get the dining table right
Moving onto dining, a large table or an extendable design is a must in a family kitchen. Think about positioning it in close proximity to your cooking area so you can also keep an eye on your child playing or doing homework.
Banquette seating keeps on growing in popularity – plus, you can gain those extra seats and organising space if you go for a design with built-in storage underneath. And while we're on the topic of banquette seating, window benches are perfect for creating a relaxing spot in the evening with a good book, or a play area for your little one.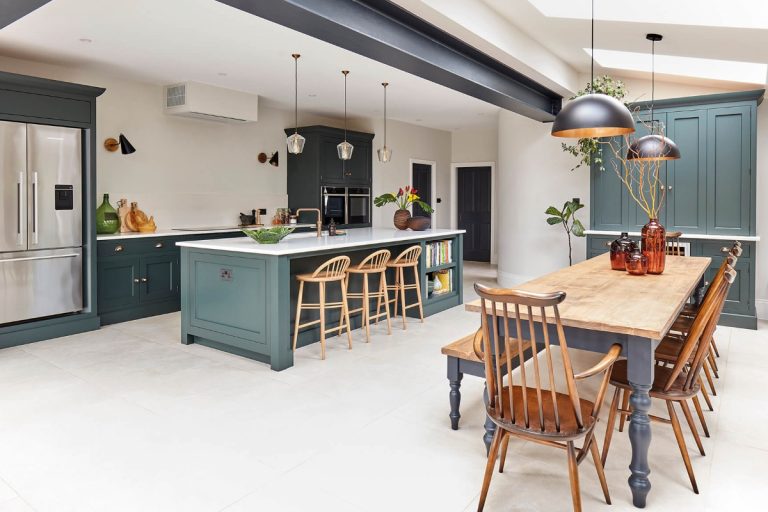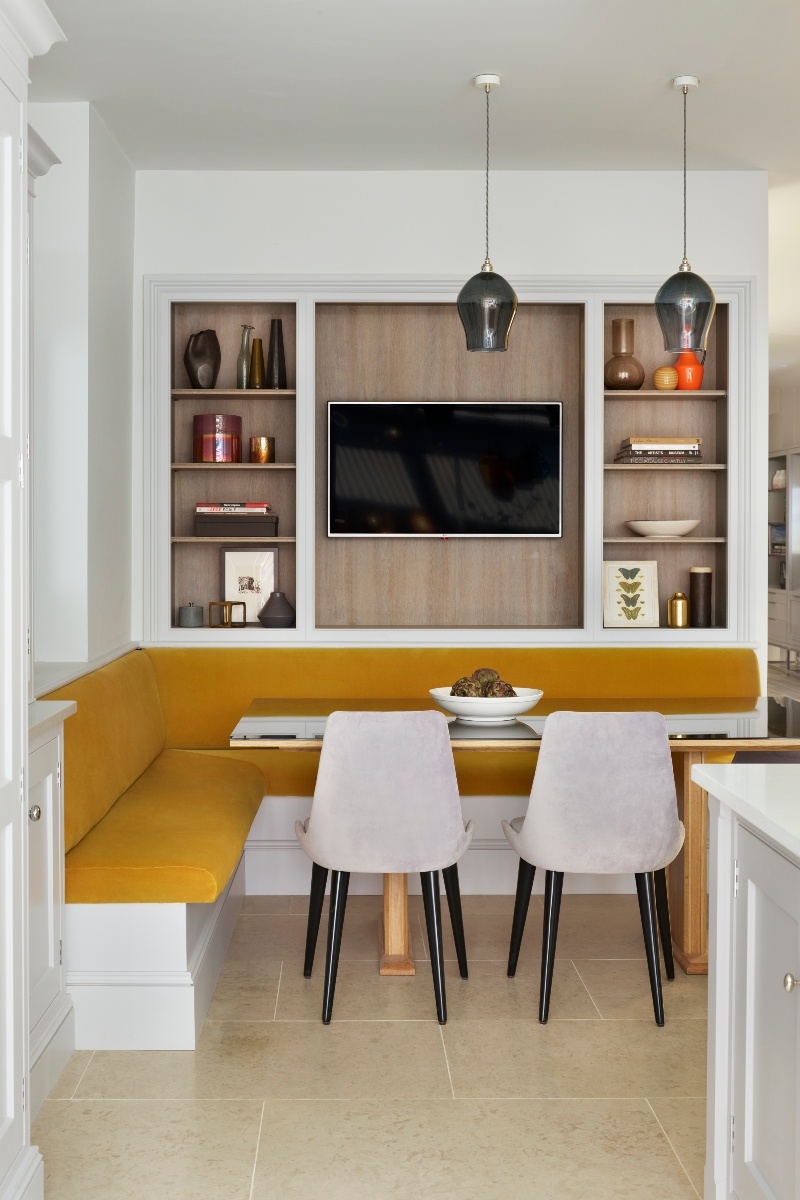 Put fun in functional
Everyone gathers in the kitchen to eat, catch up and spend time together. So, it needs to reflect everyone's personality, too. Nowadays, there are so many cool ideas to turn a plain and cold space into a homely hub, like personalised chairs, chalk boards for shopping lists or doodles, and indoor slides (yes, really!).
So, think about how each member uses the space early in the planning process and create a design everyone will enjoy.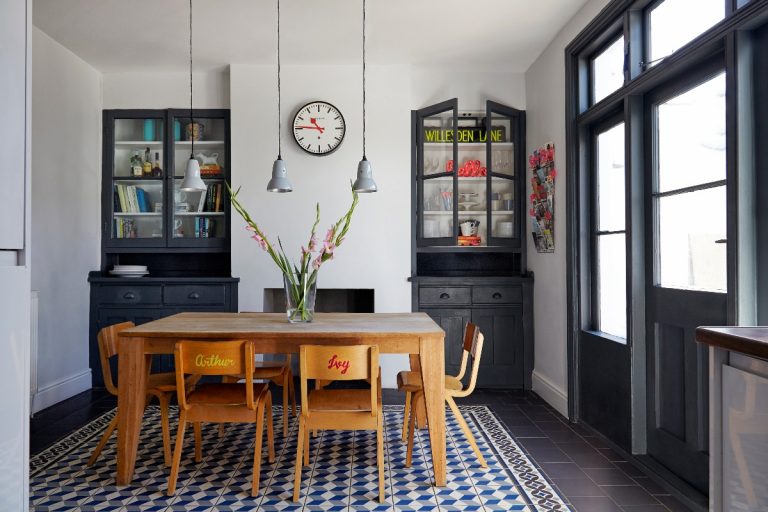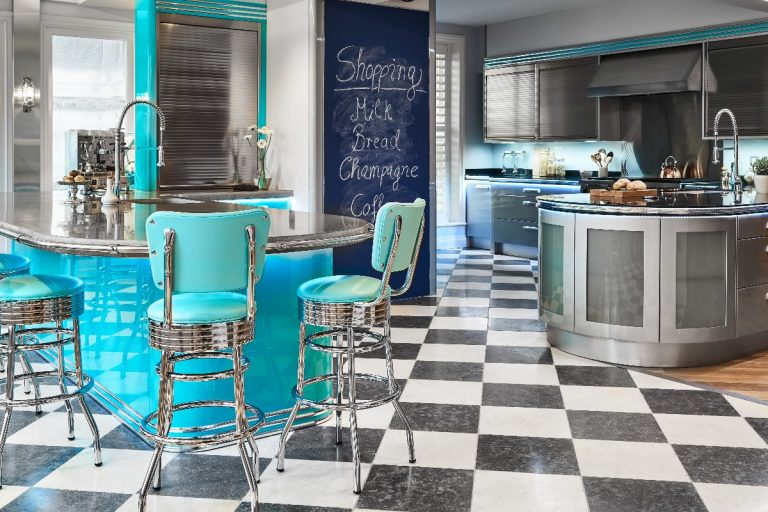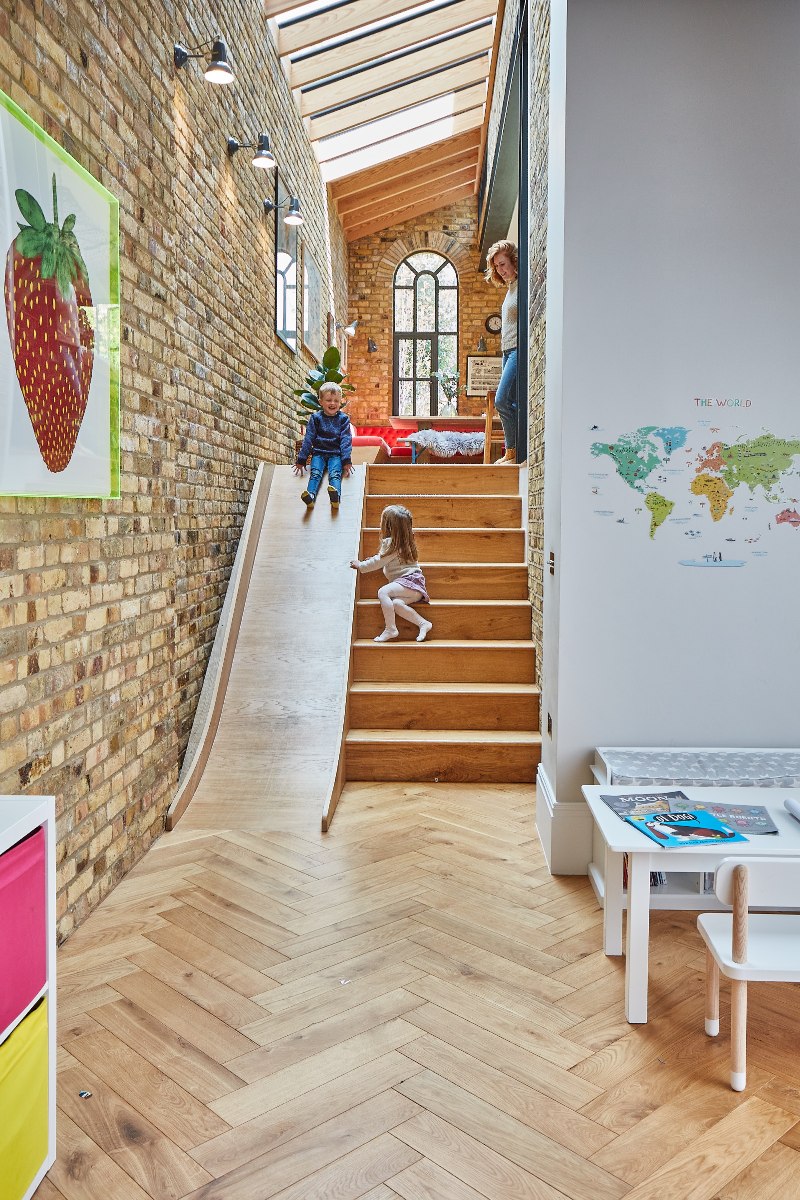 Storage, storage and more storage
Any family kitchen needs ample storage space, from keeping crockery and cooking essentials organised for prepping meals, to storing cutlery and small appliances out of reach, and your little one's favourite snacks and lunch boxes on hand. Freestanding larders, walk-in pantries and breakfast cupboards are space (and morning routine) savers.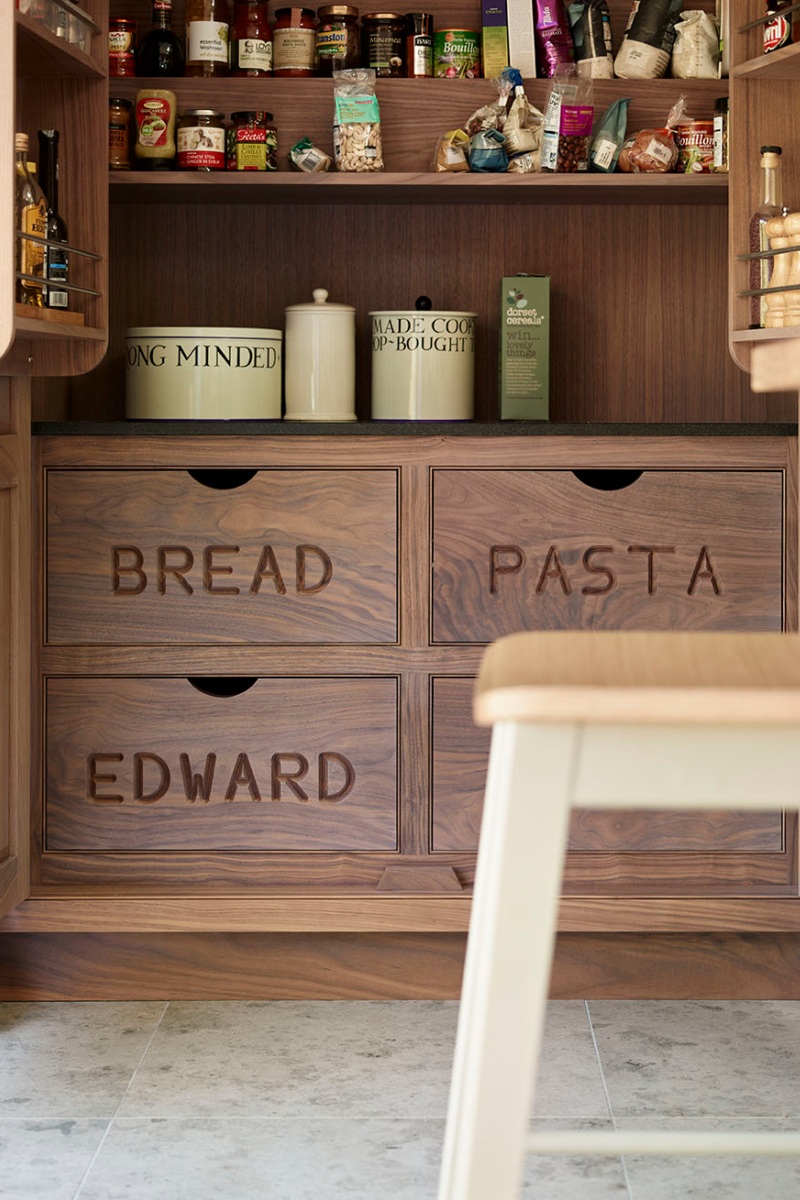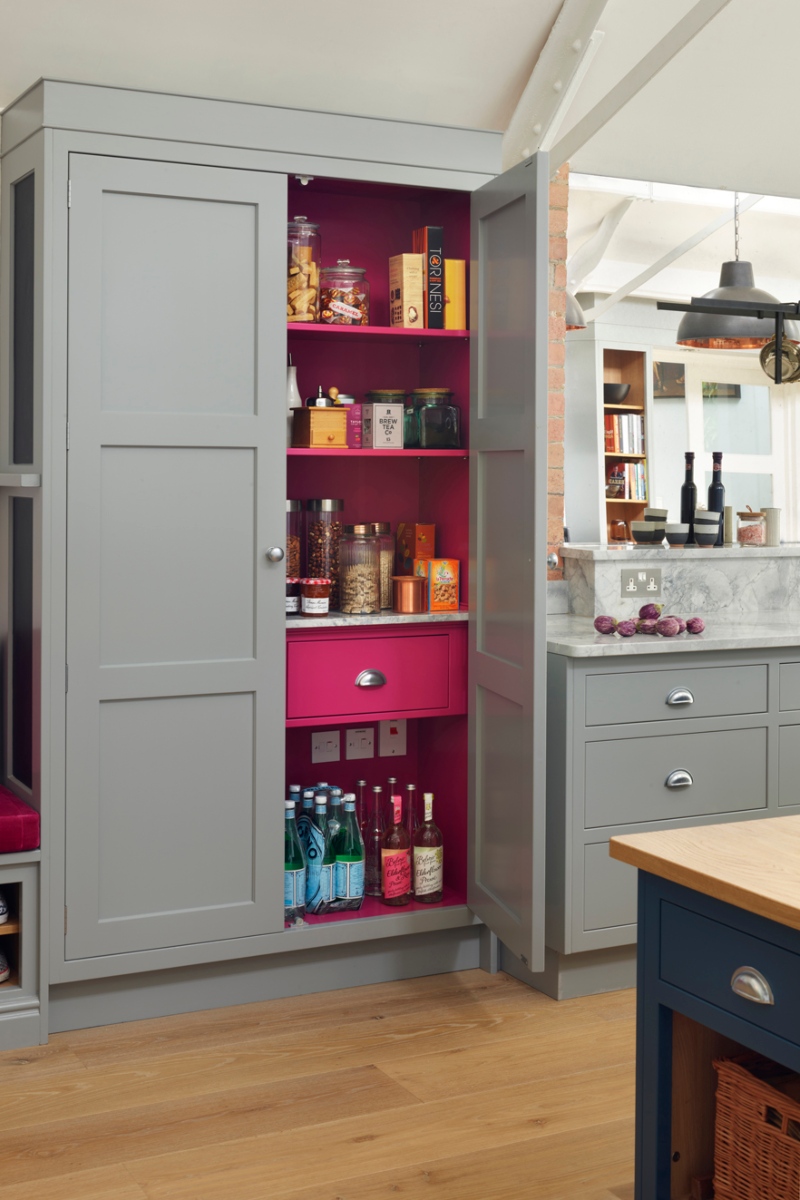 For example, if your little one plays sports, an adjoining utility or boot room to your kitchen could be a great solution. Shut the door on sports kits, jackets and coats, laundry, and also gain extra storage space. Plus, you can even include a butler sink to freshen up your furry friend after a muddy walk. I've got ten steps to a successful design here.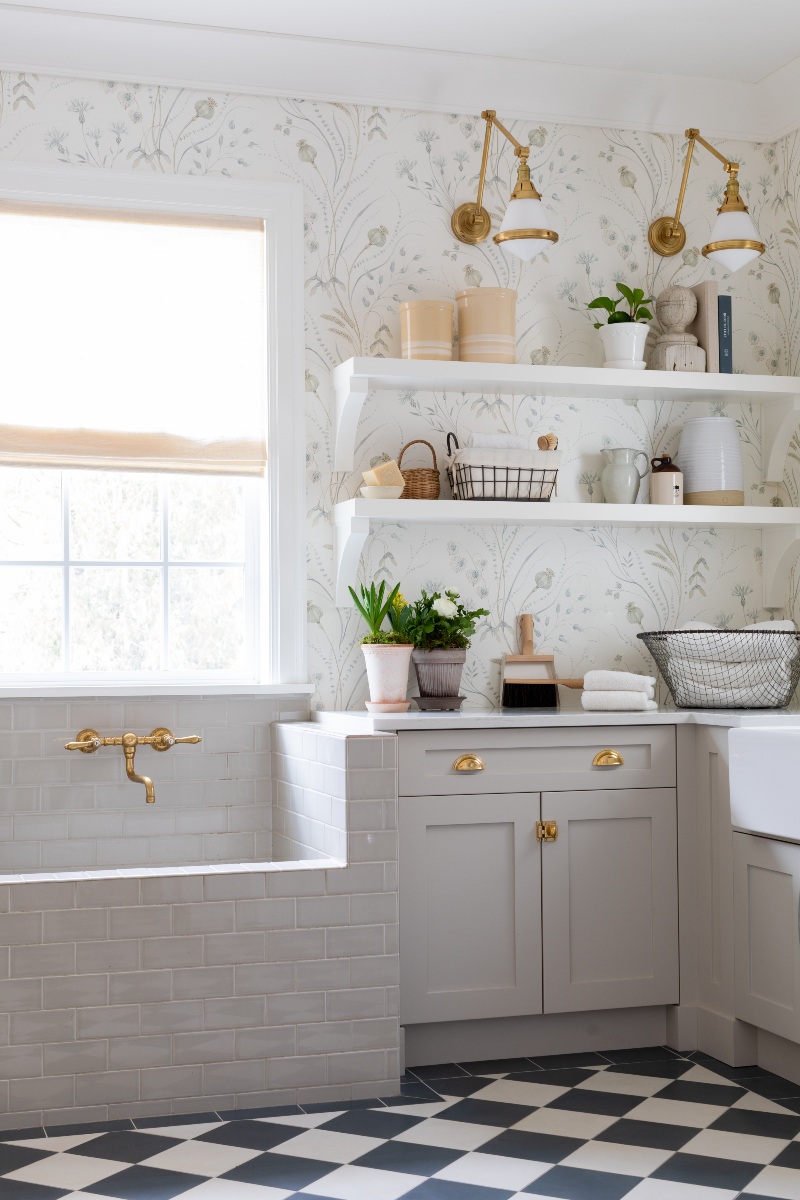 One of the most important steps in designing your kitchen if you are a new parent or your baby just learnt how to crawl or walk, is boosting the safety factor in your space.
Anti-slip flooring? Check. Go for safer options like laminate or non-slip vinyl.
Rounded worktop corners? Check. Protect them from bumping their heads or injuring themselves.
Child locks on appliances and cabinetry? Check. From opening cupboards to touching and twisting buttons, your little one's curious nature is set to run free, so it's best to place on those clever locks from the start.
Read Georgina's top tips for childproofing your kitchen here and see what she's done in her own scheme, too.
Thinking about future-proofing too?
Make your kitchen-diner more accessible to older family members or those less mobile by ensuring you have plenty of space around your furniture to be able to easily walk and move. A kitchen designer would be able to take all your needs on board and create a design suited to the whole family – from smart adjustable-height work surfaces and good lighting solutions, to easy clean materials and height-conscious wall cabinets.
Don't forget about furry friends
They're part of the family, right? So, show your pet some love with inclusive solutions. Think built-in dog beds in the kitchen island, compact wardrobes for their accessories and dried and canned goods in the boot room, and a dedicated alcove for their food and water bowls. Take a look at these pet-friendly ideas for any kitchen.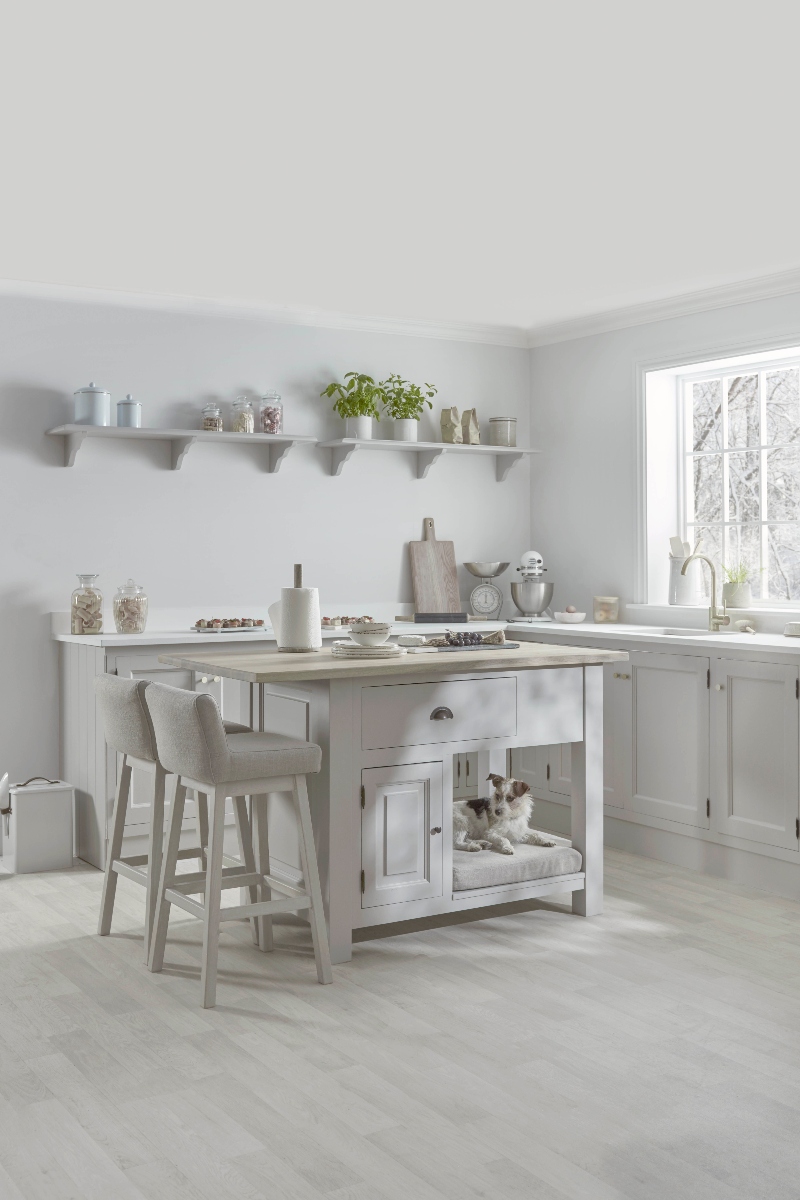 Ready to design your family-friendly kitchen? Use #kbbmag on Instagram to share your design – can't wait to take a peek.
Featured image: @redcliffhouse_renovation's Tom Howley kitchen
About Post Author